It's always fun to look back and see what we've accomplished for the year, isn't it?  This year is no exception and as I look back on 2014, I can see so many wonderful things that I'm happy to say I can now cross off my list.  Making progress on a home is a rewarding thing and I have definitely made a lot of improvements on this fixer-upper of mine.
This wasn't the biggest year of projects for me, but we did manage to do a few high impact renovations around here, mostly on the exterior.
I'm also hosting a link party today for all of the other bloggers out there who want to join in, so take a look at the bottom of the post to link up and to see lots more inspiration for the year!
One of the biggest projects this year that was finished up right around the first of the year, was adding my front portico.  It was so exciting to get this project done and then in April, to have the whole house painted made such a huge difference in my house.  This was a high impact project for sure!
Remember this look, the original poor excuse for a porch?  After the railing and steps came down. This time last year, the portico was just getting finished.
I even added a garland for Christmas, even though it wasn't quite completed yet.  I was still giddy to have it built.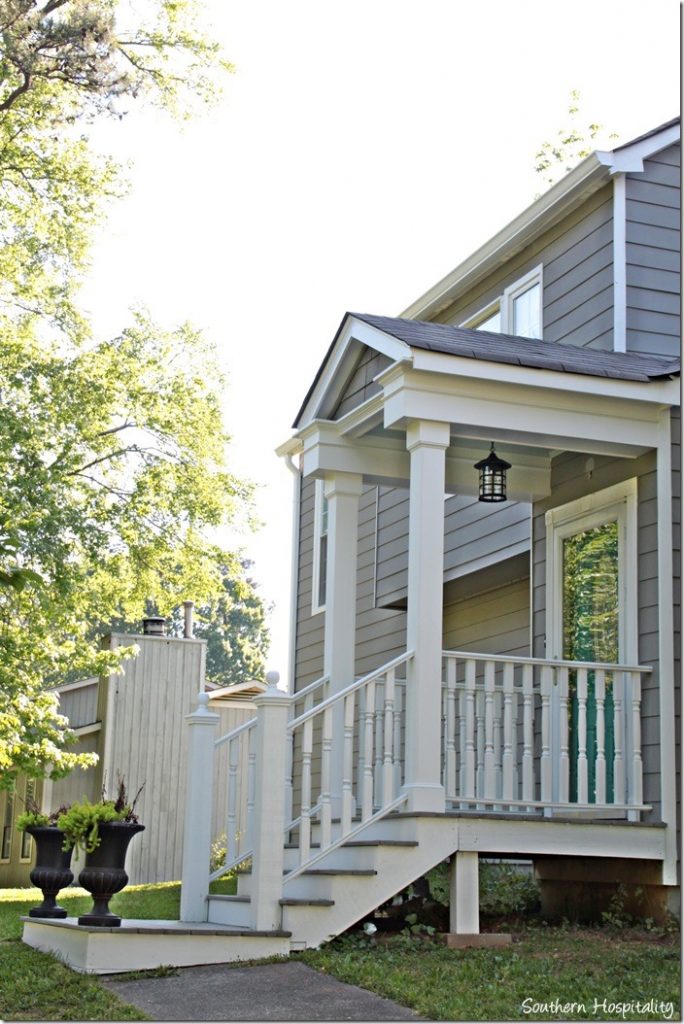 In April, the whole house was painted and that was the crowning touch on the house exterior makeover.
In February, one of the most exciting things happened in our family.  Baby Parker was born (my niece, Lauren, had a baby girl) and it was an exciting time for our whole family.  We have enjoyed every minute, seeing her grow and this Christmas was such a fun time having her around.  She has changed our family forever!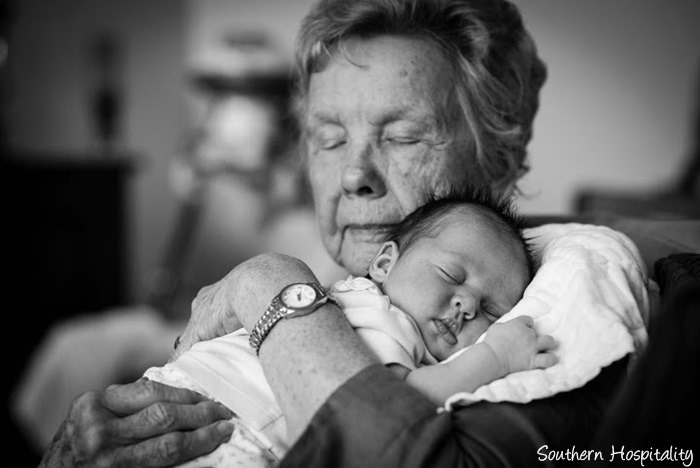 She still has those beautiful lips that she was born with.
Also in February, I wrote a post about Defining your Style and it was a popular post about staying true to yourself and not trying to follow everything you see in blogland.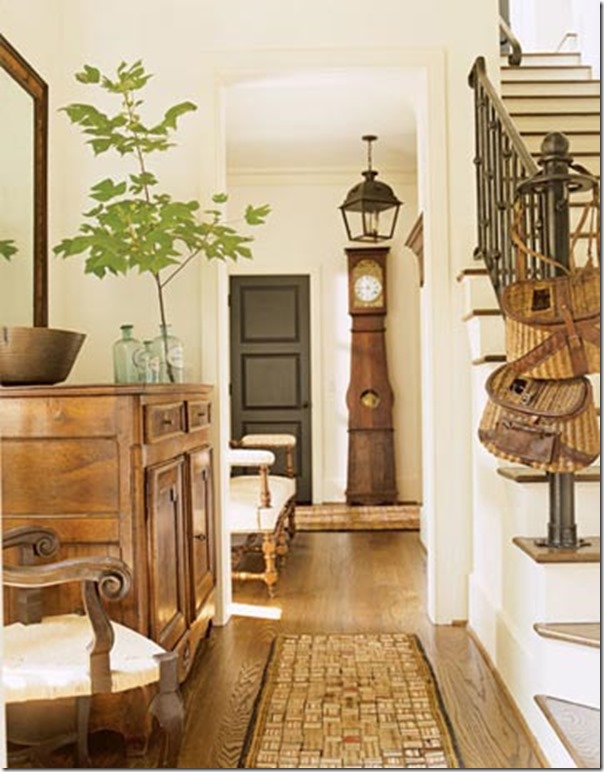 (One of my favorite style pics ever, from House Beautiful)
In March, my dad and I started working on the Billy bookcase project (Part 1, Part 2 and Part 3) and got that completed in a few weeks time.  That was also another great project that I had on my list and was so happy to see it finished.
In June, my entire front yard was landscaped with Southern Living Plant collection and wow, did that make a huge difference.  This was something that I had wished for since I moved in and it was such a joy to have this blessing added to my list of things to be grateful for.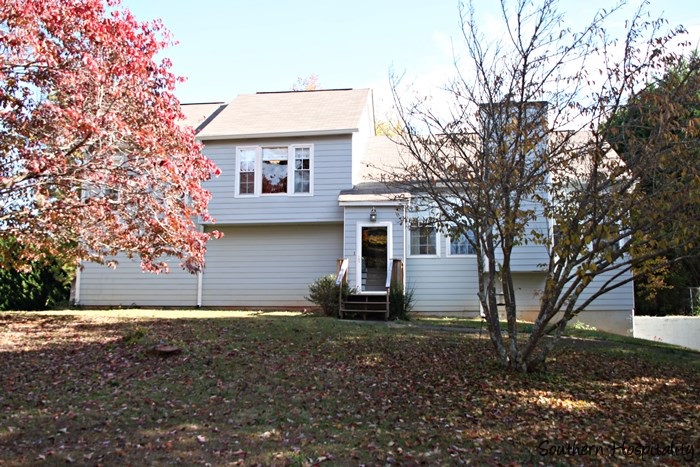 The Before and After pics are amazing! 
Seeing this transformation of my front yard take place was a thrill for me.  This was the year of working outside and making huge improvements after 2 years in my home.
In October, I did a drop leaf table transformation for my friend, Ruby, who will soon move into her lake cottage, hopefully by February or so.  It was fun making this table over, using paint!
This cute table will be heading to the lake soon!
Also, in October, my dad and I tackled a retaining wall in the front yard that I had long envisioned.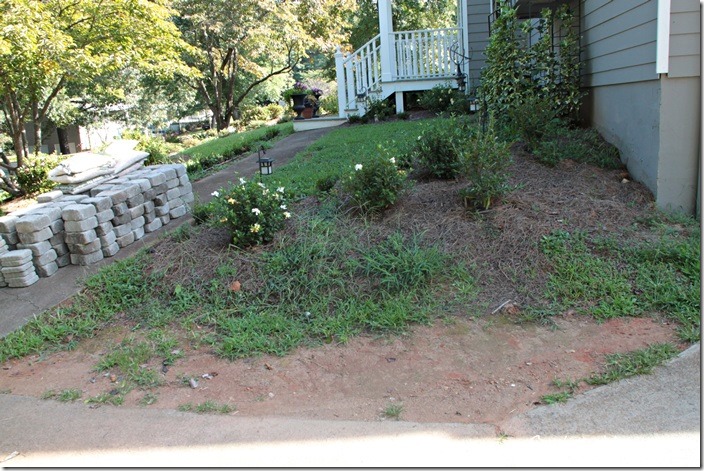 Before, it was a messy slope of a bank with clay and weeds.  Not appealing at all!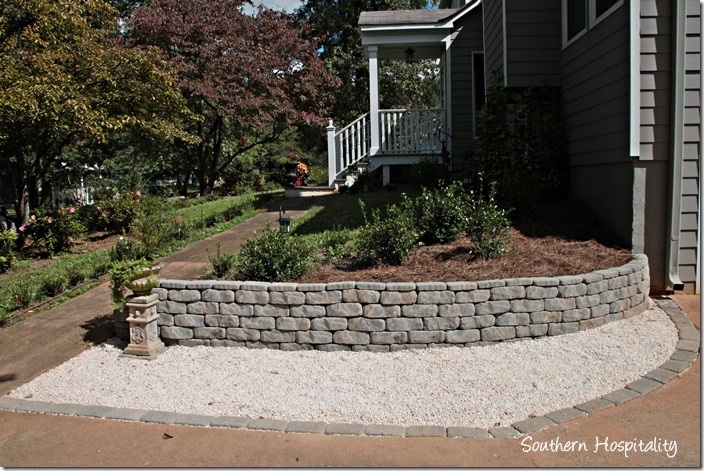 After the retaining wall, it has much needed curb appeal and still wows me when I drive in my driveway every day.
I recently did a recap post of my entire house renovation, room by room, as well as the exterior, showing all the progress we've made on this house in the last 2 1/2 years.  What a journey it has been!  I'm so glad to be where I am now and not still working on tons of projects.  I have no idea what all I'll be doing next year, but I'm sure there will be a few projects along the way.  Most of my big projects are done (thank goodness!), but I will still have plenty to share!
Porch exterior, Before.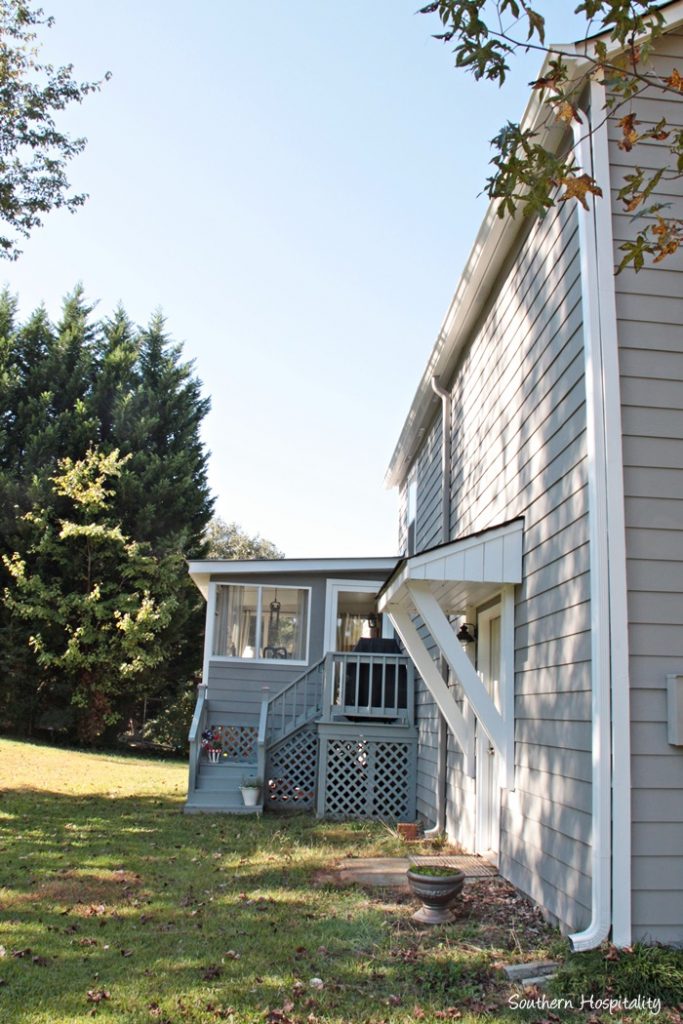 And After!
Thank you ALL for hanging with me for almost 8 years now.  This blogging journey has been incredible and I'm so grateful for all of you, my readers, who have been with me for SO long.  Thank you again from the bottom of my heart. You keep this blog going and that is a huge blessing to me!  I cannot wait to see what 2015 holds.  Each new year is like a present, just waiting to be opened.
For those of you who want to link up, feel free to add your posts below.  I would love it if you'd link back to this post, so that your readers can find the party too. There will be lots of inspiration to see!  Happy New Year!
Please DO NOT link up random posts from your blog.   I would prefer this to be a  recap of your top 2014 projects and not just simply linking back to your old posts. If it is not relevant to this party, I will delete! Thanks for understanding!
My friend, Jenna, and some of her friends are also doing a year end 2014 link party too, so check them out as well. 
Don't Miss a Post, join my list!