The year is coming to a fast close and I'm definitely ready to turn the calendar page to a fresh new 2021. I'm hopeful for a better year to come. On the home front, Mark and I sure got a lot accomplished this year in house projects. We've been here over 3 years now and it's amazing when we look around at all that's been improved and made better.
Our house was a blank slate just waiting for us to get here and make it all better. It's now 15 years old, but was a clean slate for us to put our stamp on and I think you'll agree that we've definitely done that. I'm going to share our top projects of 2020 today and in the not so distant future I'm going to do a whole post of where we are at this point in house projects. We do have a few more to do, so we are not finished yet. Home Sweet Home is the best!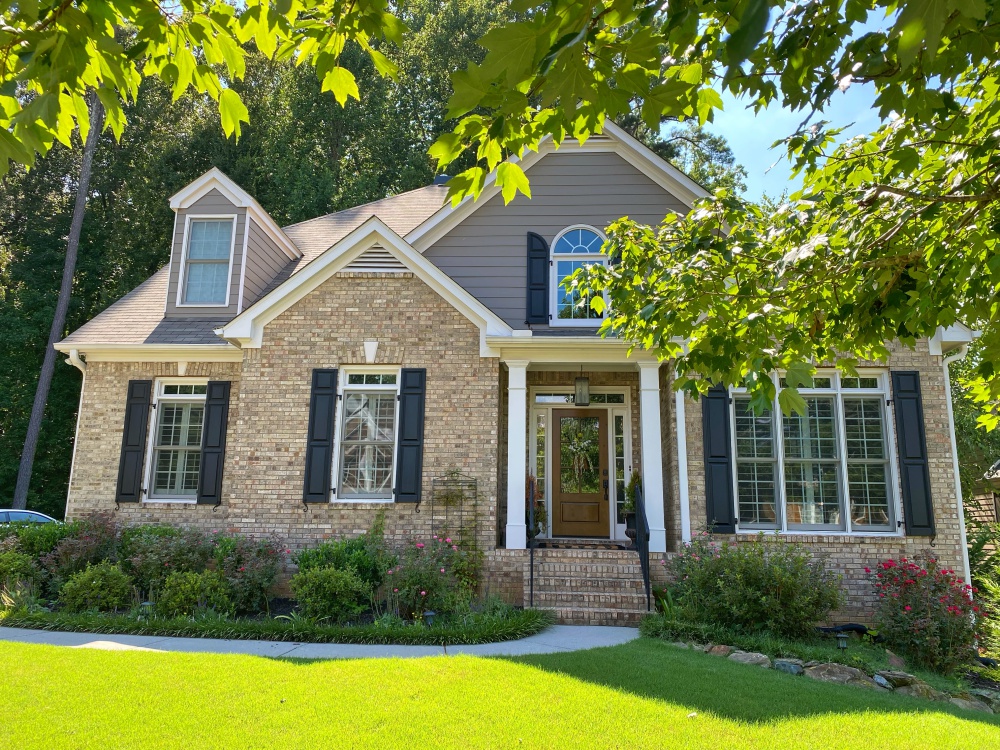 A current pic of our exterior with the new door we added last year. We sure love our house and it's fun having you all come along with us on our house journey. Are houses ever truly finished? We have bigger dreams for ours. We always pay cash along the way on all our home improvements, so as time and money permits, we update things.
We completed 4 BIG projects this year, so I'll start with the first one of 2020, our new Master Bathroom renovation.
Project 1 – Master Bathroom Renovation
Click here for the entire Master Bathroom Reveal post
The before was plain and blah beige, so we really wanted to up the functionality of the bathroom as well as the aesthetics. It was nice to get a completely new bathroom.
We also added a sliding barn door from Sunburst Shutters Atlanta to our master bathroom and that made a big difference in not letting the door swing into the tub anymore. We love this change too!
The new bathroom is such a treat and we both love it.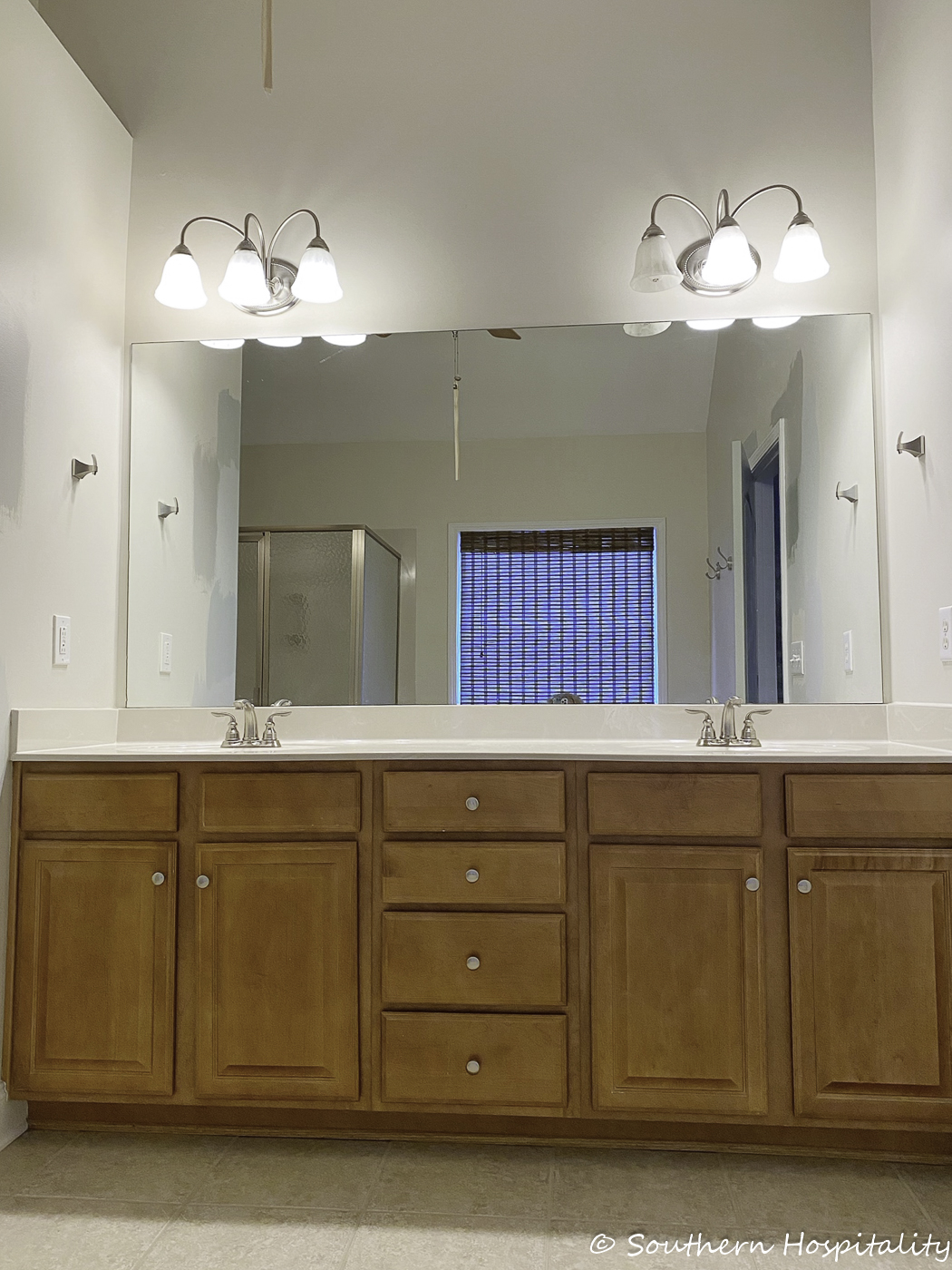 The old vanity was in great shape and wood so we kept it and painted it, as well as added new doors and drawers in a Shaker style.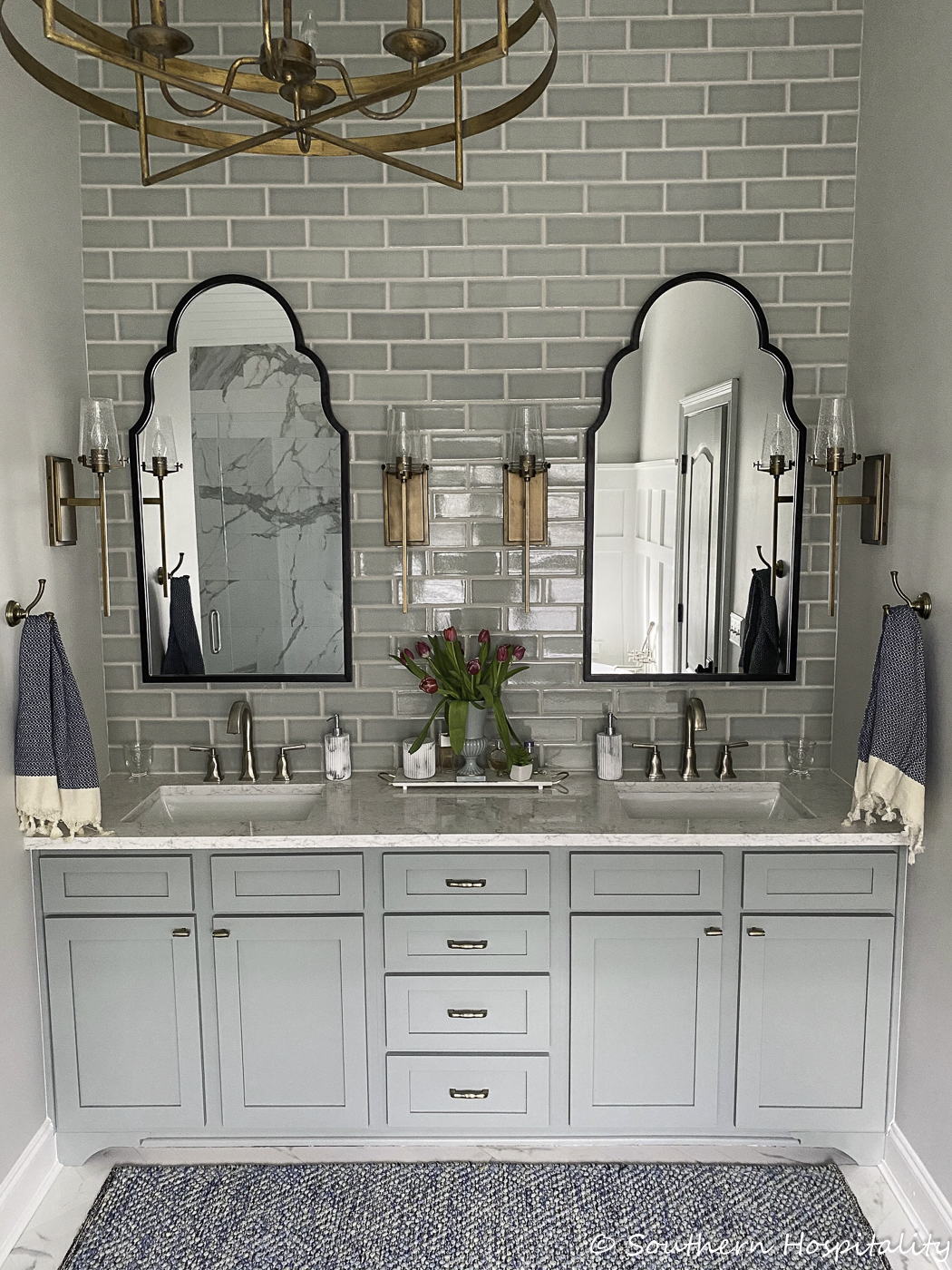 This is such a pretty spot now and I'm so proud of how this bathroom came out. We could not be happier with it.
The old humongous tub took up so much space and we hardly ever used the jetted tub.
So we opted to take it out and add a free standing bathtub which will just add value to our house in the future, I think. I use it more in the winter than summer, but it's a nice soaking tub. Mark did all the board and batten here as well as the water closet and that added a lot of interest as well.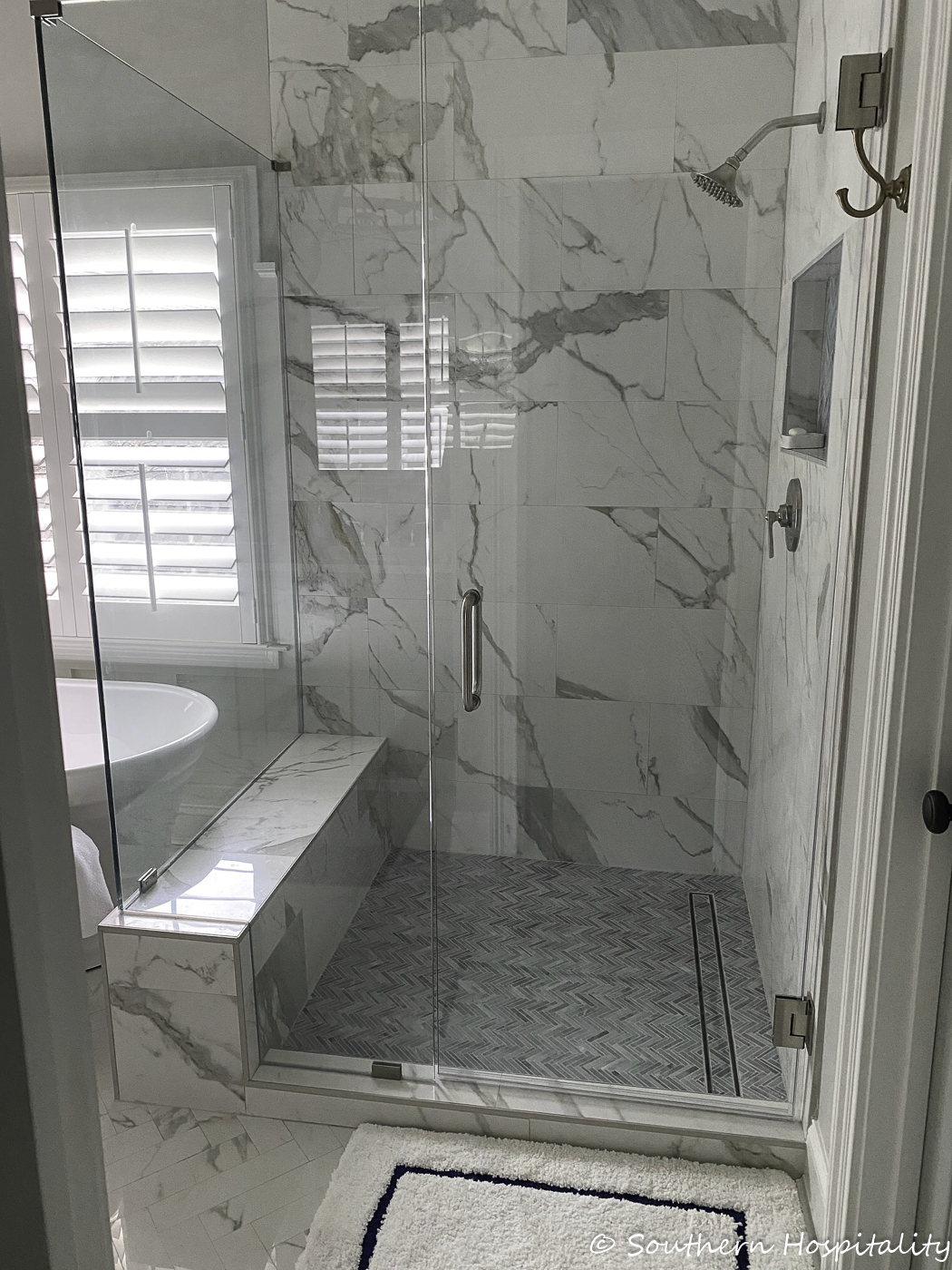 The new shower feels twice as big as the old one even though it's only inches bigger. We've had this bathroom going on a year in February and we love it so much.
Project 2: Shutter Wall and the New Screen Porch
Our backyard has gone through a huge transformation since we moved in. This is the house when we bought it. Nice backyard and a great patio slab, blank slate for us to do what we wanted. This came in stages and we did several projects to get all of this completed and you can see them all below.
We had new stairs added first so we had a way to get from the top deck down to the back yard. This is the wall we permanently built out of shutters.
Mark again did a great job on this project and we completed this one in Spring. It was so fun to get it ready just in time for Summer.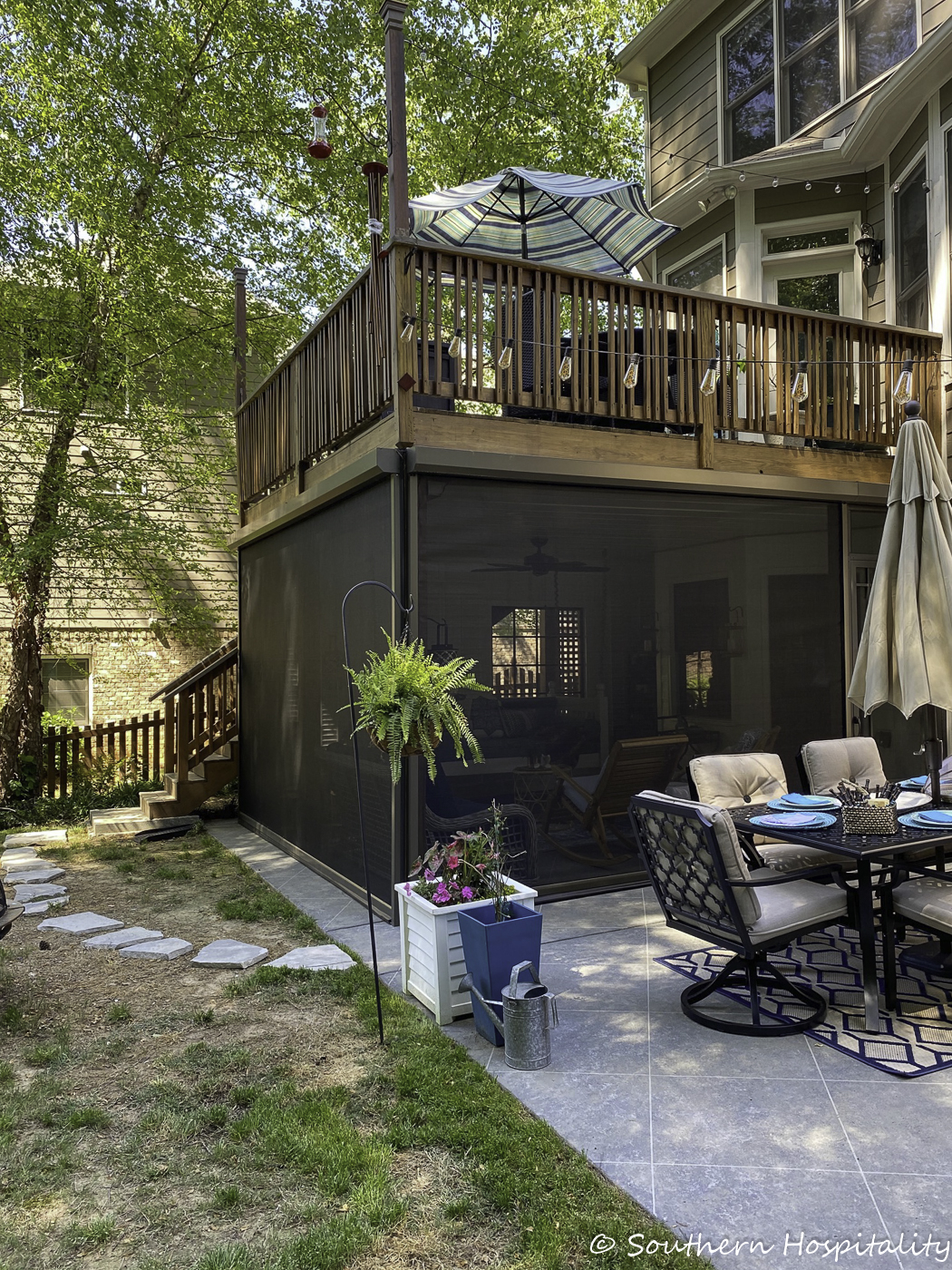 Those Phantom Screens went in and I also did that pretty faux tile concrete paint project which made a huge difference too.
And the finale of the patio and screened porch was finally done this year. We have enjoyed this space so much. I loved working with Dalton Furniture in getting the whole space completed furnished.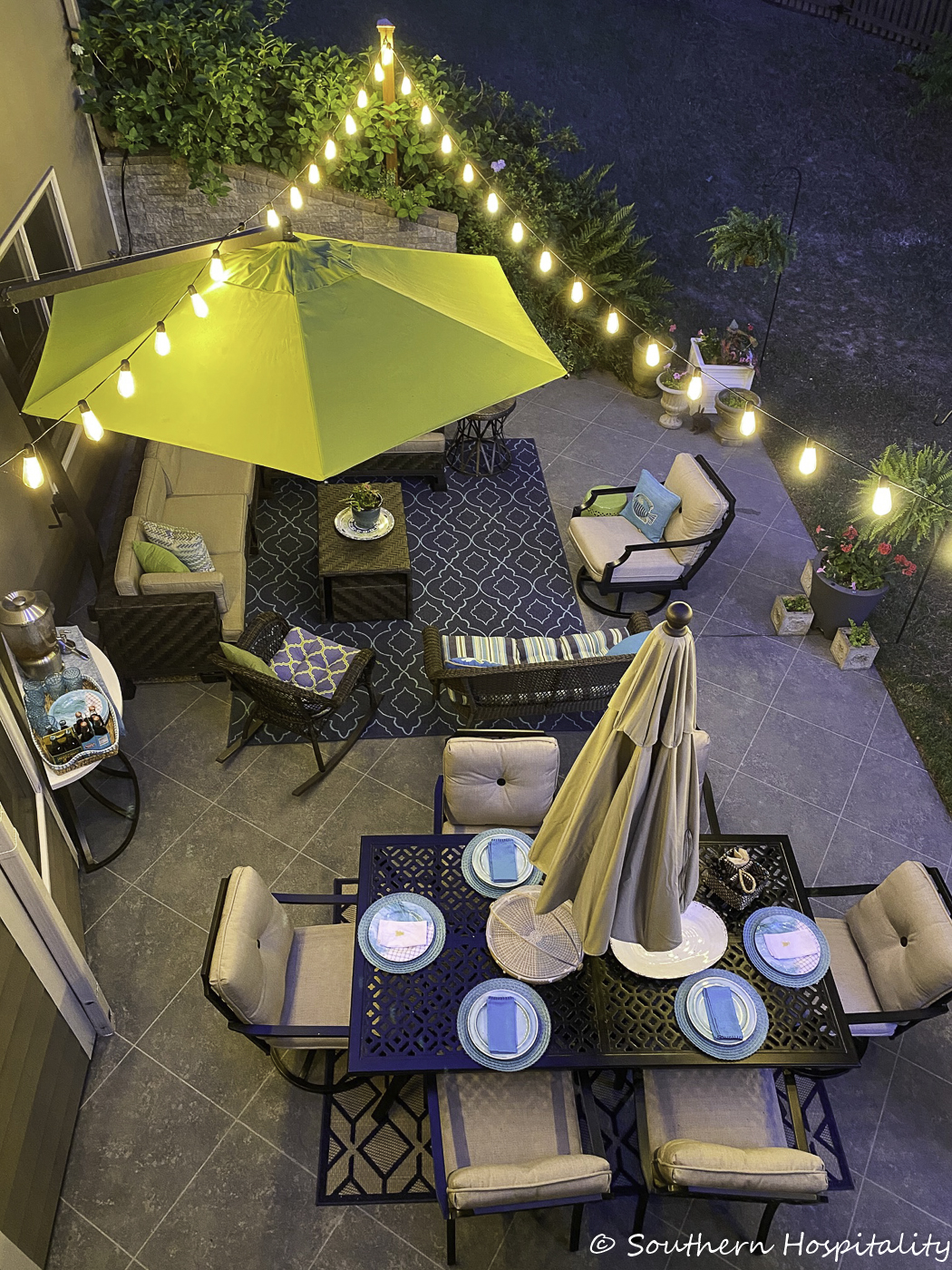 It's the patio of our dreams now and we will enjoy this space for years to come.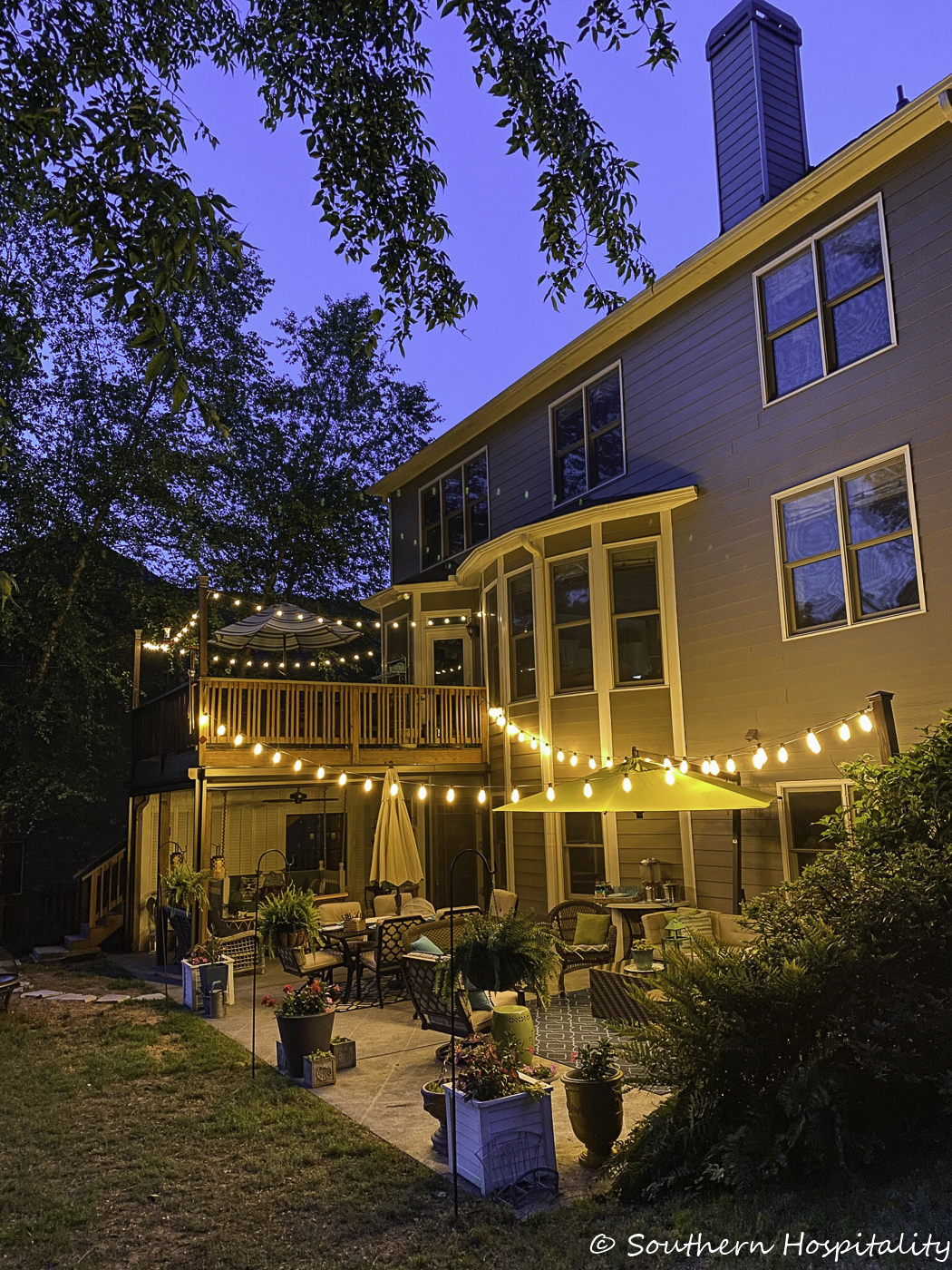 Check out all the posts if you want to see more.
Project 3: Master Sitting Room
Just a reminder of this room when we bought our house. The whole upstairs had carpet. We took it all out and added engineered hardwoods.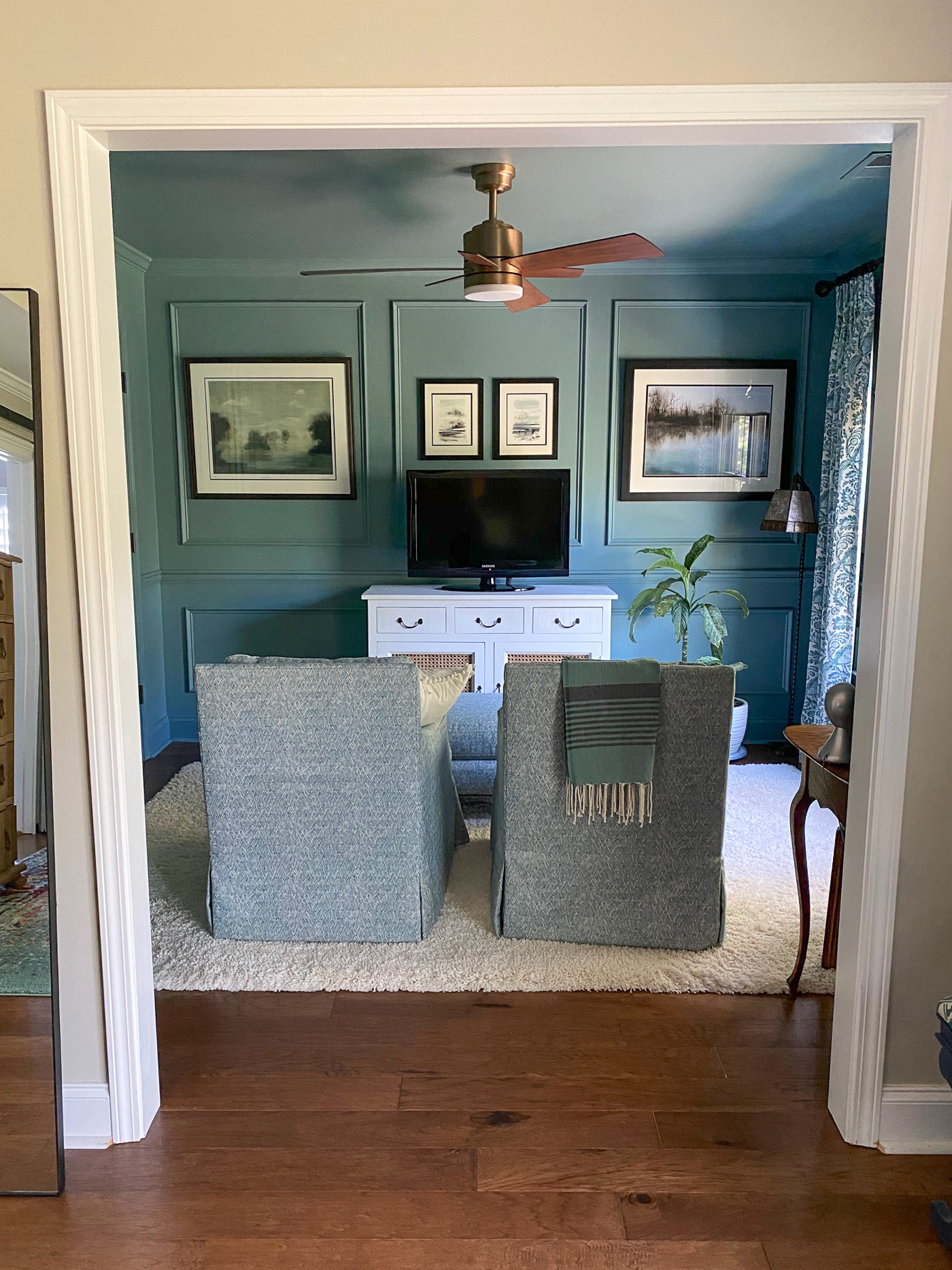 And the finale of the master bedroom sitting room is this picture frame molding with Moody Blue paint color. You can see all that project revealed above and this link shares the how-to project.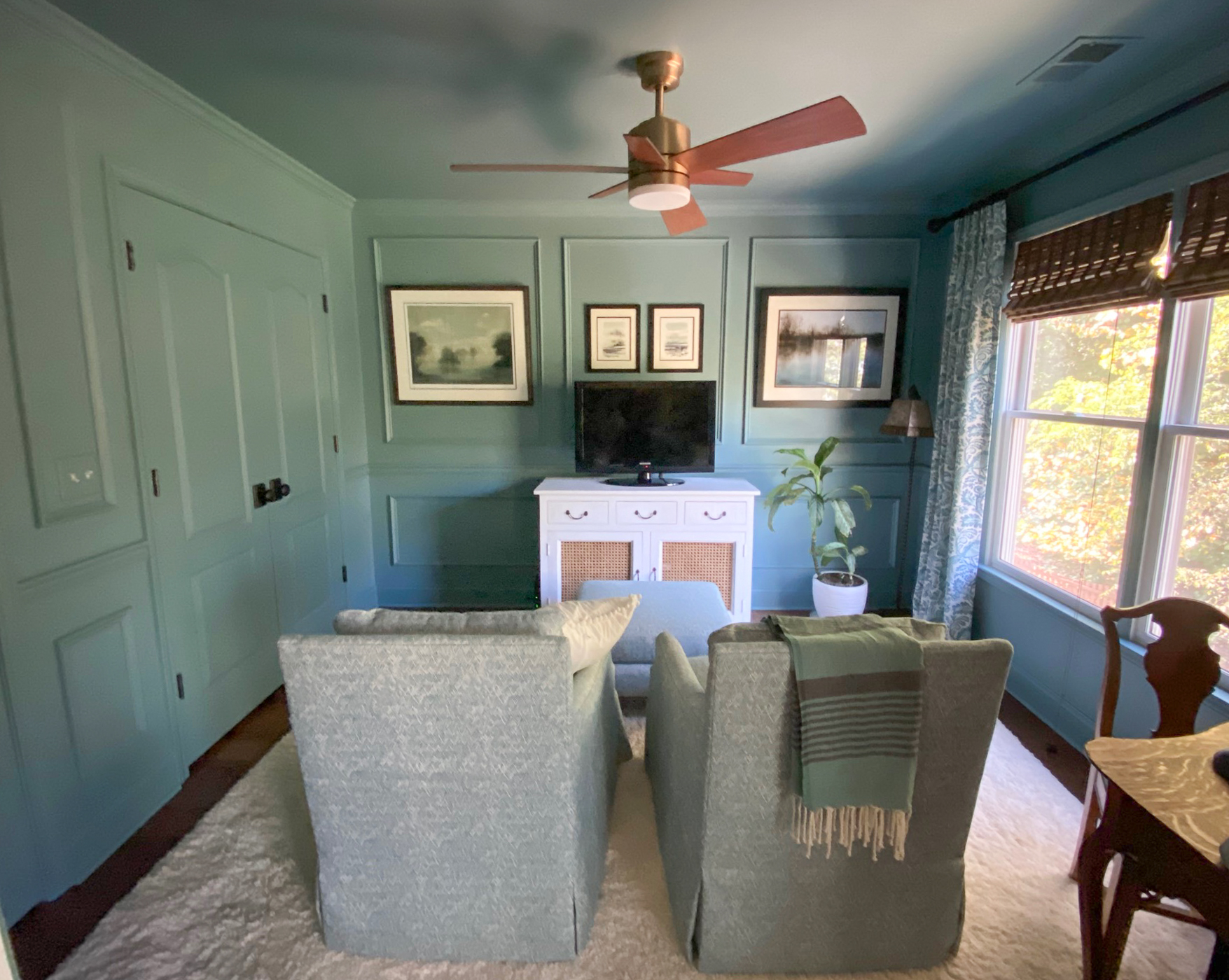 We absolutely love it!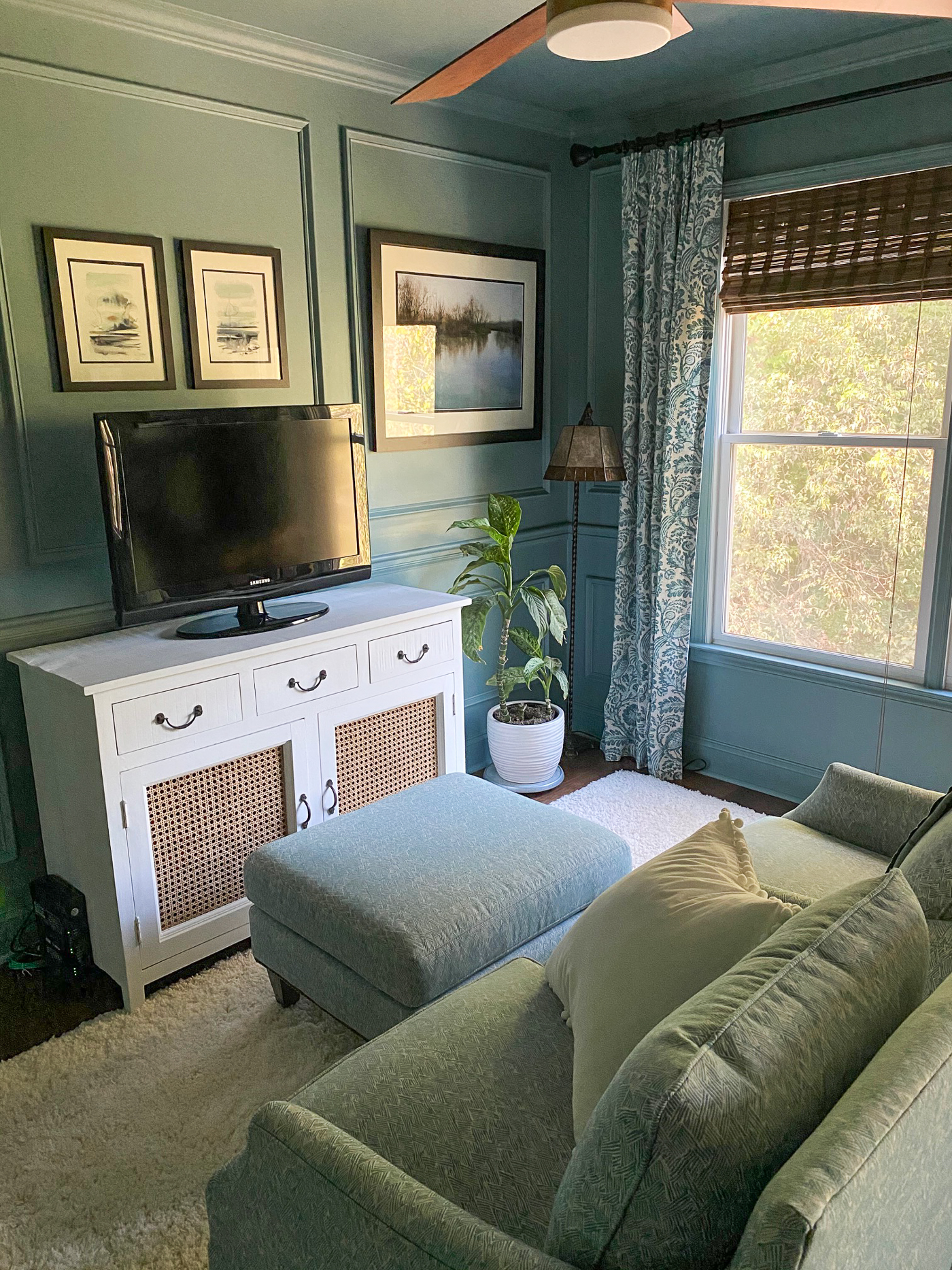 It's a cozy spot and I often sit in here and watch TV under a throw blanket.
Project 4: Stairwell Box Molding Wainscot
This project was one that Mark wanted to do since we moved in here and he finally executed this beautiful wall treatment just in time for Christmas.
This is how it looked before, just painted drywall. The box molding goes right on top of the drywall and then it's all painted white like the trim paint.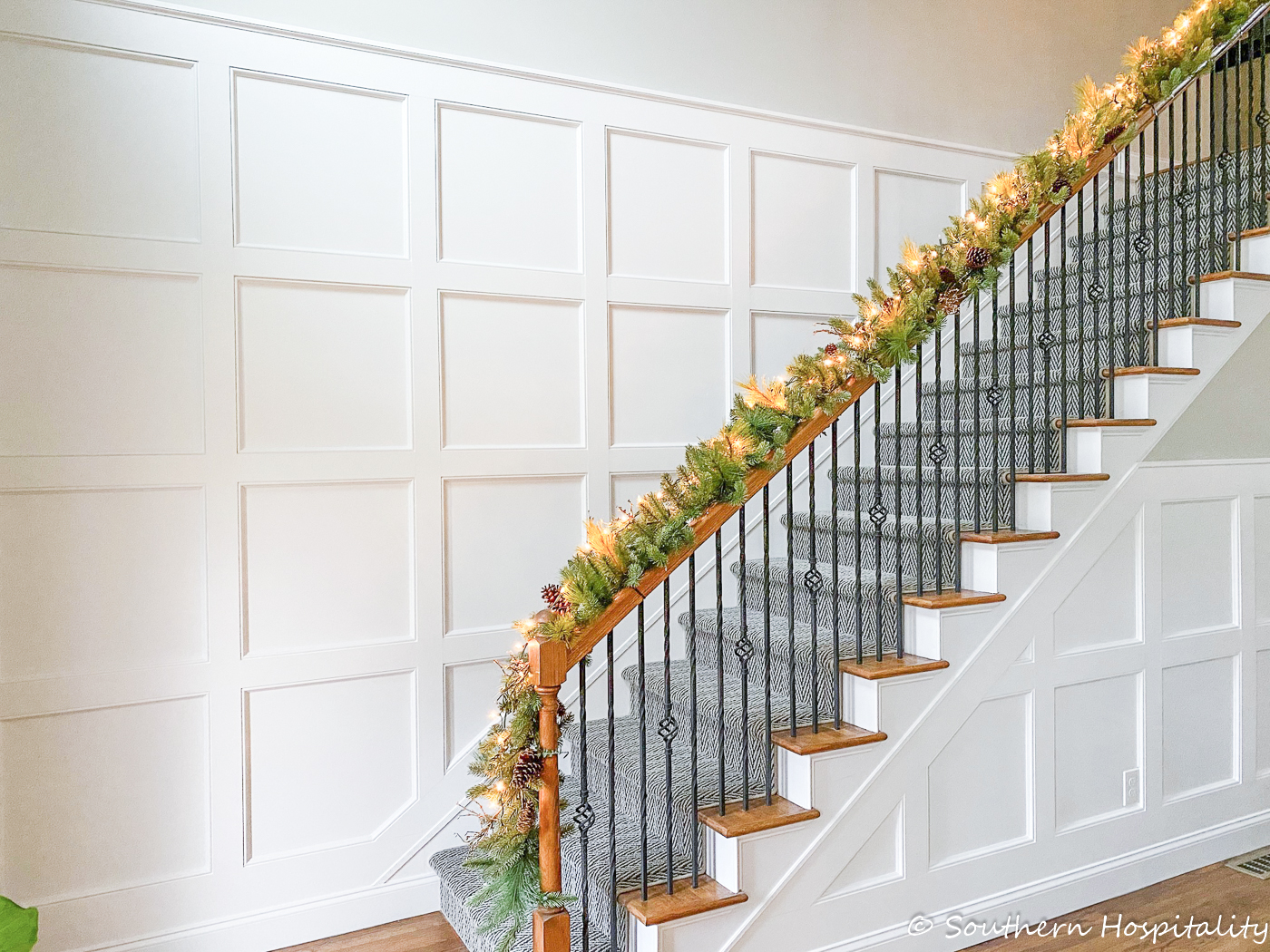 And here's the after! Isn't it gorgeous? We sure love it and it makes such a huge statement in our foyer now. Mark did a fabulous job.
I'll do another post about how he did it all later, but couldn't wait to share these pics with you. We did have our painter come back and spray it all with a sprayer and that gave it a really nice smooth finish. We used semi-gloss Sherwin Williams trim paint.
I'll share the up close details in another post so you can get an idea of how to do this if you decide to try it or have it done at your house.
It sure makes a beautiful backdrop for our foyer and we absolutely love it! After painting, I got my Christmas decor back up and we had Mark's family over for a gathering on Christmas Eve. It was really fun.
That's a wrap up on our 4 main projects this year. These were all big projects and we are so glad to get them done. It's amazing what adding molding will do for a home and all these projects required a lot of work from Mark. I'm so proud of him for all his hard work and learning how to do these things. It sure has made a difference in our house!
Please stop by my friends' homes and see what they've accomplished this year! It's fun to look back at a productive year and really be proud of our homes.
Take a look at all these ladies too! 
Designthusiasm | On Sutton Place | StoneGable
Don't Miss a Post, join my list!