It's the end of the year again!  How did that happen so fast?!  As I've been doing since 2008, I'm hosting my end of the year Top Projects of 2016 party, where I'm sharing what I got accomplished at my house this year and I encourage other bloggers to link up and share their successes.  It's always fun to look back and see how far we've come.  As I look back at 4 years in my house now, it's amazing how far this ugly duckling has come in being transformed into a beautiful swan.  All it takes is vision and hard work to accomplish these things.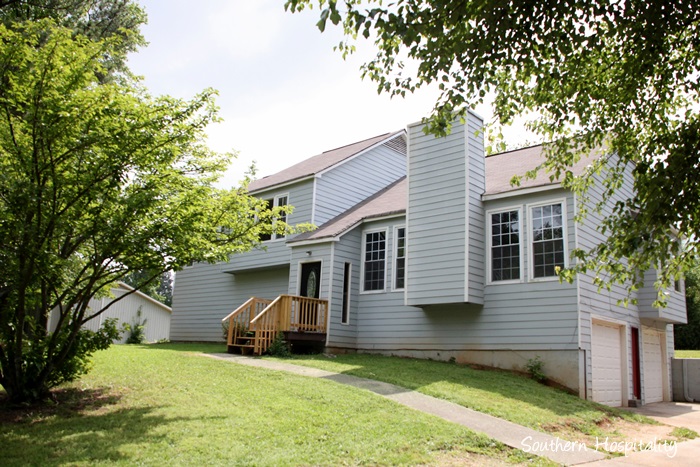 The outside of my house continued to transform this year to where it is now with the landscaping so filled in with over 2 years growth.  It took me 4 years to get here, but it's so nice to enjoy now!  As a reminder this is the Before shot of my house when I first bought the house. I love to look back at this post in April of 2012 to remind myself how far this house has come.  You wouldn't even think it's the same house now!  I love to read all the comments you all left for me back then, so happy that I had gotten myself a house. It was a big, big day for me!
She was in sad shape, a blank canvas for me to put my stamp on.  Remember there were no windows on the bottom level of my house there on the left.
And here she is today, a perky and cute cottage home with the landscaping starting to fill in here in this picture, earlier this year.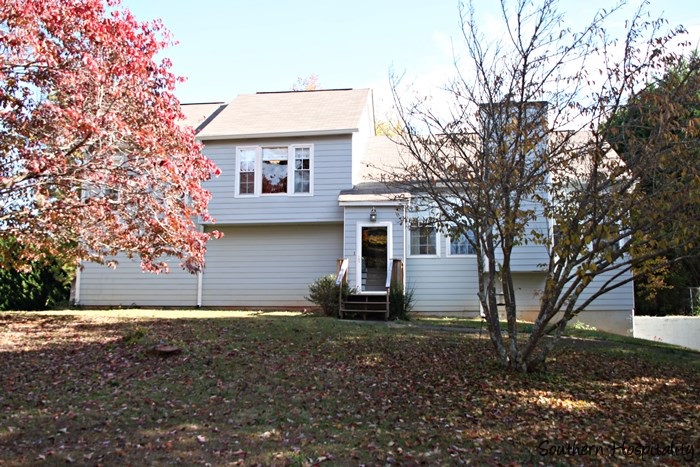 Another sad Before.  She was just waiting for someone to come along and love her to life.
And that's what I've done in 4 years time.  During that time, a new front porch was added, as well as landscaping the entire front yard, new windows on the bottom level.
I'm so proud of my house now, 4 years later.  It takes years to get a house to where you want it to be and after 4  years of living here, I'm finally there with this house.
It still amazes me when I look back to early 2012 when we found and bought the house.  It took perseverance to find the right house, but I'm so glad this one ended up being mine
She has loved me and I've loved her and sharing her progress with all of you has been such a fun journey.  Thank you all for being here all long the way of transforming this house into a home.
We can't forget the back of the house and how far it's come in 4 years.  This is the sad little back door when I moved in.
This was the first time we looked at the house and examining all of her nooks and crannies.  Just how bad would this be to renovate?  It took us 6 months before I moved in and now I've been here 4 years. The backyard went from the above to this…….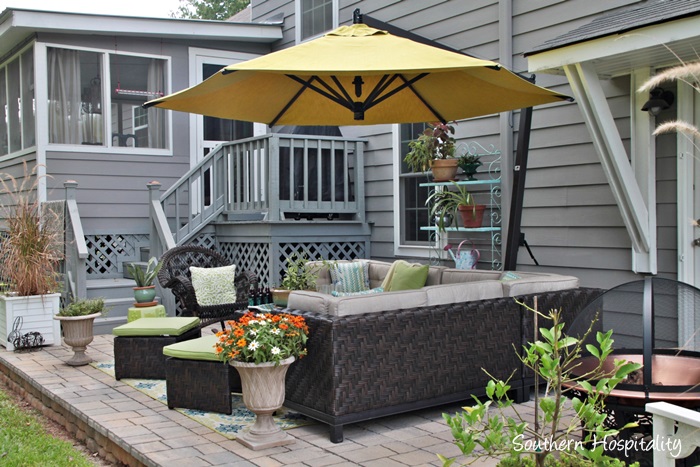 I actually had the patio installed last year, added new furniture which I love and this year brought the addition of a big cantilever umbrella which makes this space so nice.  My dad built that little roof over the door in one of our first projects on the house.
From ho-hum back yard to a little slice of paradise.
I spent more time out there this past spring and summer and it was so nice to have this outdoor space to call my own. Creating beautiful spaces makes such a difference in a house, doesn't it?
Here's a link to the actual installation of the paver patio as well as one from earlier this year, all decorated with the umbrella.
This year brought the renovation of my master bathroom.  Let me remind you where that started in April 2012 when I got the house and we started the renovation process.  Floral wallpaper was the first thing that went.
It's a small master bath, but I spruced it up for the first few years, making it as nice as I could without a complete renovation.
And it looked like this for a few years until early summer of this year.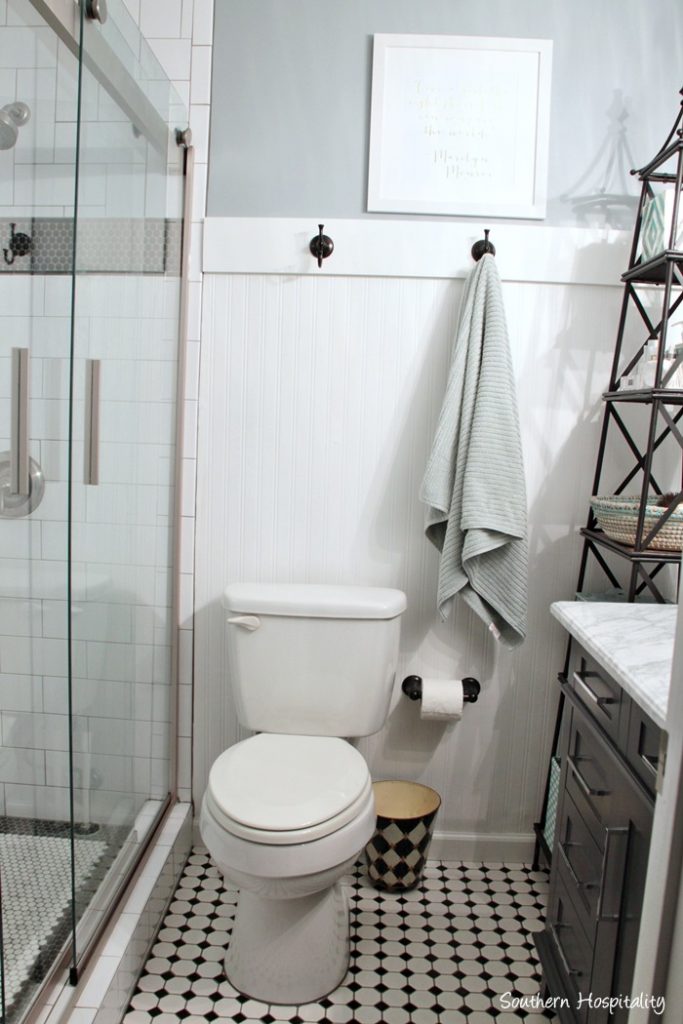 I saved my money and hired a tile guy to come in and renovate this bathroom, from top to bottom.  We removed the old one piece tub, adding in a beautiful new tiled floor to ceiling shower. Here's a post on this master bathroom tile project if you'd like to take a peek.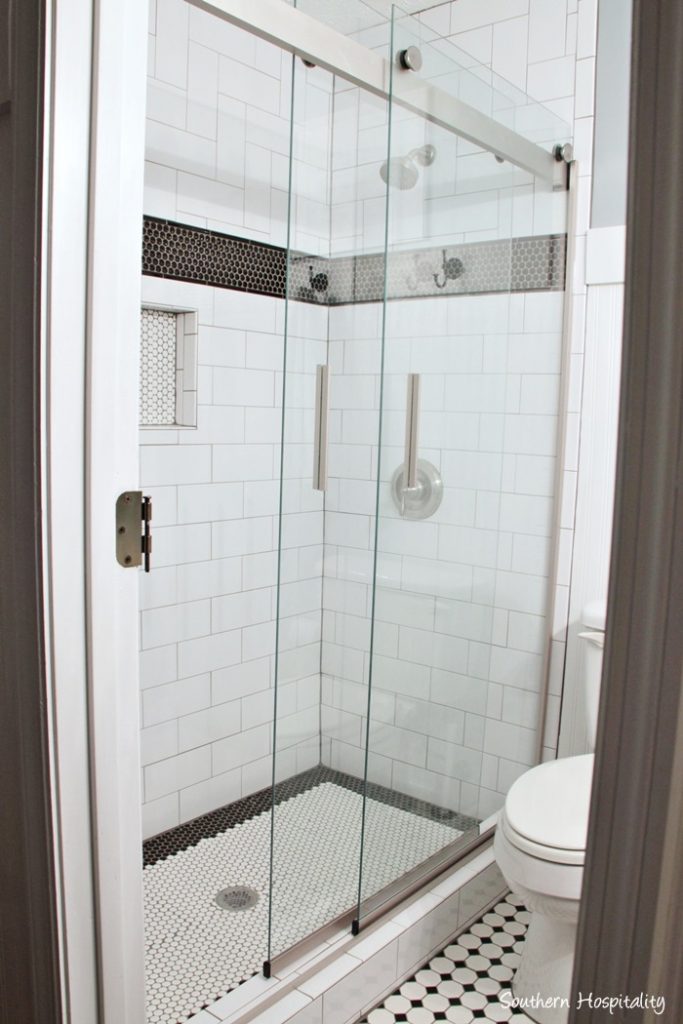 I love this space now and it makes me so happy every time I walk in there.
A new vanity and storage piece completes the master bath project.
It's amazing how making over a space can change the look and feel so much.
I truly believe in making our spaces the best they can be, within a budget and what we can afford to do.  This house is all the better with all the renovations my dad and I made to it.  I couldn't have done all of this without his capable hands helping me from the beginning.
The den space saw some updates this year too.  It started like this!  I know, such a sad space, but lots of potential and so big.  Those wood paneled walls got painted before I moved in and it's been a great den space for me to use.
Almost two years ago, I was able to get some windows added in this space (on the left), which let in SO much more light and then this year saw the addition of new vinyl plank floors from Shaw Floors. The carpet left the building!
And these beautiful luxury vinyl planks went in, thanks to a partnership with Shaw.  I love them!
This space really came alive from that first picture, didn't it?  It was such a drab and dreary space before and now it's really pretty and livable.
We spend a lot of time down here now watching TV and hanging out.
Even though my house didn't have a lot of renovations this year, it's fun to look back at the small and big projects of the year.
And last but not least, even though this isn't my kitchen renovation, I helped my sweet friends, Andrea and David with their 1950's kitchen renovation and this year saw the completion of that space, after one year of working with them on the house.  We hope to get a few more spaces complete next year as well, bringing this house room by room up to date.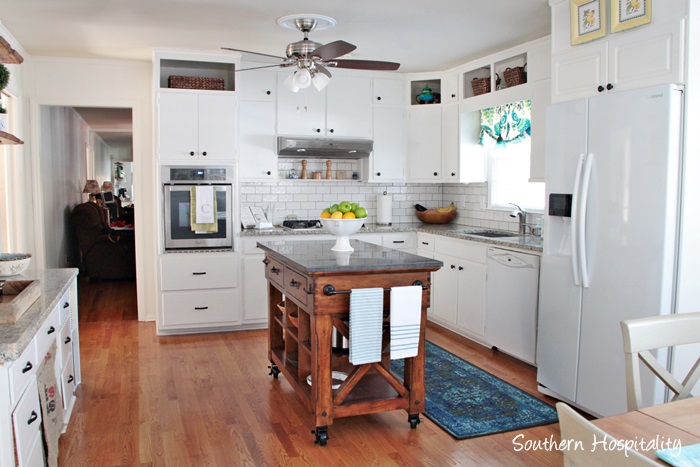 It was an amazing kitchen transformation to this 1950's house, with keeping the same cabinets, painting them and adding a lot of great things to the kitchen and taking out the dated elements.  It was so fun to see this one come to fruition!
Thank you ALL so much for your continued support and encouragement on my blog.  I know that I don't have tons of renovations and decorating projects going on anymore since my house has been finished, but I thank you for continuing to come by and see what I'm up to.  I hope to continue to inspire and create in 2017, so looking forward to the New Year and all that it brings!
Now it's your turn!  I've invited my blog friends to share their best projects of 2016 links as well, so we can all look around blogland for fresh ideas and inspiration on all things home!  Here's to a fun New Year!
Don't Miss a Post, join my list!