Today is a fun day!  I'm playing along with these fun ladies in guest hosting with them for their monthly series, My Five Favorite Things.  They do a different topic every month and invite a guest host to join them. This month is all about our 5 favorite Ikea items in our homes.  I'm joining Jennifer, Kris, Lisa, and Pam in this fun and inspiring series that I have watched from afar.  All of these ladies are SO talented, so be sure and stop by their blogs!  So happy to be joining them this month as their guest and I'm excited to share my 5 faves with you all and with them as well.
If you're new to my blog, welcome!  I'd love to have you join me and subscribe to my emails.  I'm always doing something fun around here!
I do have quite a few Ikea items in my house, starting with my kitchen.  It's been 5 years ago this month that my dad and I started on my fixer upper house renovation and one of the big things we did in this house was to completely gut the kitchen and start over.  I went with Ikea cabinets because….well, they are affordable and after doing some research and talking to people who had them, I knew they would be a good fit for this house and my style.  And I was right!  They have worked perfectly for me and are still just as beautiful as the day they were installed almost 5 years ago.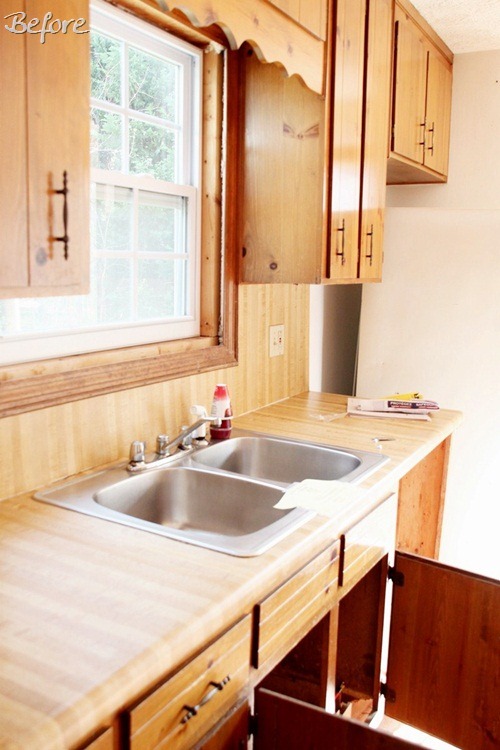 It's always appropriate to show a really BAD Before shot of a renovation and my kitchen renovation is a pretty big WOW factor in the difference between the two.
1. 
Ikea Adel Kitchen Cabinets
These may be discontinued now, but I'm sure there is a similar Shaker style at Ikea.
I love my kitchen so much and have really enjoyed living here and using it every day. It's not huge, but very functional and livable.  You can see the complete kitchen reveal and the cost breakdown on my Ikea kitchen.
This was from my original reveal post, but it still shows the kitchen footprint well. This is standing in the doorway looking into the kitchen from the dining room, with cabinets on both sides and those picture windows on the end of the room.   Since I haven't really shared the kitchen in a long time, really since the whole reveal, I took some new shots for you all!
With the long run of countertops and those huge pull out drawers underneath, it has a lot of storage.
This huge pantry was a must for my kitchen and I'm so glad I had room to add it. With big pull out drawers, it's so great for storing food and extras.  Paper towels go in the very top for storage. Those corner cabinets have lazy susans above and below.
And back to the dining room view.  As I said, it's not huge, but very functional. These cabinets are holding up so well and I wouldn't hesitate to recommend them to anyone looking to do a kitchen on a budget.
2.  Billy Bookcases 
One of my other Ikea faves is this wall of built-in Billy bookcases that my dad and I did a few years ago.  I knew that this corner of my den would be the perfect candidate for built-ins and it was so easy to execute this (with my dad's help of course!) with Ikea's Billy bookcases.  I measured my space, bought 2 of the same size and then added that smaller one in the middle, which is actually not as deep as the other 2, but you don't even notice that.  I painted the backs a pretty green/blue shade and added pretties to the shelves and the bottom comes in handy for storage too. It makes a great little reading nook spot.
I blogged building these bookcases in 3 parts if you missed it and want to take a look:  Building , Part 1, Part 2 adding the molding, and Decorating the bookcases and room, before I had windows installed in this space.  What a difference that made!  This room has been through several transformations, including adding new vinyl planks from Shaw Floors late last year. The room is finally completely finished!
3.  Raskog Utility Cart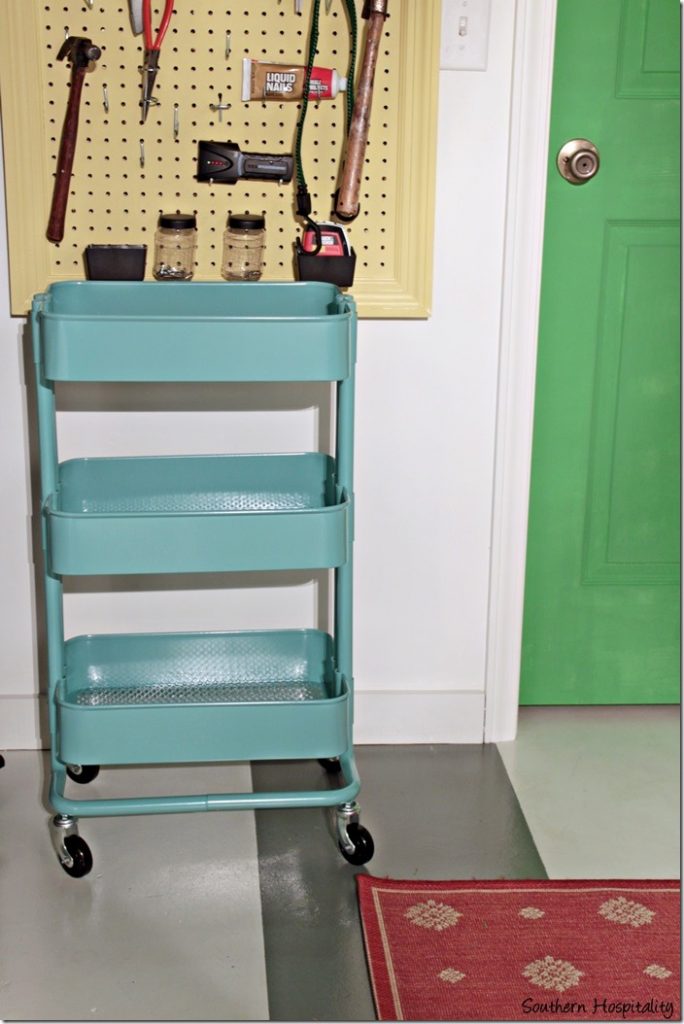 I couldn't resist this cute aqua rolling cart from Ikea, the Raskog.  I checked online and it looks like this color is no longer available, but I'm glad I got it while I could.  It hangs out in my laundry/mudroom space and holds my craft paint supplies.  I wish this room was still this neat and organized, but it's not! This is my catch-all room.
4.  Ritva Drapes
Another project that I did using Ikea drapes are these Ritva drapes that are $25 per pair.  I needed 3 pair for my bedroom and they were perfect for stenciling.  I did this Ikat stencil project on the drapes and I get a lot of compliments on them. They sort of look hand painted.  I haven't had the urge yet to replace them with something fancier and they add a lot of pizazz to my bedroom.
There sure have been a lot of projects in this house in the last 5 years, including the gingham painted wall treatment here in my bedroom.
5.  Botanical Drapes
Speaking of drapes, these Ikea drapes in my office space are so happy and cheery!  I had seen these around for years and knew that I wanted to use them in my office. They have a linen like feel, are nice and substantial on my single window and do the trick of brightening up my office.  I still love them!  I don't see these online anymore, but here's a similar botanical feel curtain at Ikea.
And that wraps up my 5 favorite Ikea items!  I have some pretty big things from Ikea and they really are a great resource for budget friendly items from the kitchen to gadgets. I love going there and seeing what's new.
How about you?  What's your favorite thing from Ikea and have you shopped there?  Most major cities have Ikea now and they sell a lot of things! 
Don't miss stopping by my friend's blogs and see what their fave things are too! I am so happy to be guest hosting with them this month! 
Don't Miss a Post, join my list!