The year is almost over and it's always fun to look back and see what we've accomplished this year. I've been doing this almost every year since I've been blogging, so many projects have been completed and documented in my years of blogging in my old house and now our new house in Acworth. Home improvement projects are always fun to see and we love to look back and see what we've done in this house to make it better in the 2 1/2 years we've been here. I can't believe how fast time has gone!
We've made even more progress this year and it feels so good!
Before, the kitchen when we moved in. We did this space in phases, which started with Mark adding all the molding on the kitchen bar and we had the cabinets painted with white on top and that pretty Knoxville Gray on the bottom.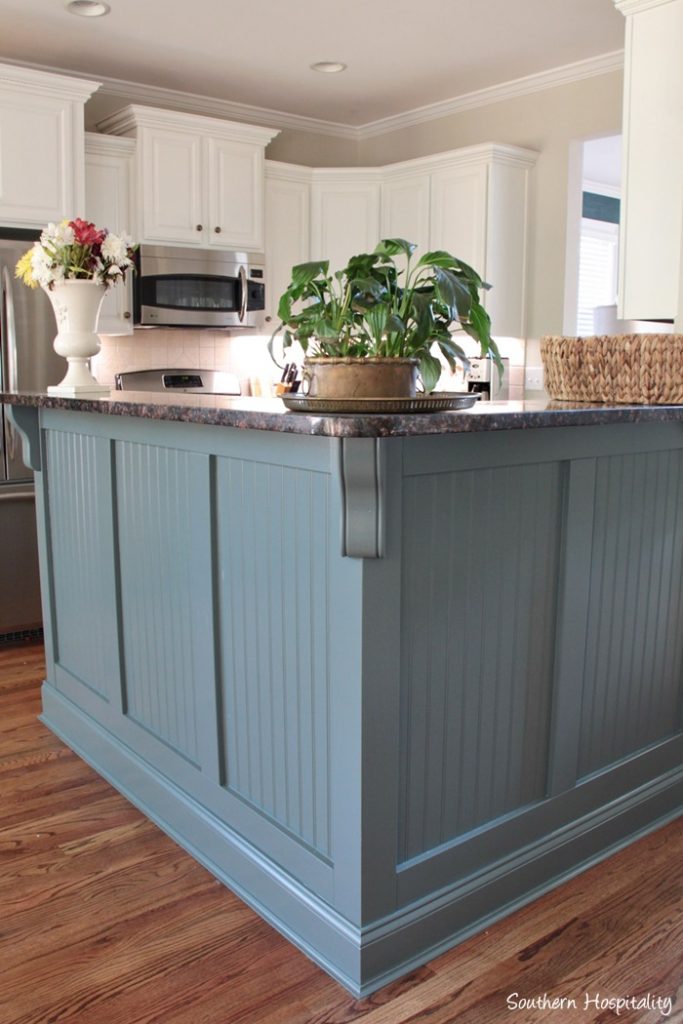 Phase I complete.
To Do: New countertops, backsplash, sink and faucet.
Maybe the biggest renovation this past year was our kitchen finale in January. We had added some trimwork on the kitchen bar right after we first moved in, but the rest of the kitchen waited until this year, when we added new countertops, backsplash, sink and faucet. It made such a huge difference from the start of our kitchen to now.
I've since replaced those barstools with rattan, but just look at the difference in the kitchen now and then! Mark's woodworking talents adding beadboard to the bar really set the stage for the rest of the kitchen changes.
Here are the new barstools.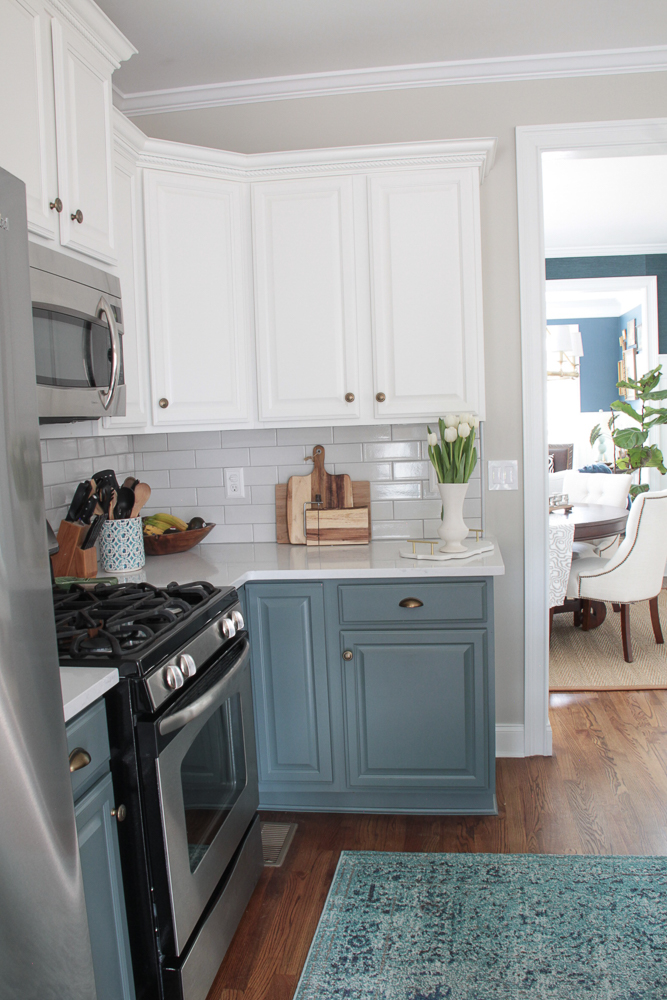 It truly looks like a brand new kitchen now and we are so happy and pleased with it. It's so much lighter and brighter than the original cherry cabinets and dark granite were.
In February, I gave our laundry room a much needed makeover and sure have enjoyed the results this year.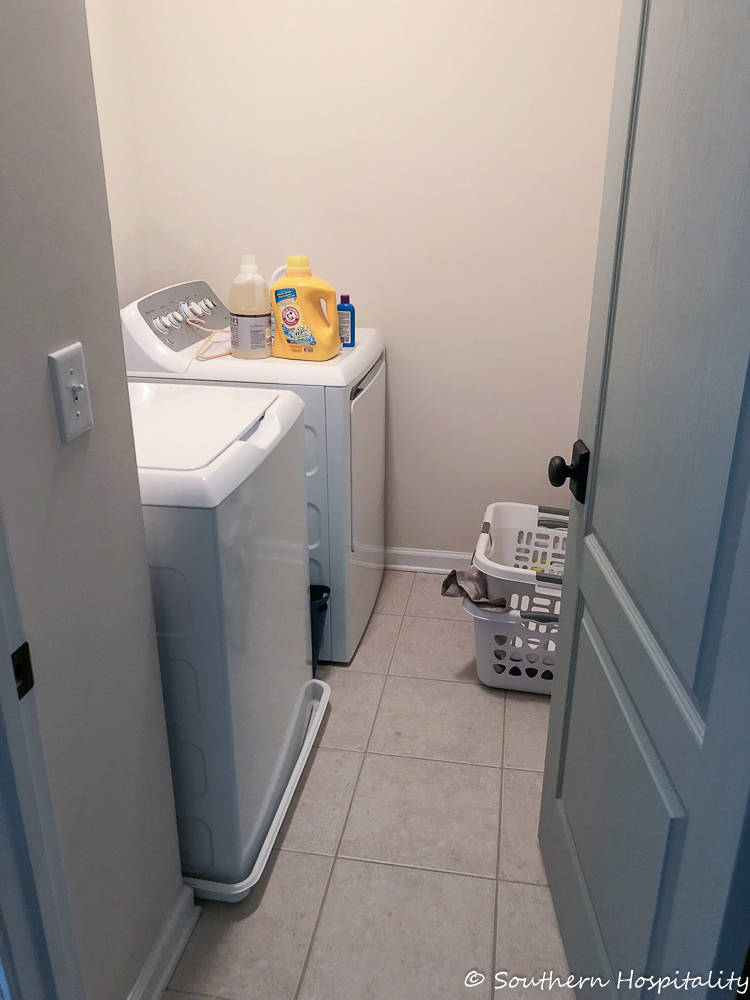 Here it is in the Before state, very boring and non-descript. I really don't like boring rooms!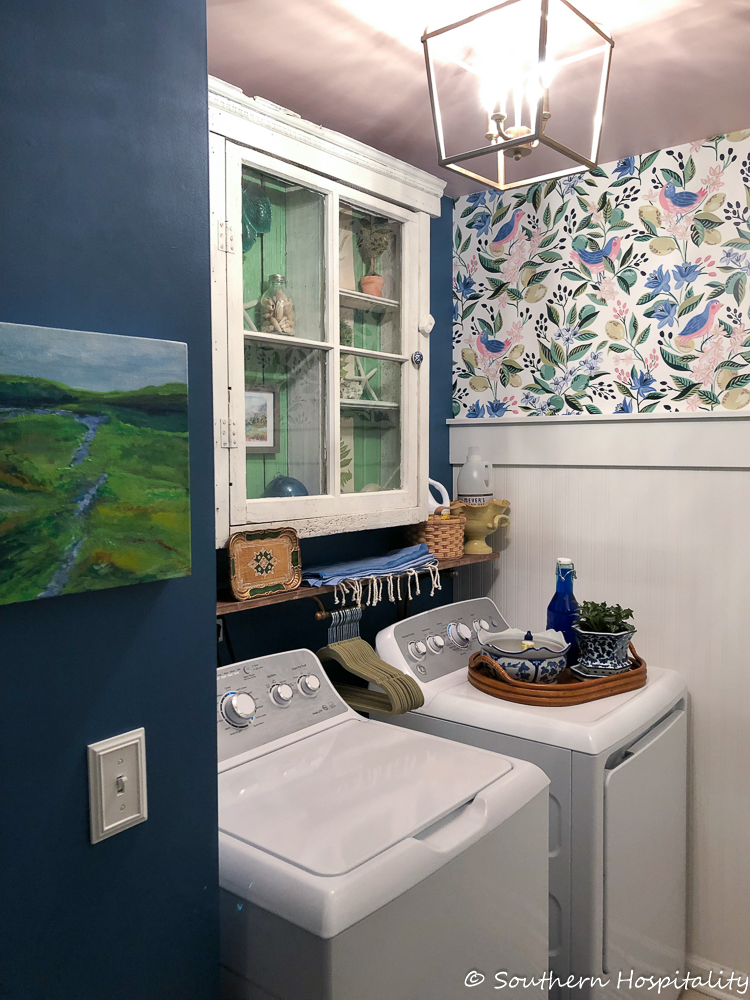 It's not a huge space, but I maxxed it out with so many space saving ideas. I call it Modern Vintage laundry room. I wanted to use beadboard wallpaper and colorful wallpaper and I did both in here! I did all this work myself with just a little help from Mark. He helped me hang the cabinet and the light fixture and I did all the rest. We still plan to put up crown molding as soon as he gets his tools out for another wood working project. I love the pink ceiling! You can read all the details and sources in that post linked above.
Here's a post about hanging the wallpaper.
I feel so smart coming up with this hanging bar (a big drawer pull) for my hangers in between the washer and dryer that are convenient for hanging up damp clothes for drying.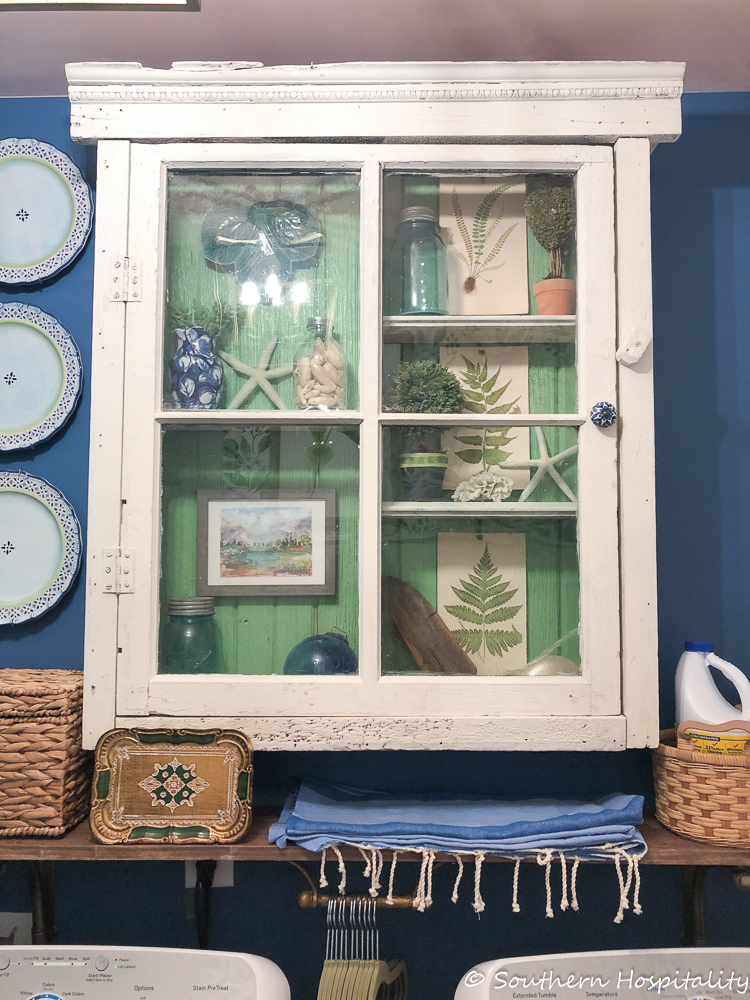 My cute shabby cabinet was repurposed in here and even though it really doesn't store things, it adds so much character to the room. I'm so glad I kept it! This is the only room in the house with chippy furniture.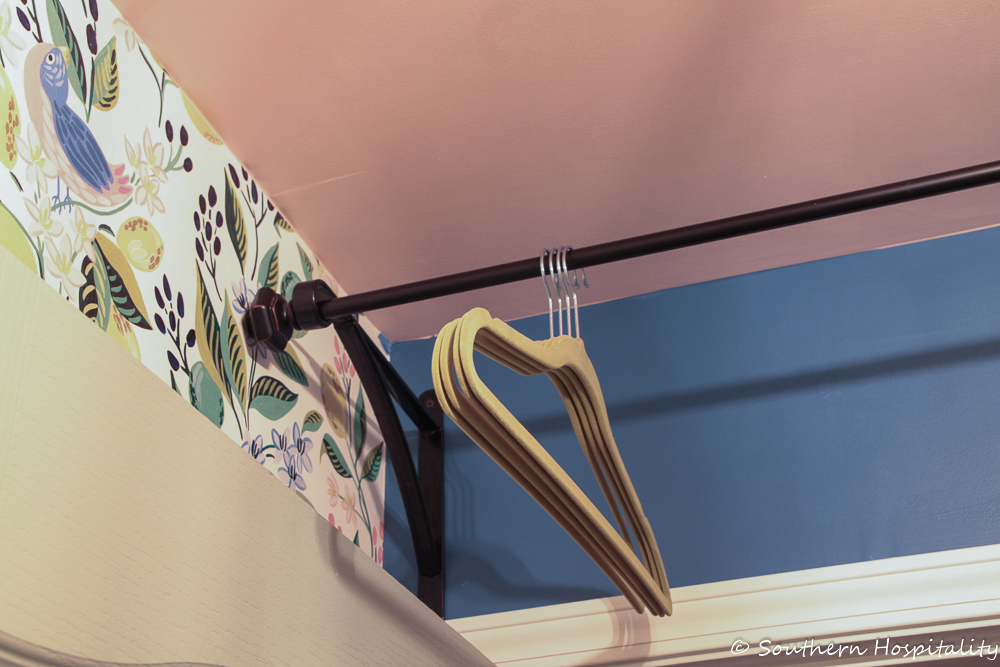 Here's my hanging rod idea using plant hangers and a curtain rod. It's been the perfect set up in our small laundry room, giving me a place out of the way to hang damp clothes. Even though it's over the door, it's not a problem coming in and out of the room.
In June, we started planning for some outdoor improvements in the backyard.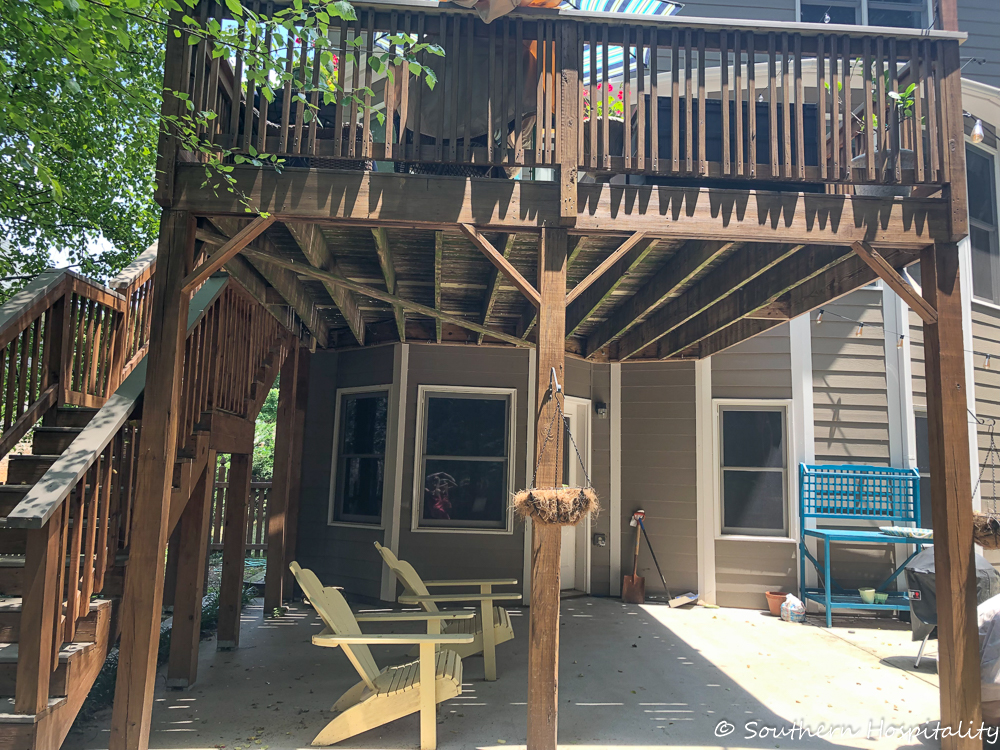 Here's the Before of our underdeck.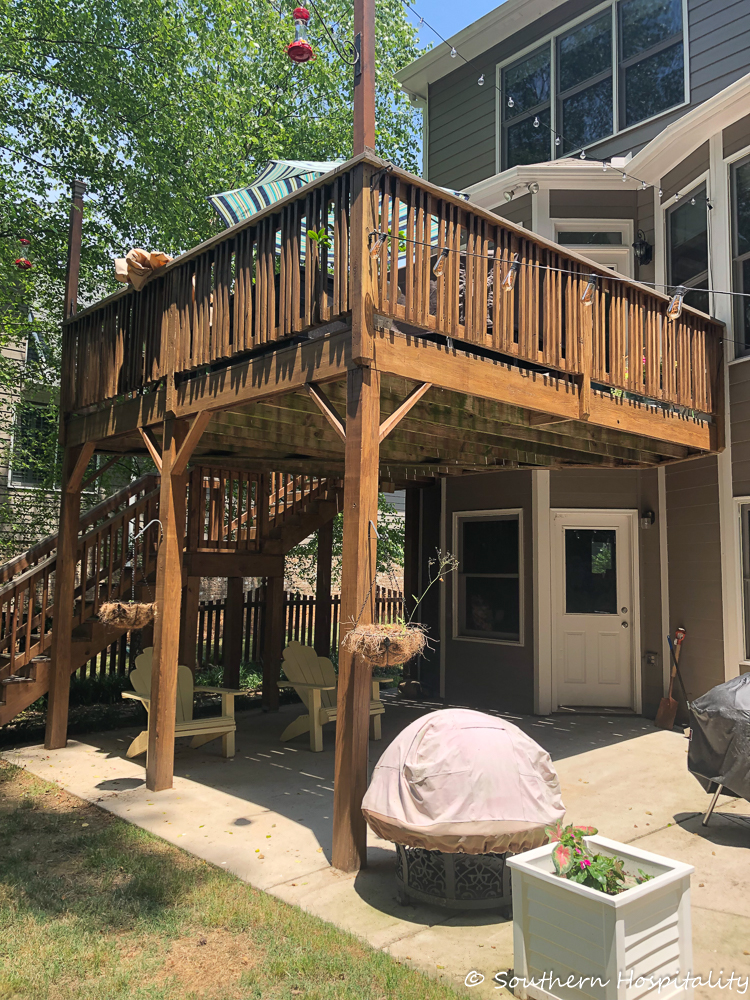 We decided that this space would be great for screening in and so we planned for several projects back here to finish this space off into a room that we will enjoy.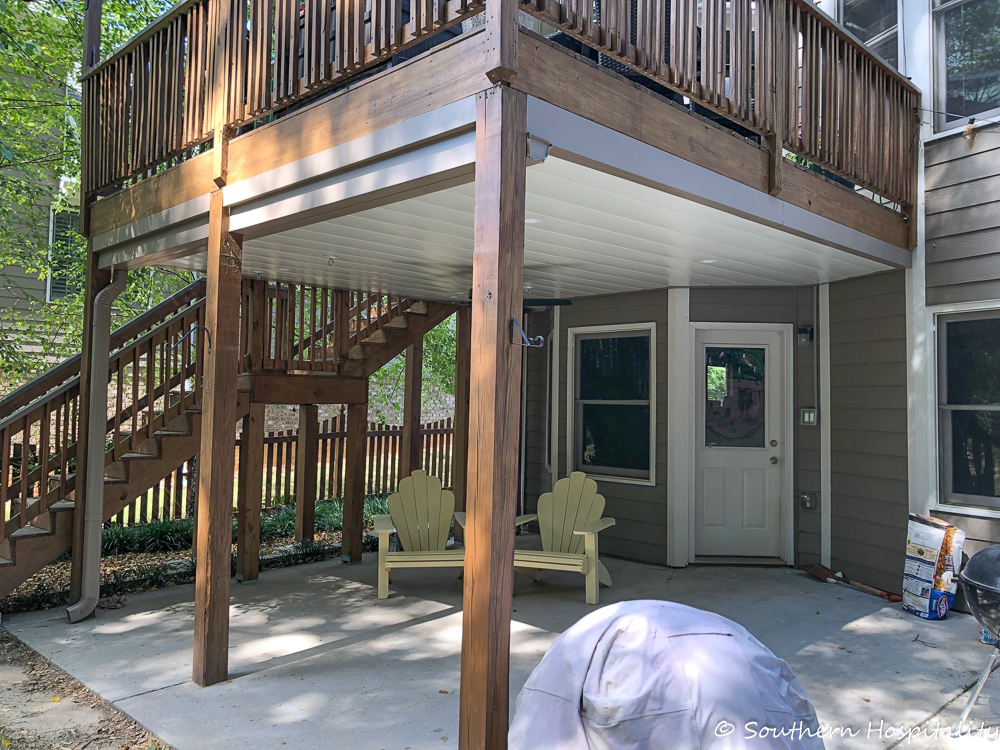 First we hired out the ceiling system and got this nice aluminum ceiling system installed with gutters to take the water off the upper deck.
It was so nice to get that done and I also had them add hooks for a swing bed. More on that later! We also got 4 can lights and a ceiling fan installed. Have to prepare for summer!
In October, we got a new front door installed and absolutely love it too. It's solid knotty alder with wavy glass and you can read all about that post and the update.
Also in October, we continued outdoors and finished up two major impact projects out there that will completely change our outdoor living next year.
After living here two years and struggling with keeping this patio clean, I decided to find another solution to the patio constantly turning green. I was going to either put down real tile or find something to make this area look better. After getting so much rain during spring and summer months, this is how the patio looked the majority of the time and even pressure washing didn't last that long.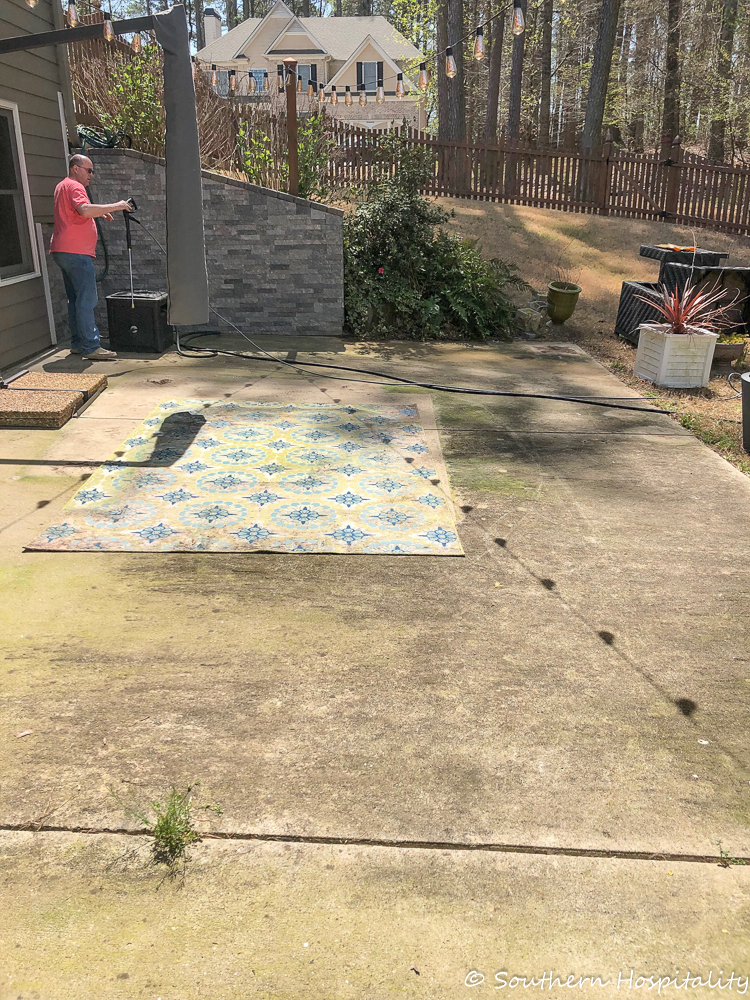 After winter, the patio looked like this and I couldn't stand it anymore. First I pressure washed again, then I found a product that I was so excited to try. It completely changed our patio and now it looks like this!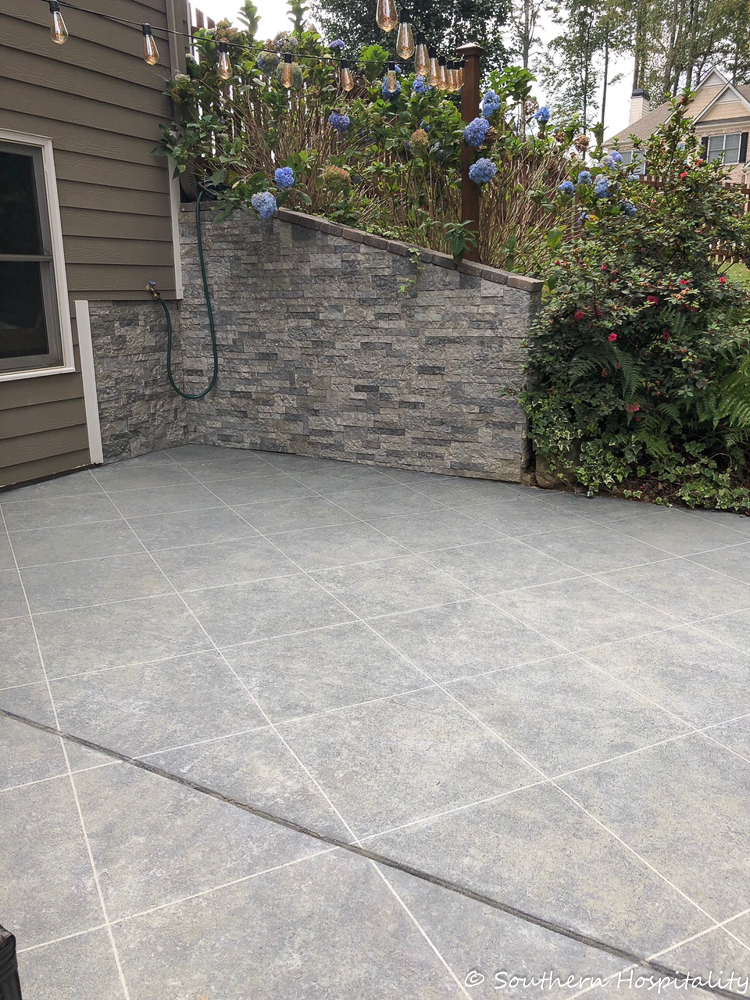 I taped off the patio and painted it with a product called SpreadStone. It's a concrete paint with real stone chips in the paint and it has 5 layers that are rolled onto concrete to create a faux tile look. Here's the complete how to post I did on using SpreadStone to create a faux tile look on concrete.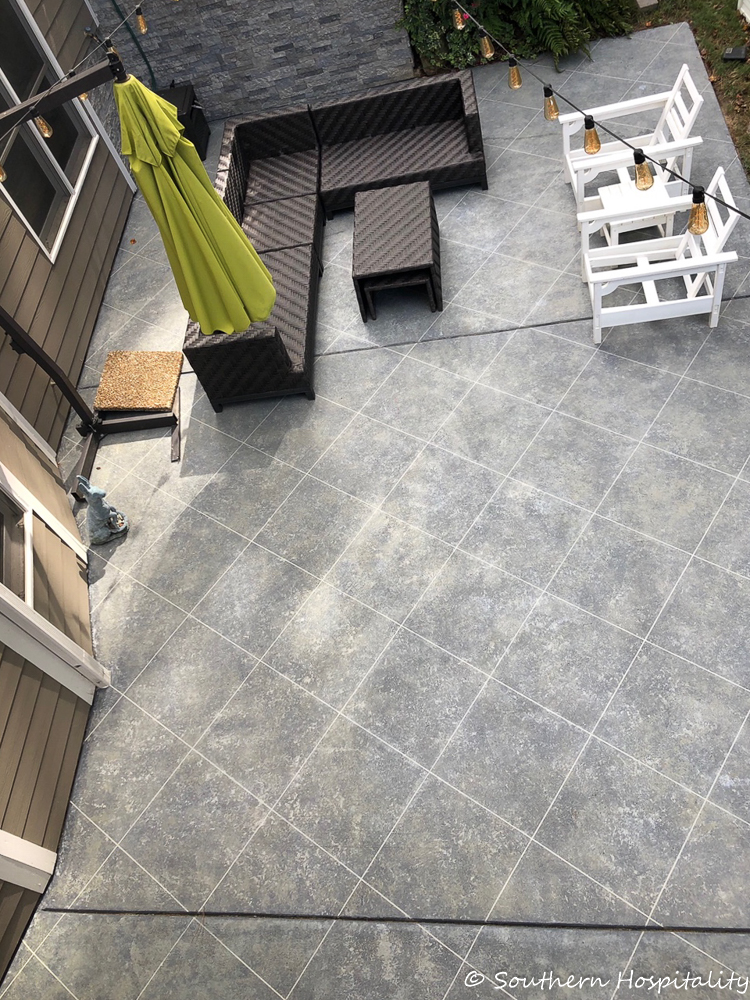 I'm so proud of how this project turned out and the fact that I did it by myself as well. Mark helped me tape it off, but other than that I did all the labor. It looks SO much better and I'm thrilled with the results and would do it all over again.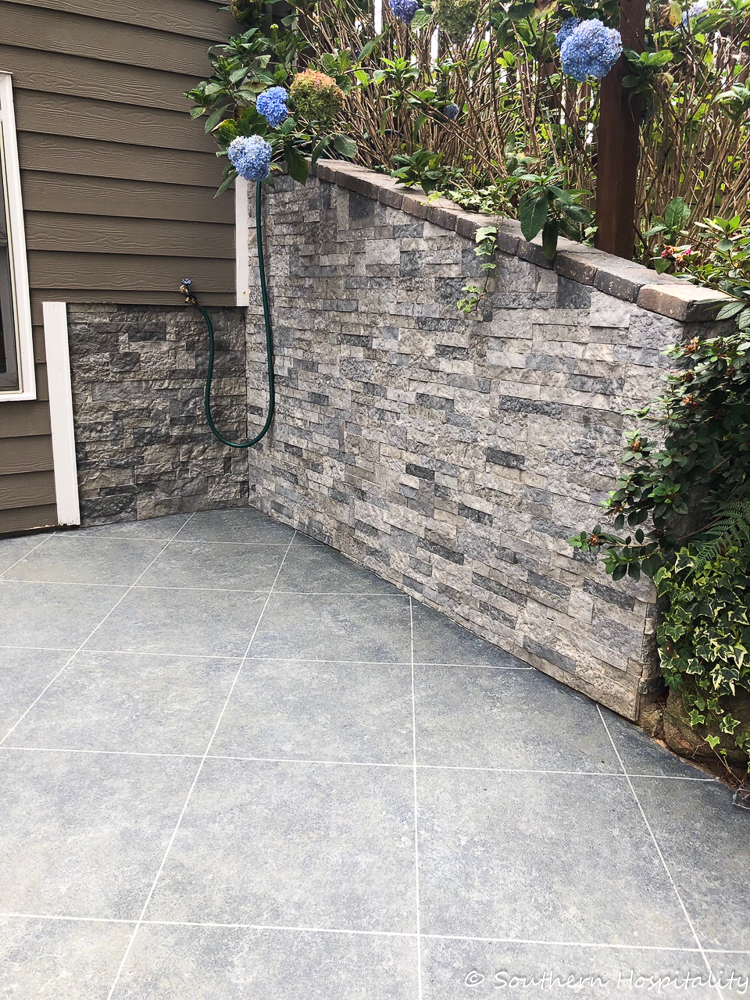 So far it seems to be holding up well. I'm hoping that it doesn't turn green like the old concrete did. This product is supposed to hold up to weather and look good for years to come, so I'll keep you posted on that. So far I've been able to spray any dirt off with the hose and it can be lightly pressure washed to keep it clean, so I'm anxious to see how it does this year after spring rains and winter weather. I will probably use a mildew spray and hose it off it any mildew occurs.
It sure looks so much better doesn't it!? We did that faux AirStone stone on the concrete wall last year and love it too. It really amps up this space so much!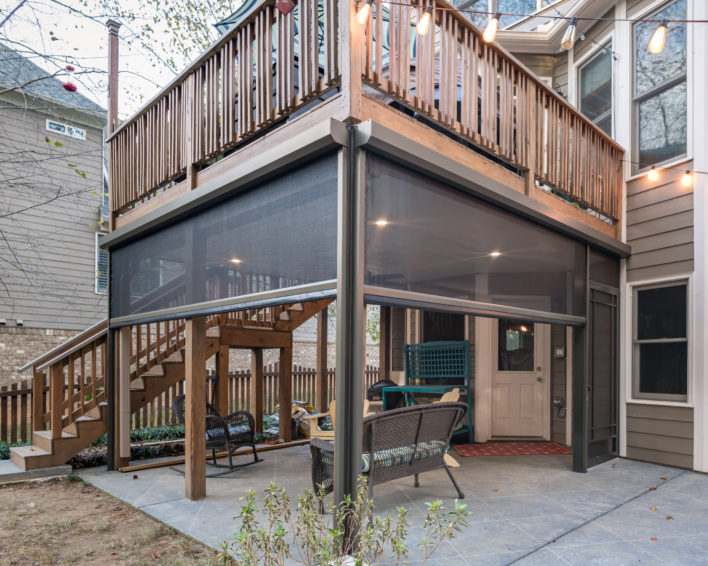 The last outdoor project we completed before the Holidays came was getting Phantom Screens installed under the back deck. This was something I had on my wish list and was so fortunate that Phantom Screens partnered with me on this big project. It was a dream come true to get these retractable screens installed under our deck.
We are going to love having this space for lounging and entertaining next year. Our own little backyard paradise.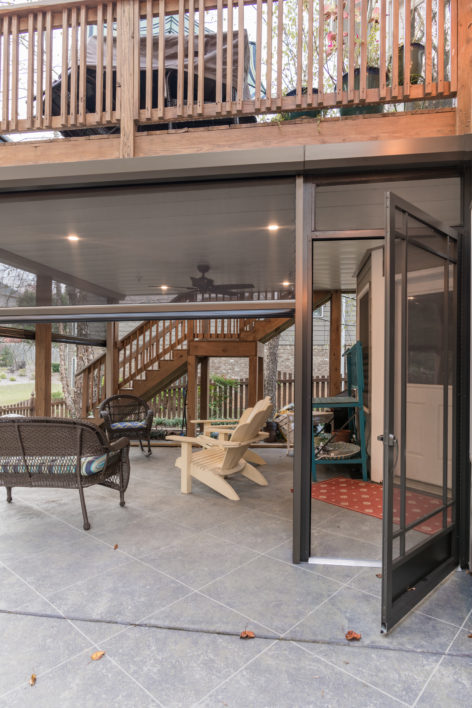 They installed the aluminum screen door system as well as the screens and it all looks seamless. We couldn't be happier with how it's all turned out.
We are so thrilled to have the backyard space completed with all of these updates so far. We have so much more we want to do back there too, including more landscaping and hardscaping.
Woohoooo! I couldn't wait to share this with you. Look what Mark surprised me with for my birthday and Christmas! It's such a great gift. He knew he wouldn't be building a swing bed anytime soon, so he went ahead and bought this one from Hanging Porch Beds in Atlanta and WOW, was I surprised. They delivered it to our house the Saturday before Christmas and Mark took me downstairs (in my PJs and robe) to see my surprise delivered from the company. I had NO idea what he had gotten me, but he kept telling me I was going to love my present. He was sure right about that!
It's so hard to buy for him, I got him clothes. But he really pulled this surprise over on me and I was so very happy to get the swing bed now. So excited to get it outfitted with twin mattress and all the pillows! We will be working on that shutter wall as soon as we can to get this room complete. Can't wait for spring now!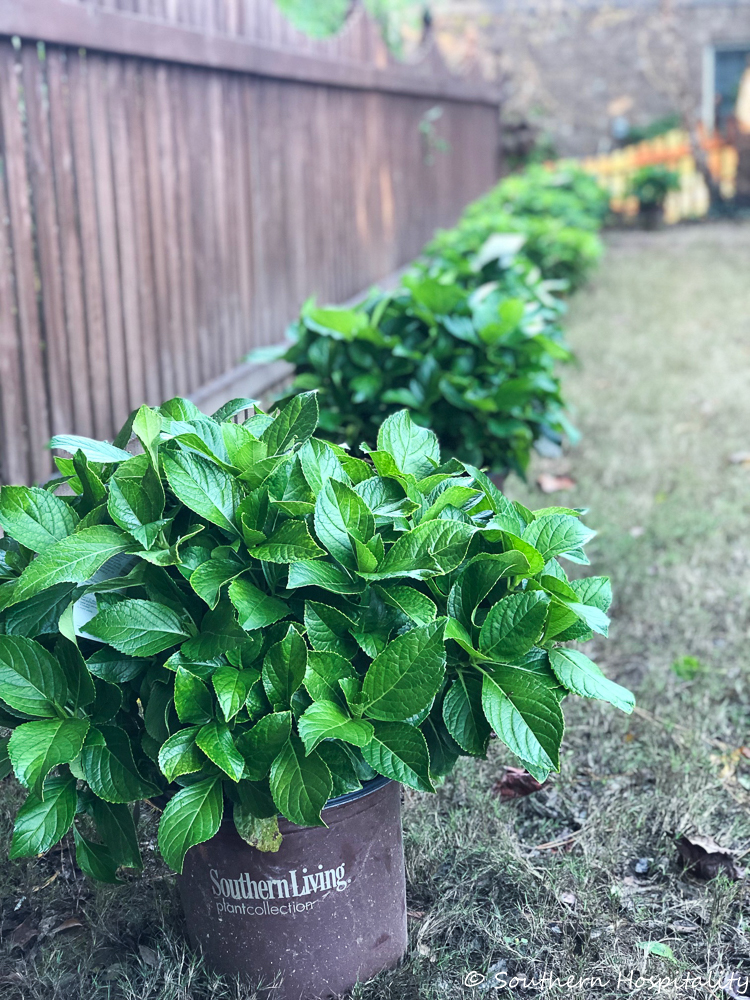 Also before the Holidays, I worked with Southern Living Plants and they sent me a whole shipment of beautiful hydrangeas to get planted before the cold weather. I'm so glad I got them in the ground before Winter hit and come Spring, they should really take off and grow. Our backyard is going to be a haven for sure with all the improvements we have made and all that is to come.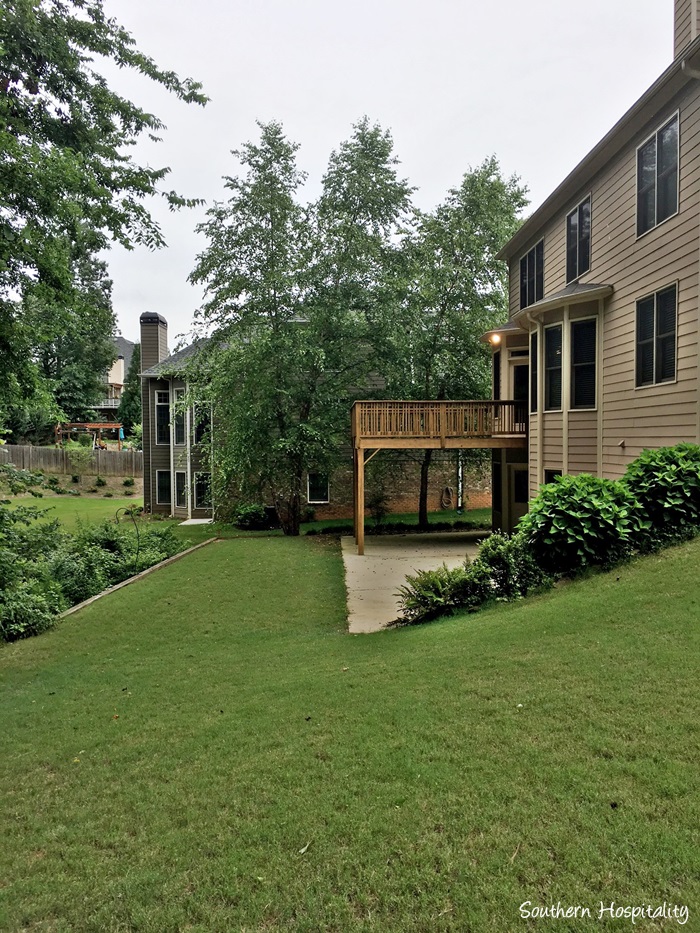 Here's a shot of the backyard right after we bought the house in Summer of 2017. The grass looked better before Holly took over the backyard, but the improvements that have been made will be so nice overall. She has ruined the lower part of the grass, but we are going to take it out anyway and add stones and hardscaping to enhance the back yard.
Mark is retiring in the next 3 months and I'm so excited to get him home and out of the Corporate grind. Things are really going to change for us with him being retired and it's an exciting time for more travel and of course, more home improvements for 2020. He will have more time to do the things he's been wanting to do around here and we will have more time to travel.
So here's to a new exciting year and all that comes with a New Year! In fact, the first project of 2020 will be our complete master bathroom renovation. I haven't shared the plans with you yet, but it's going to be good! I'll be sharing it all soon.
I'm also joining some other talented bloggers who are looking back at their year in review and all they've accomplished too, so please go and visit them all!
Designthusiasm | StoneGable | Shabbyfufu
The Happy Housie | Southern Hospitality | Sanctuary Home Decor
Zevy Joy | Nick + Alicia | So Much Better With Age
Don't Miss a Post, join my list!