Many of you have been with me since the beginning of my blog and especially when I bought the fixer upper house I lived in before Mark and I got married. It's been a fast 9 years since I bought this fixer upper house. It sure doesn't seem that long ago and yet, it does. Time goes by so fast these days and the time has come to sell it. The market right now is hot hot hot and now is the time to sell and take advantage of this market.
If you're new around here, here's a little bit of a back story about this house. I moved back home to Atlanta after a 5 year stint in Birmingham, which didn't go so well for me. I went through a horrible divorce, lost almost everything in the process and moved back home with my parents, happy to be out of a bad situation, but feeling pretty hopeless. I was grateful and optimistic, but knew it would take me a long time to rebuild. Well, God had other plans and one year later and way faster than I ever saw coming, he sent me a fixer upper house to love on. With the help of my parents lending me part of the money, we bought this fixer upper house for $70K. This was after the great recession of 2008 and home prices were still low with lots of foreclosures going on around Atlanta. It was 2012 and I got in at the tail end of the foreclosures hitting the market and scored this ugly duckling for a great price. I remember it like it was yesterday. These foreclosures were getting snapped up left and right and I wrote a post about my house hunting experience then.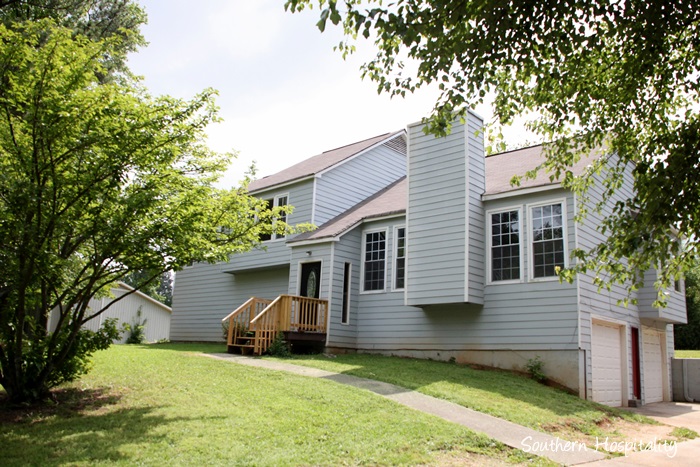 Before
After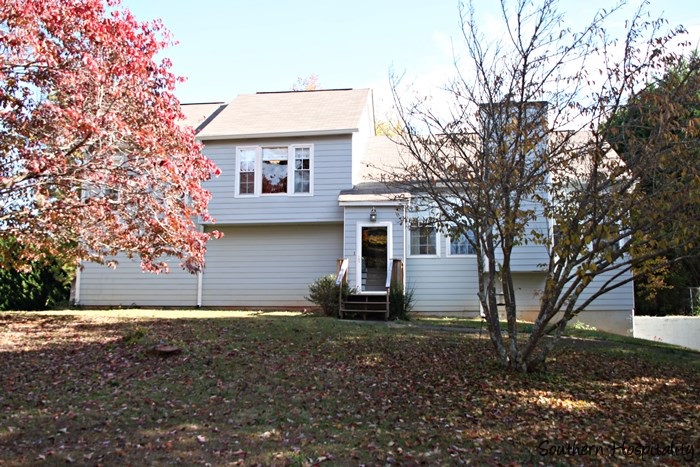 Before

After
You can see above what she looked like when I got ahold of her and I had to share the current after shots of the yard now. I was the proud owner of a fixer upper of major proportions and I couldn't have been more proud. I go back sometimes and read this post The House is Ours and the comments that so many of you left me during that time. I had so much hope and optimism in spite of what I'd been through. I knew I could make this ugly house something special and that's what we set about doing. You have to read about my mom's devotional back in that post too, it will bring tears to your eyes.
With the help of my dad and a few angels along the way, this house became such a haven for me, a place to call my own and to heal and get back on my feet. I had been able to buy a house much sooner than I ever dreamed because of the housing market back then. It was such a blessing!
I dug up these old pics of some special ladies that came over and helped me paint the trim in the house. It was all stained trim and we were tasked with painting every bit of it by hand. These ladies helped so much in getting the trim primed and painted and I can't thank them enough for their efforts. I do know Susan and Sheila are in these pics, but not sure the other girls.
I don't even know all their names now, but they were angels to me then. If you recognize yourself in these pics, please tell me. That might be Connie on the left, I hear from her on Instagram all the time.
It would have taken so long to paint that trim without help from these girls and I appreciate it so much. At the time, the house seemed like a daunting task to make it something special and to even get it to the point I could move in. As it was, we worked almost every day on the house and 6 months later I moved in. I documented every single project in that house here on the blog and you all followed along faithfully. I still get so many comments now from so many of you that started following me when I bought this house and me and my dad fixed it up.
It really was the house that blogging built, as I said in that old post. God truly redeemed and restored me with this house. He blessed my blog 10 fold and 10 years after moving back to Georgia, in 2021, I'm 100% restored above and beyond what I could have ever dreamed. God is faithful. God can take a bad situation and turn it around for good. That's what He did for me.
In 2013, I had an open house and invited my readers to come and tour the house. It wasn't all finished yet, the outside had not been updated yet, but it was a blast to meet so many of you during that time.
It doesn't look like the same house, does it?
I shared all the Before and after pics of this house in a post, so please go back and read that if you haven't seen those pics. It's truly an inspiring renovation, done on a shoestring budget with Ikea cabinets and lots of DIY projects and I'm so proud of this little house. I lived here for 5 years and then when I met Mark and we fell in love and got married, we wanted to buy a house of our own, so I rented this house out for the last almost 4 years to Mark's daughter, Traci and her family. There was a wedding in the backyard last year as they made it official and they have a 3 year old daughter, Rose, who came home from the hospital to this house. They were ready to look for a house to buy this spring and decided to buy a bigger house and I'm very happy for them that they found a nice house to buy. They moved out a few weeks ago and I've been busy, cleaning, getting some painting done and generally sprucing up the house getting it ready to go on the market.
The landscaping that I was so fortunate to get from Southern Living plants has exploded in the last 7 years. Just look at it now! Everything is grown up and lush.
The hydrangeas are showing off right now just in time for putting it on the market. That lime green plant is Pittosporum Mojo from Southern Living Plants.
The gardenias are blooming too.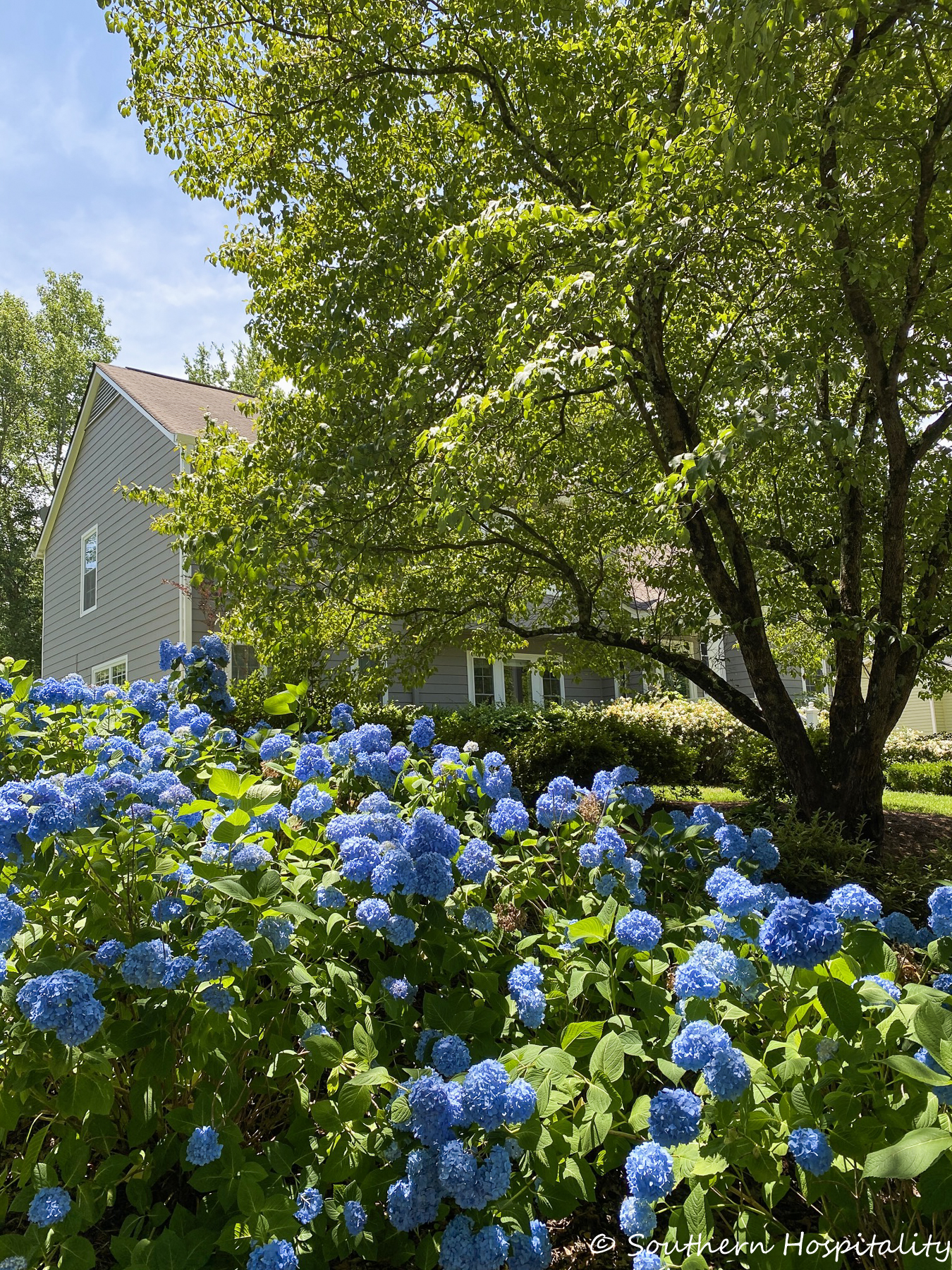 The hydrangeas are in full bloom right now, just in time for selling. I had to share this pics so you can see how far the landscaping has grown in 7 years.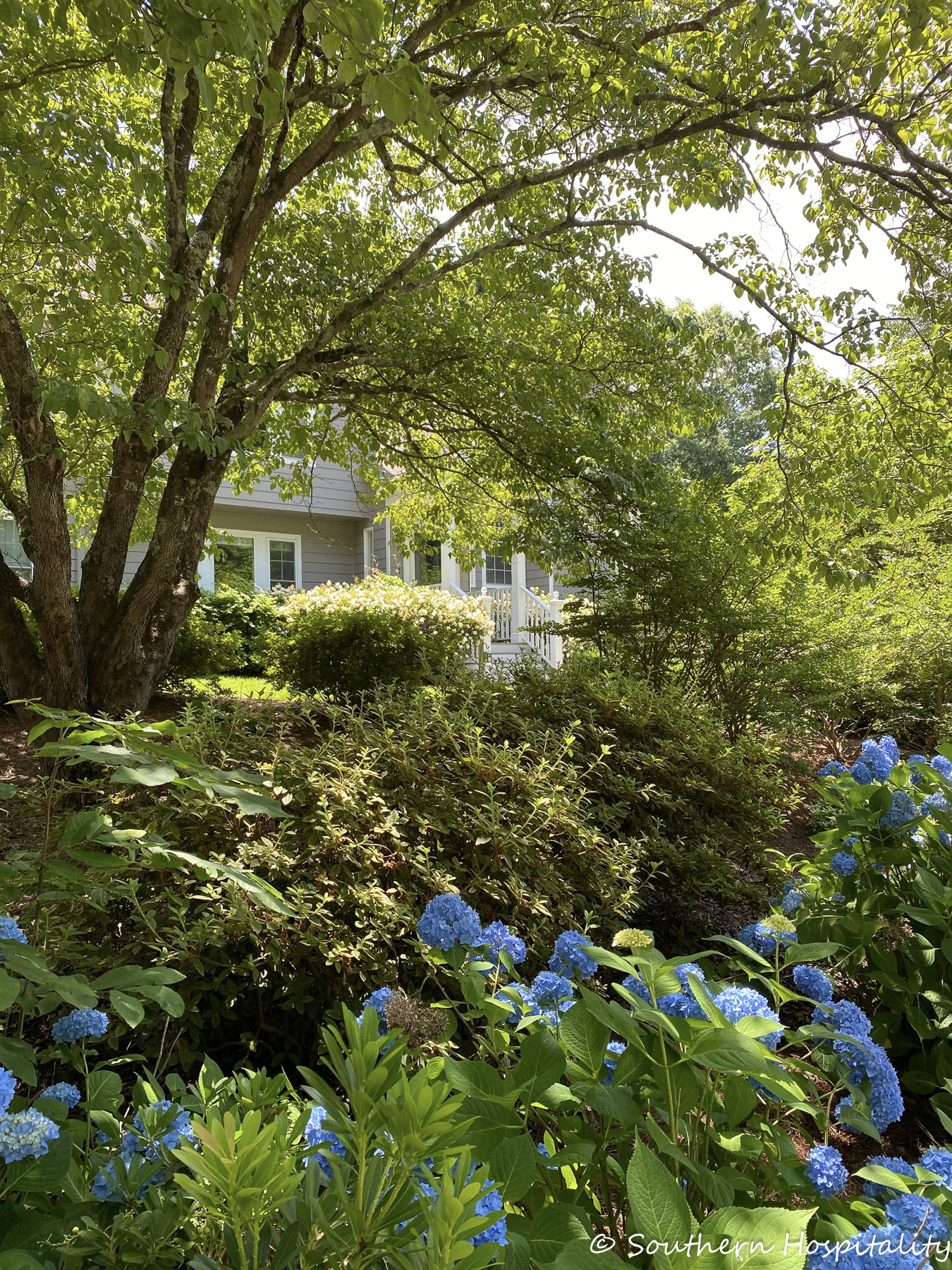 Gorgeous hydrangeas wrap both sides of the yard.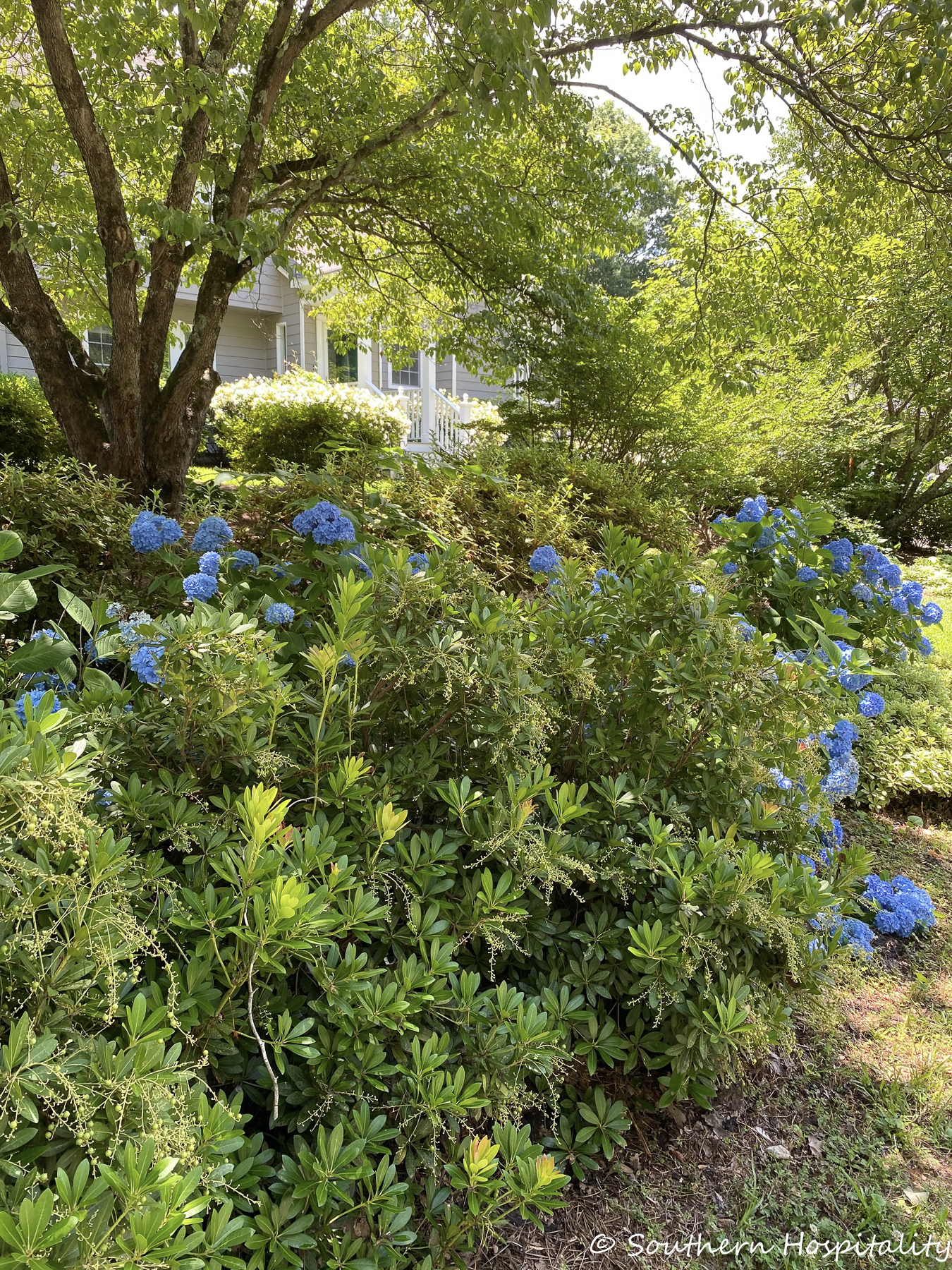 It's grown so much you can hardly see the house now. If I was still living there, I would trim back the crepe myrtles in the middle, but it does give a lot of privacy so I'll let the new owners decide.
I'm still so grateful that this landscaping was given to me as well, what a gift. You may remember that Carmen Johnston took on my yard project and helped me get plants from Southern Living plant collection. What a blessing that was!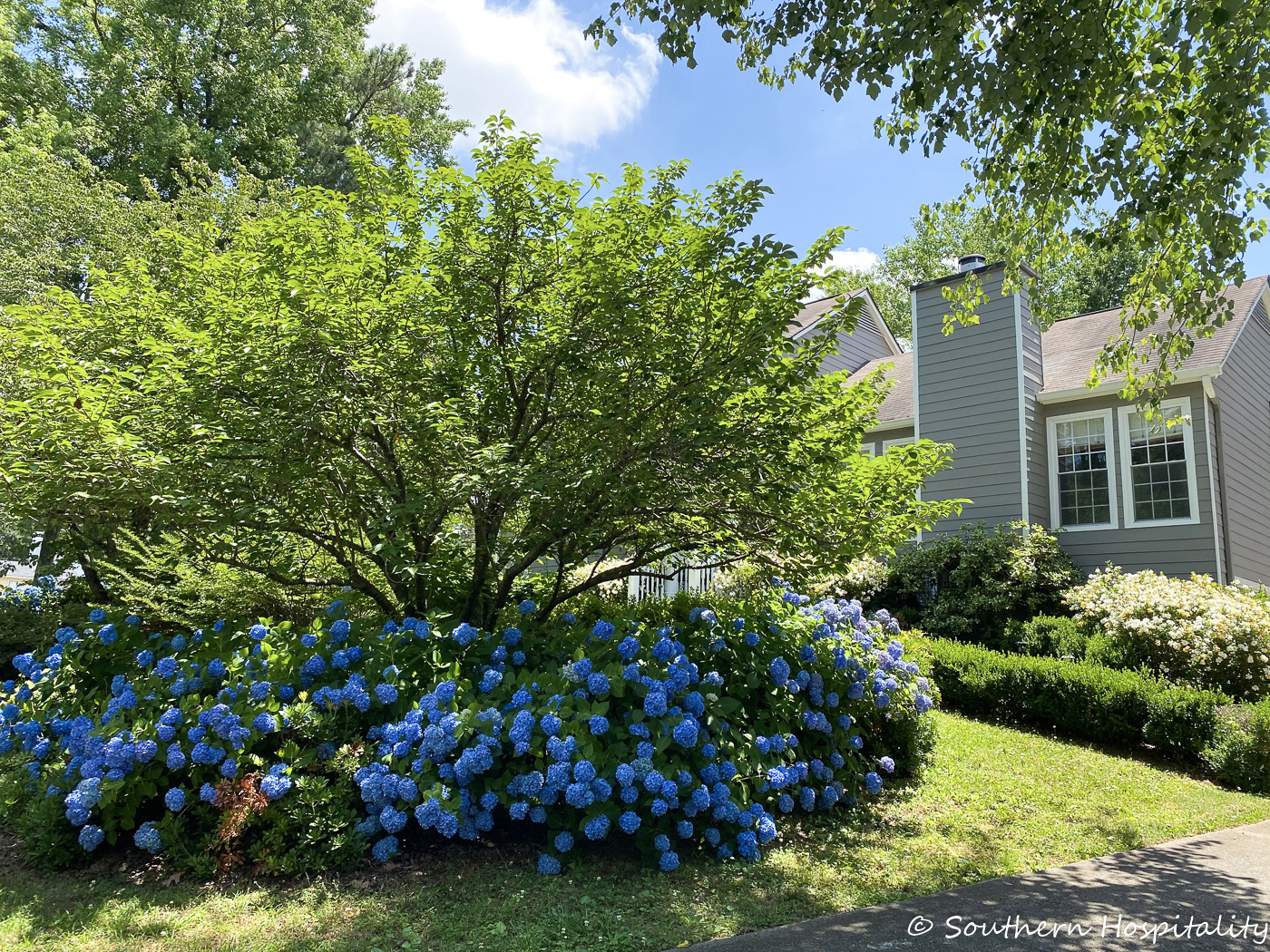 Mark has been helping me get things ready by mowing the grass and putting out fresh mulch. It looks so good and we will have it looking just right when the house gets shown.
Come on in and I'll show you the house mostly empty. There were so many nail holes in the wall from me living there and my renters as well, so I decided to make everything fresh and clean with a new coat of paint. I hired my painters to come in and do that and it looks so good.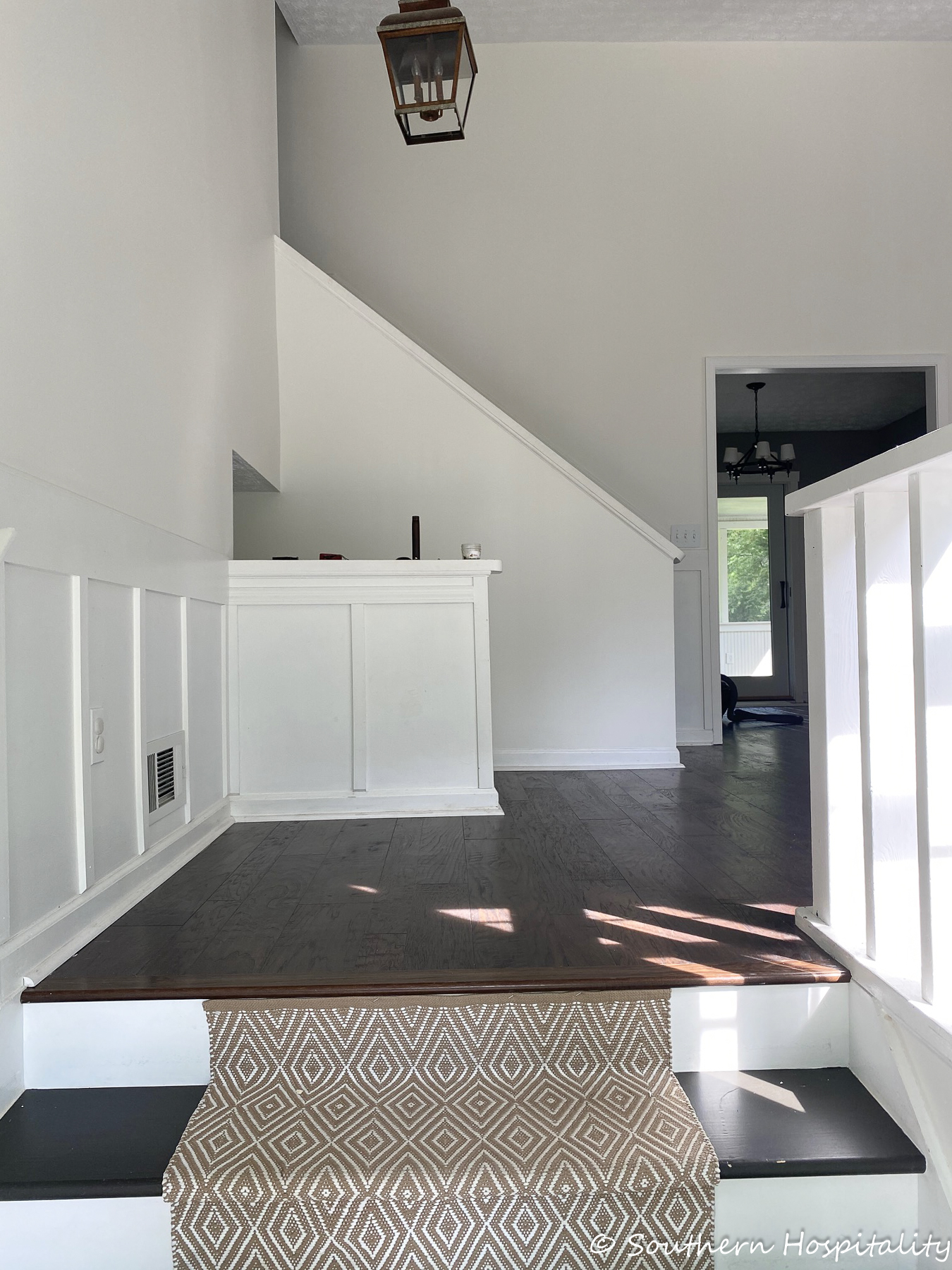 I wish I had chosen Alabaster to begin with, it's a great warm white from Sherwin Williams and the same color that's on the screened porch. I had used a more antique white before and should have gone with this to begin with. I did go back and paint out those grates to Alabaster too so those are done.
Alabaster is a great color.
The floors are still in great shape and i just need to do a final cleaning and mopping of the floors after we are finished in here. I touched up all the white trim too as well as the dark stairs. My runners I DIY'd years ago are still hanging in there.
The plank wall my dad and I did is too. I've still got a few more things to move out, but it's mostly empty now. We will finish up the rest this week and it should be ready to go on the market by the end of this coming week.
The dining room still looks great and this board and batten project was one of the first ones we tackled in the house. Dad didn't get the whole board and batten thing when I first told him about it but he was a believer after we installed it. My posts and pics back then weren't so great, but I documented all our projects.
This Ikea kitchen has held up well too and I have nothing bad to say about Ikea. It's a 9 year old kitchen now and still looking great. I wouldn't change a thing about this kitchen to this day.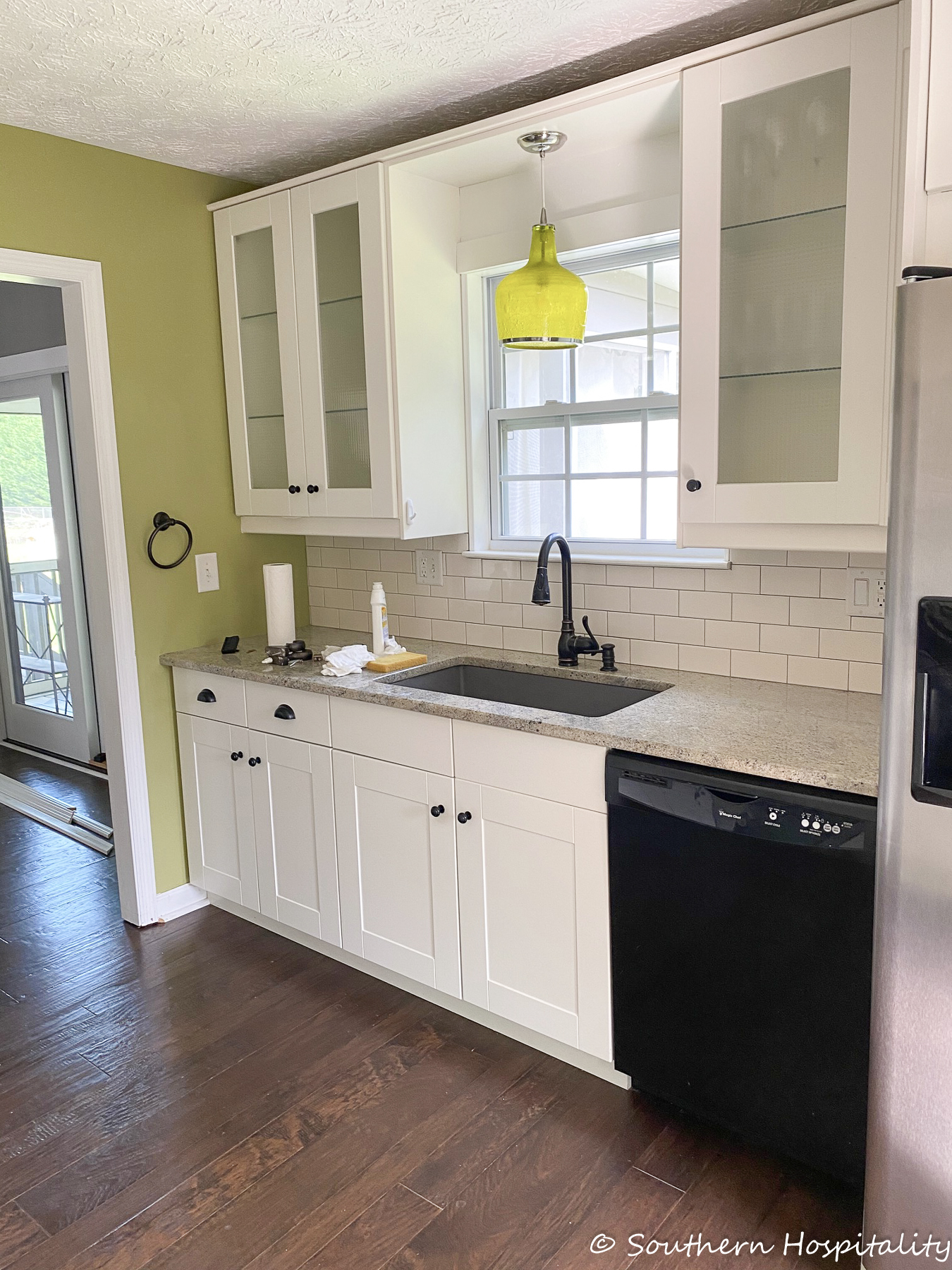 Dad and I did that backsplash and I'm so proud of our efforts in this house.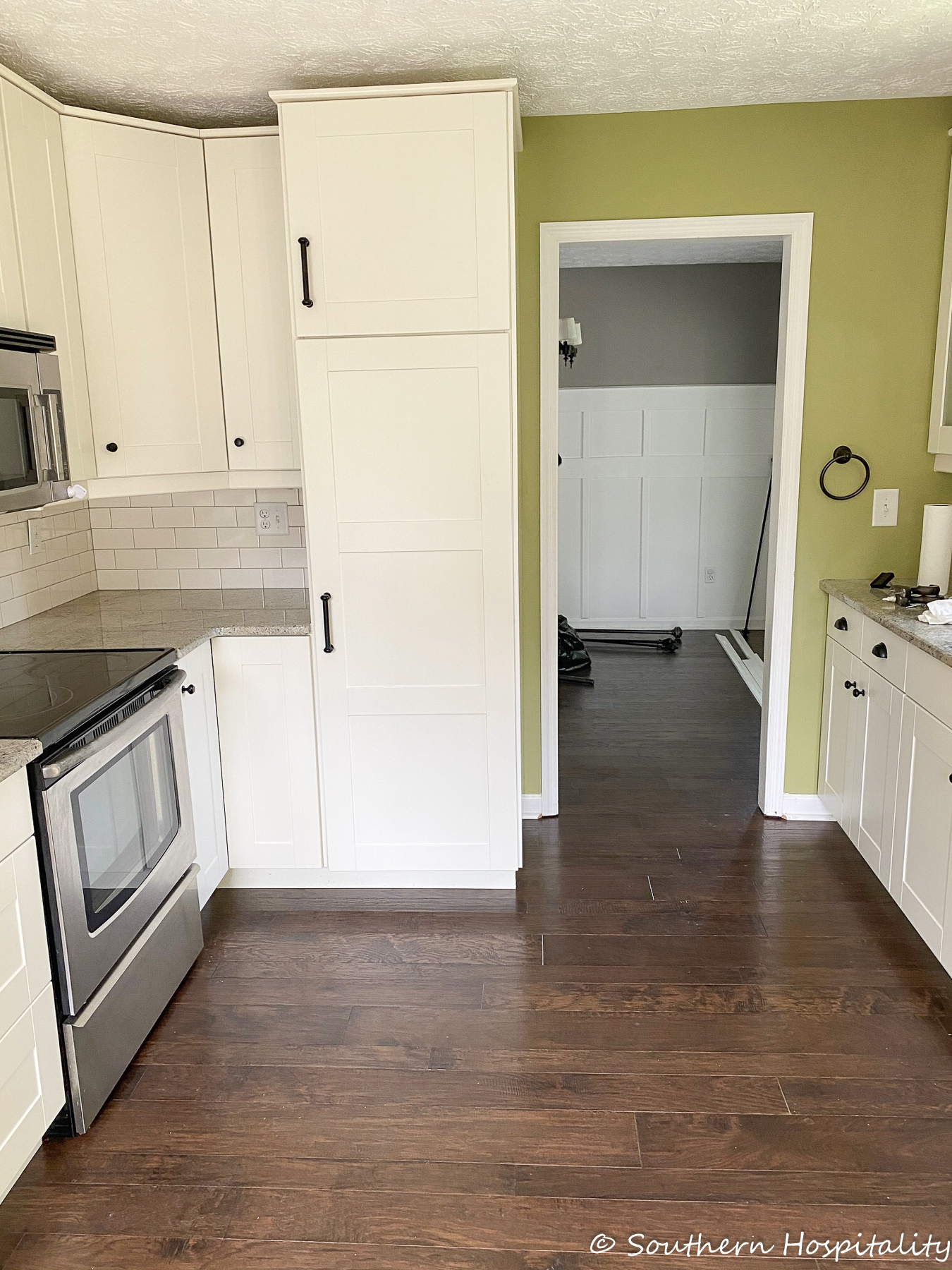 I left the green paint color in here since it's a minimal amount of wall. I hope whoever buys it appreciates all we've done in the house. With the neutral paint color, they can personalize it as they wish.
The screen porch still looks good too and it's clean now but I took pics before I cleaned it. I brought the hose up and sprayed it down and scrubbed with a long handle brush. I'm selling this table and chairs and it sold yesterday so the porch is all done now.
I sure spent a lot of beautiful days on this porch. So grateful Mark and I have a porch now too, it's such a blessing to have outdoor spaces.
Down in the bonus family room, it is still looking great too. Adding those extra windows on the left wall was the best thing I did down here.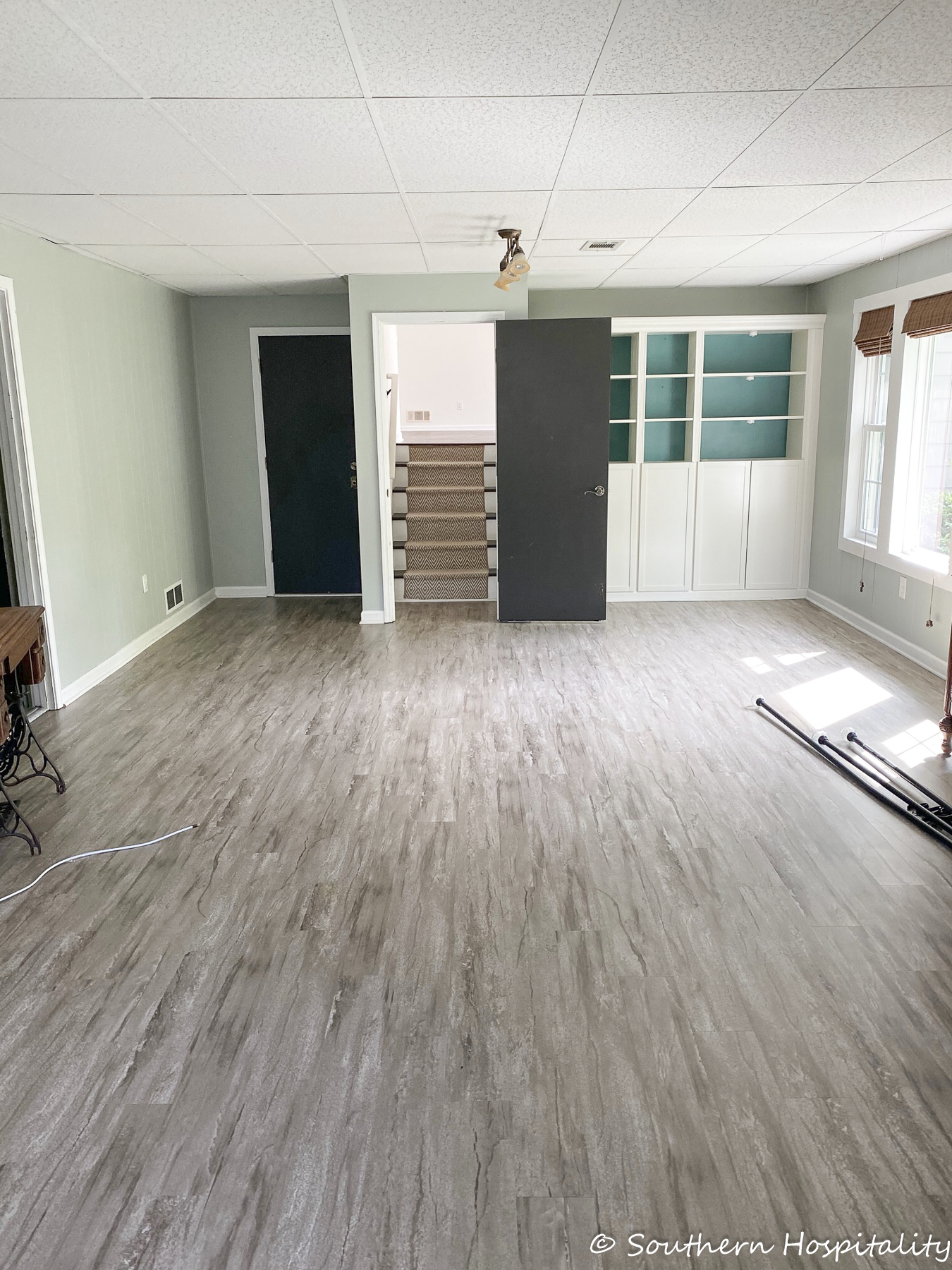 They add so much natural light to the space. Those built in Billy bookcases are a great addition too.
The laundry room is still in pretty good shape after I painted stripes in here.. Some of the paint has scuffed, but it held up pretty well. I stencilled that wall only behind the washer dryer I had.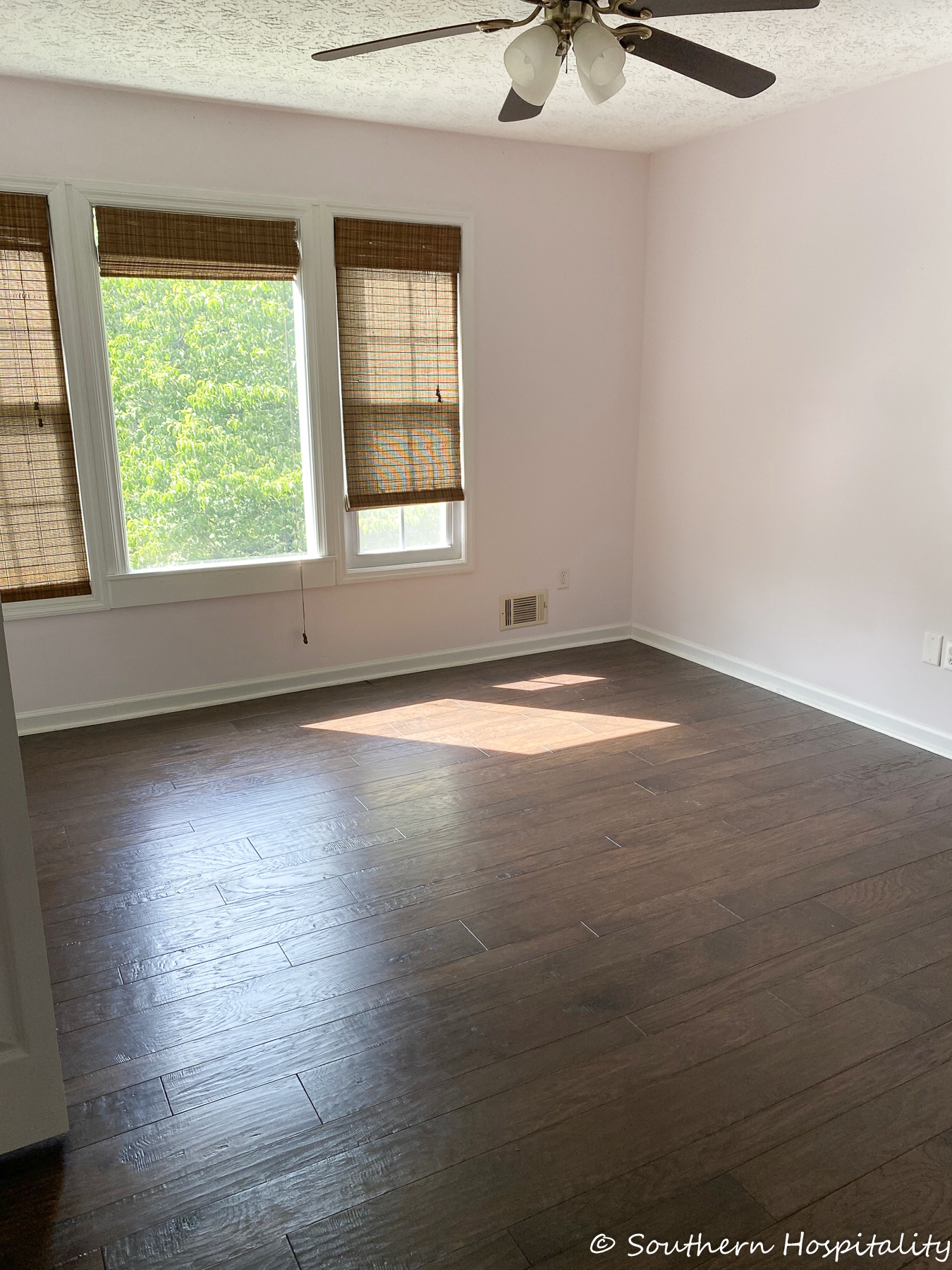 Upstairs this is my roommates old room and Rose's old room, they painted it pink for her.
My old office space got a fresh coat of Alabaster to neutralize it too.
The bathroom vanity was looking pretty rough so I repainted it in the same color I used in our master bathroom, Acacia Haze and it looks so much better. A fresh coat of Alabaster went in here too.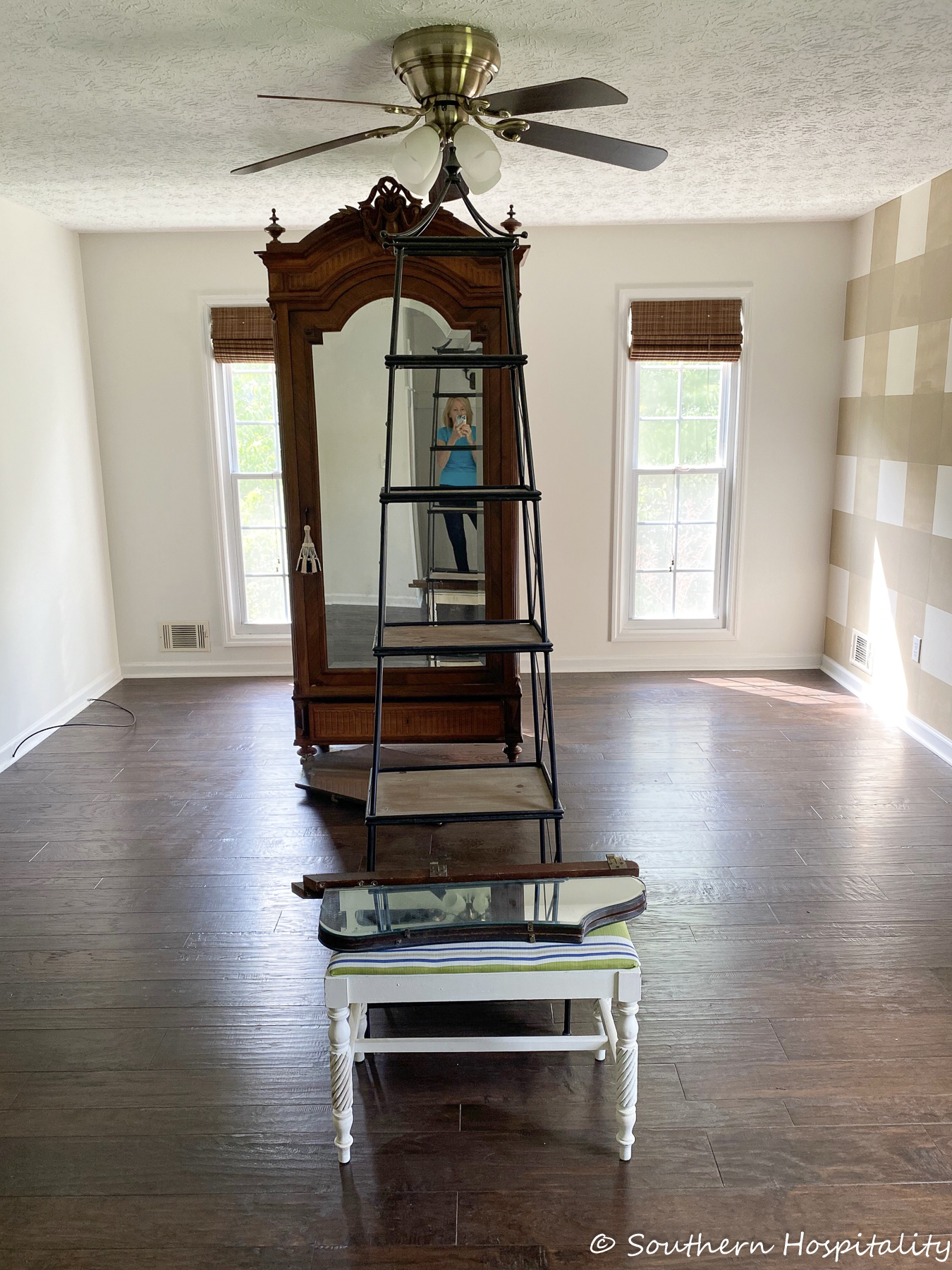 My old bedroom also got Alabaster added and it looks so bright and fresh. We left the plaid wall as an accent and the new owners can paint over it if they want. I'm taking that French armoire of mine back to our house for the guest room. I'm doing some changes in that space.
Nook into the master bathroom.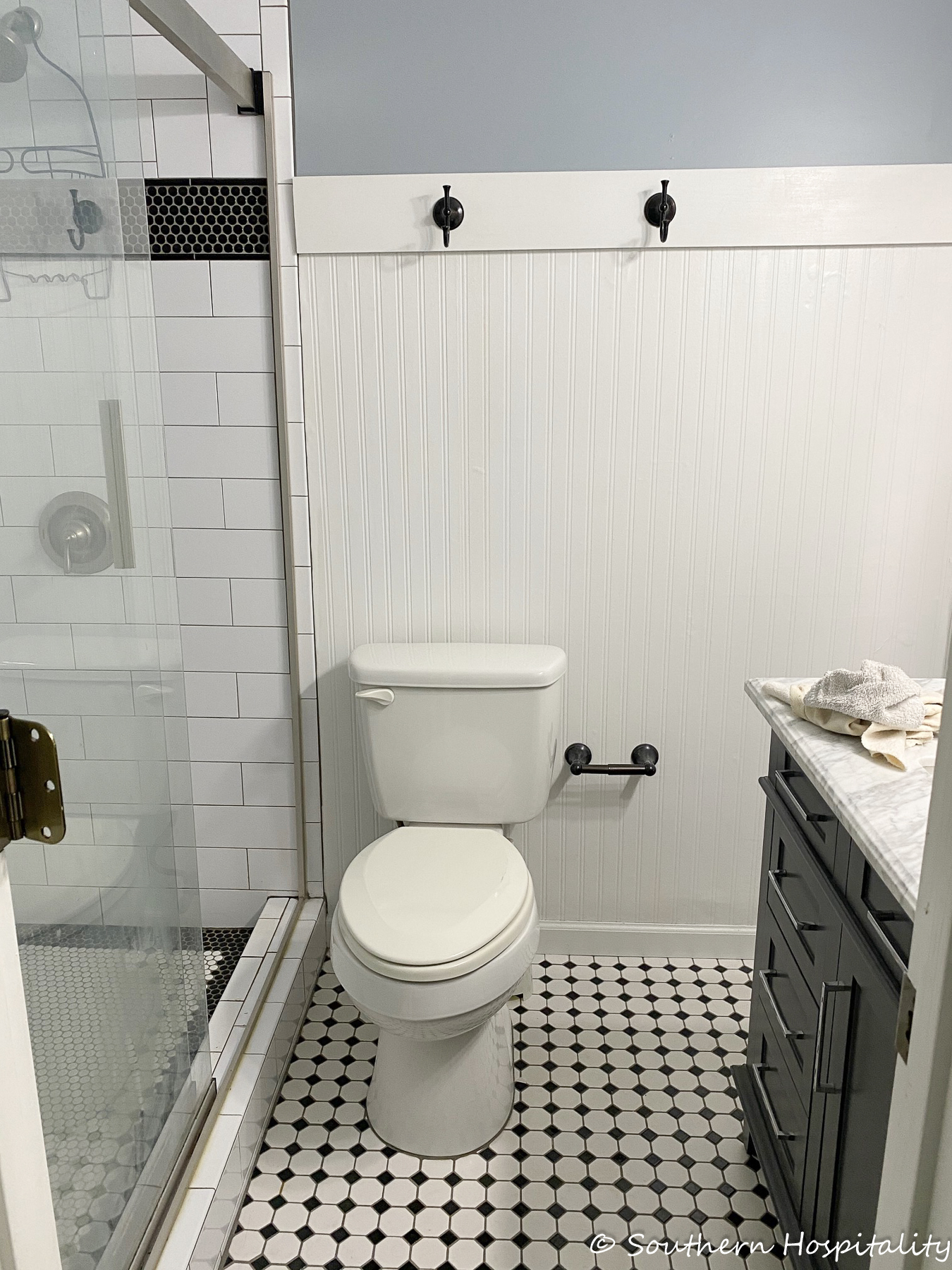 I still love this black and white master bathroom I did and it's holding up great.
Outside the patio is looking a little dirty, but I'm not sure we have time to clean it. But at least the patio is a good selling point. I'll at least blow it off and clean it as best we can.
I'm so grateful to have this house and now 9 years later to be able to sell it for probably 4 times (or more) what I paid for it. What an absolute blessing. Not only has the Lord restored what I lost, he has given me above and beyond what I could have asked for. Mark and I have a beautiful house now and I've been able to save a really great amount of money for retirement (I've always been a good saver). This house is just a bonus to have and I'm so so grateful for it. God knew when He gave it to me what it would mean to me down the road. I have such a heart of gratitude for all the blessings God has bestowed to me and I'm definitely a testimony of what can happen with faith and determination.
He is always faithful to us if we trust Him with our lives. That's the number one thing I want to share with all of you. Serving God is the most important thing we can do and I'm a testimony to His abundant blessings. He has been with me every step of the way, with getting this fixer upper house all the way to meeting Mark and getting married almost 4 years ago. My life has had so many ups and downs just since I have been blogging almost 15 years now and especially the last 10. Life is not always predictable but God is faithful. That's one thing I know for sure!
Thank you all so much for hanging with me all these years and watching us transform this house and now me putting it on the market to sell. I can't wait to see what happens with it and I'll be sure and keep you posted. I have a feeling it will go fast and for over asking price. That's the market right now and it's exciting!
Don't Miss a Post, join my list!