Hey there friends and Happy New Years Eve! The year is coming to an end and it's always fun to look back at the whole year and see what we've accomplished, the best projects of 2018. Last year, Mark and I had just moved into our new house and then the projects commenced. It's great to see what all we did in Before and After pictures, so come along with me and let's celebrate all of our accomplishments.  It's nice to be married to a man who likes home improvement as much as I do!
One of the first projects I started working on was the master bedroom. It took me awhile to get things mostly finished in there, but painting my vanity was one of the first steps.
This yardsale vanity has changed colors 3 times now, starting with black, then this vibrant green, and now a pretty blue for our bedroom.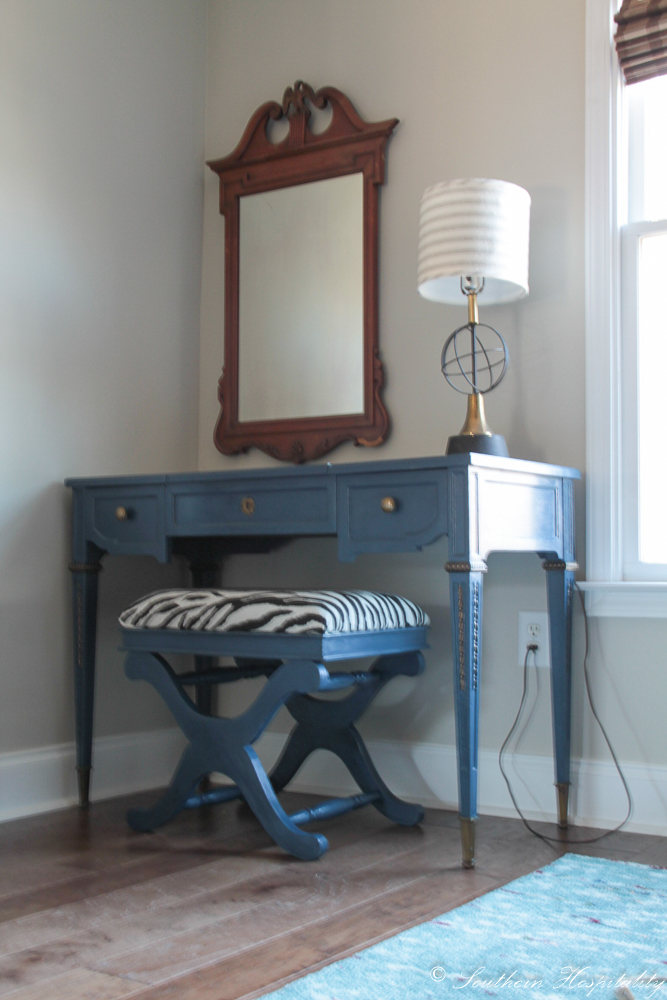 I found that mirror at an antiques store and later painted it to match the vanity and I'm really happy with how these pieces came out.
The cushion was recovered with new fabric and finally the bedroom was finished later in the summer, we'll get to that down below.
Our first Christmas we had not been in the house too long and the keeping room had my antique French buffet but no shelves above.
In February, I installed these open shelves above the buffet and love how it turned out.
It gave me a place to store extra pieces and looks pretty too, so a win-win for this area off the kitchen.
In March, I was so excited to work with Schlage hardware and get new doorknobs and hinges for all of our doors in our house. I took the time to also paint the downstairs doors while changing out the hardware and what a difference that made!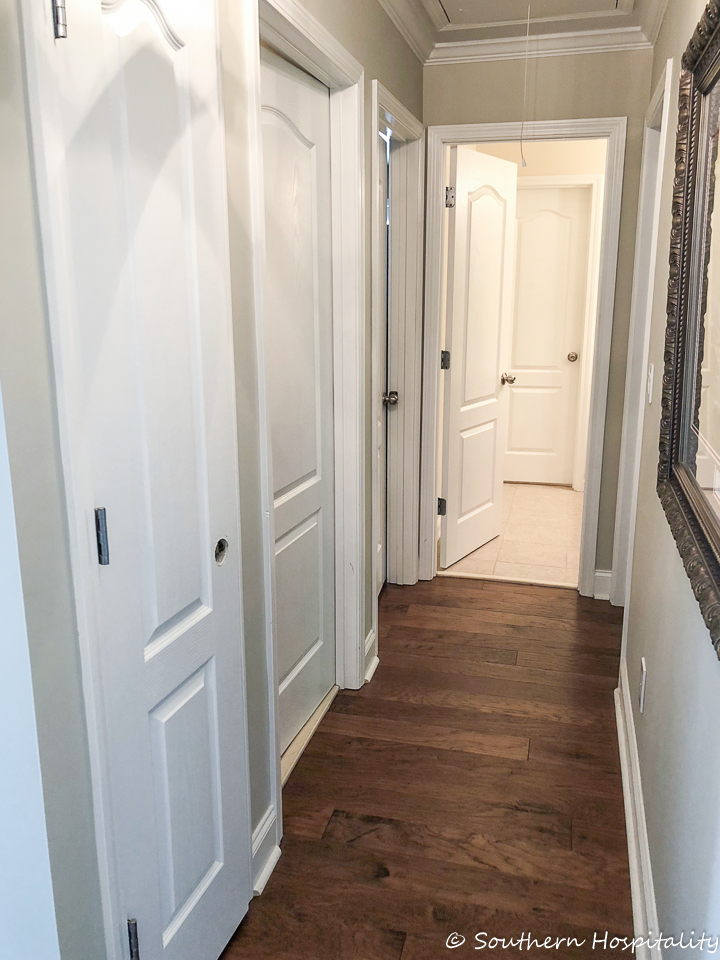 Later in the summer, I finally moved upstairs and got all the upstairs doors painted and the new hardware installed.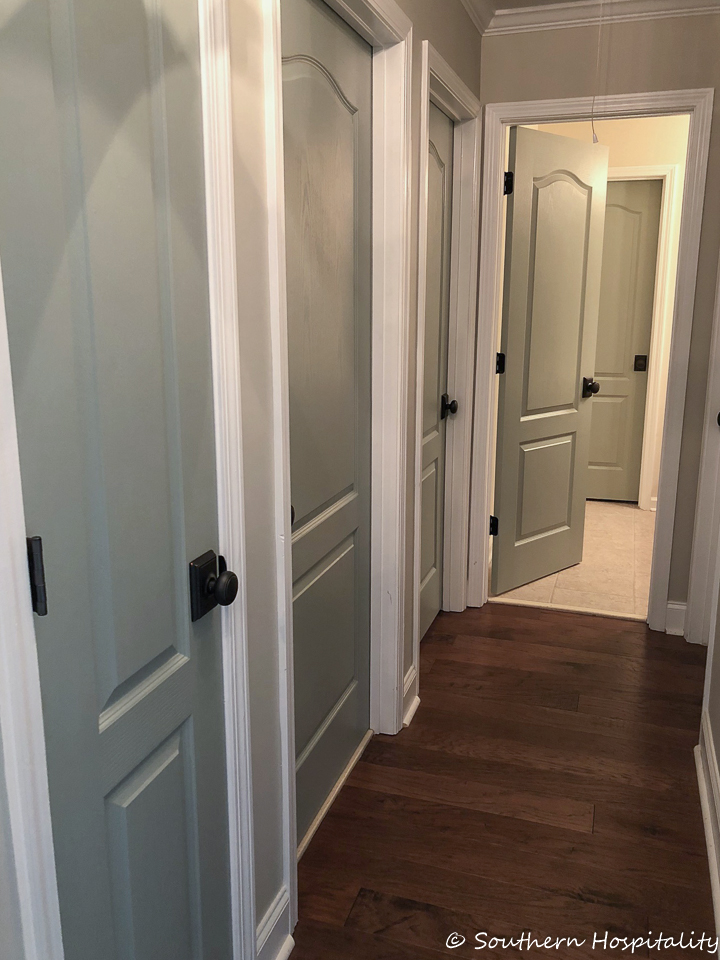 As you can see from these Before and After pics, paint and hardware does make a huge difference in the overall look of doors.  Doors aren't just doors, they are opportunities for adding some beauty and bling!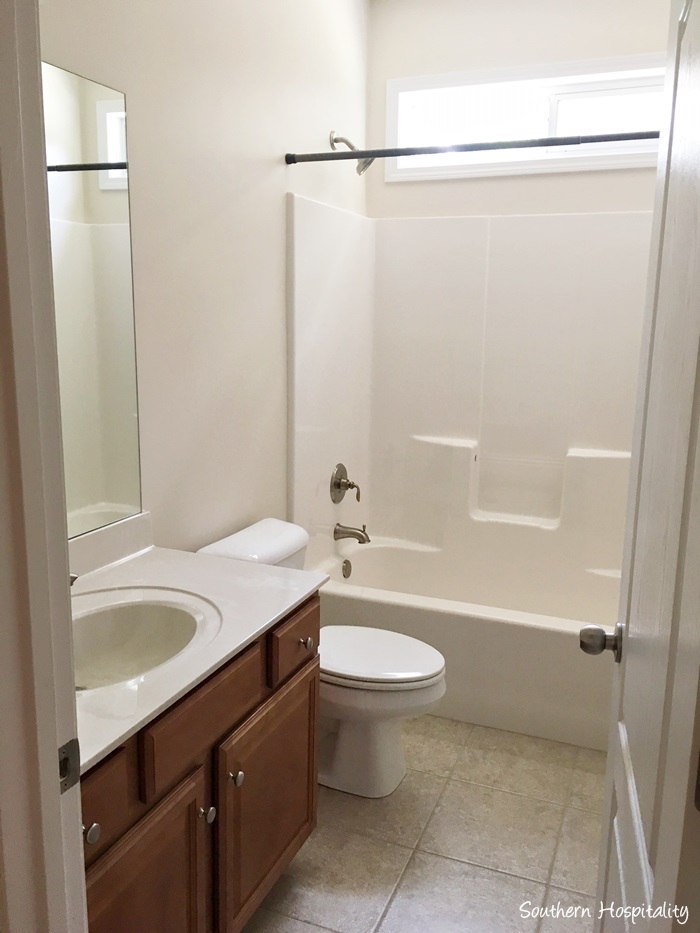 March brought a big renovation project and we had our guest bathroom completely redone. This is obviously the before.
And the after shots are pretty gorgeous, if I do say so myself. Mark did the wainscot, but we hired all the tile work out.
I still love this bathroom and can't believe it's finished every time I go in there.
What a difference it made, this space is a little jewel box of a room now!
In May, I got the opportunity to work with At Home and get our deck space fixed up. This is how it looked when we moved in. No stairs, just an old deck with stain that had seen better days.
It drove me absolutely crazy that there were no stairs going from the upper deck to the yard, so that's one of the first things we hired out in spring.
I hired a company to come in and build the stairs and now it has made such a difference in how we access the backyard.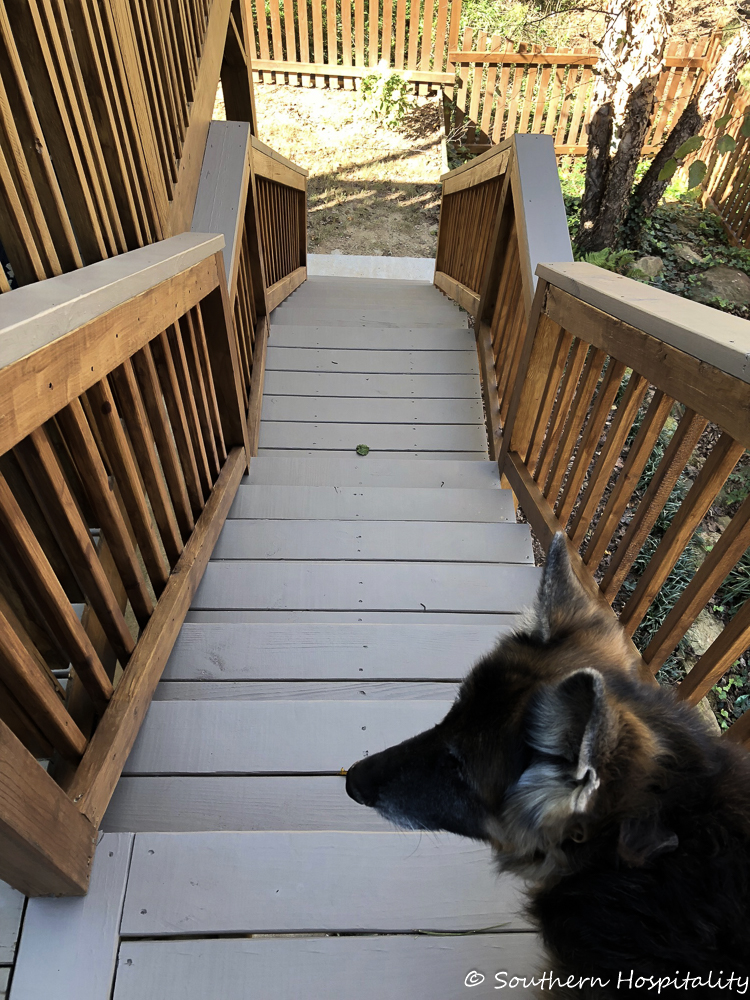 It wasn't stained for a few months, but I finally got that done in October and that was a happy day.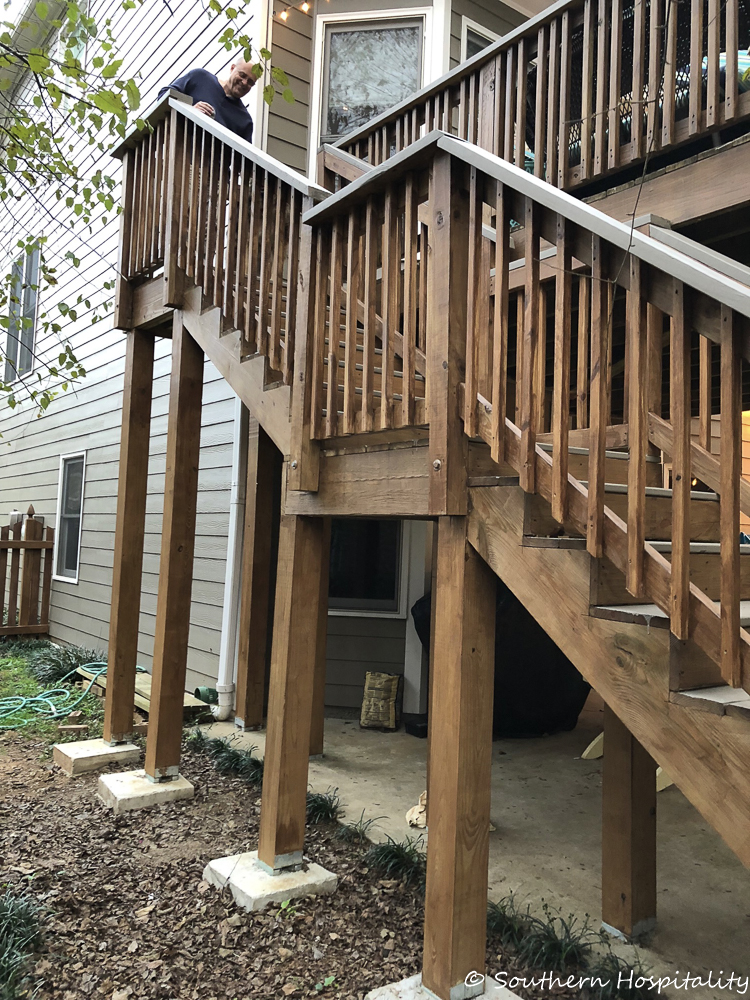 We're still going to close in the end of the stairs to make it more visually appealing from the street and we hope to close in under the deck this spring to make a nice screened porch below. That's the plan!
In the meantime above on the deck, I used my old furniture and some new, along with cushions and umbrella from At Home to really make this space nice for the whole summer. This was mid-spring and later on I stained the upper deck too. This was pre-staining.
It's been a really nice space for us to enjoy right off the family room and kitchen and Miss Holly sure loves it. It's her upstairs condo and she gets a lot of use from this space as well, since she can now climb up and down the stairs.
I had to move these pretty rugs off the porch as we had a ton of rain in spring and they just got water logged, so I'm saving them for below the deck eventually.
In July, we had a dream come true in our living room, dining room and Mark's man cave. Here's the living room when we moved in and with the addition of Plantation shutters below.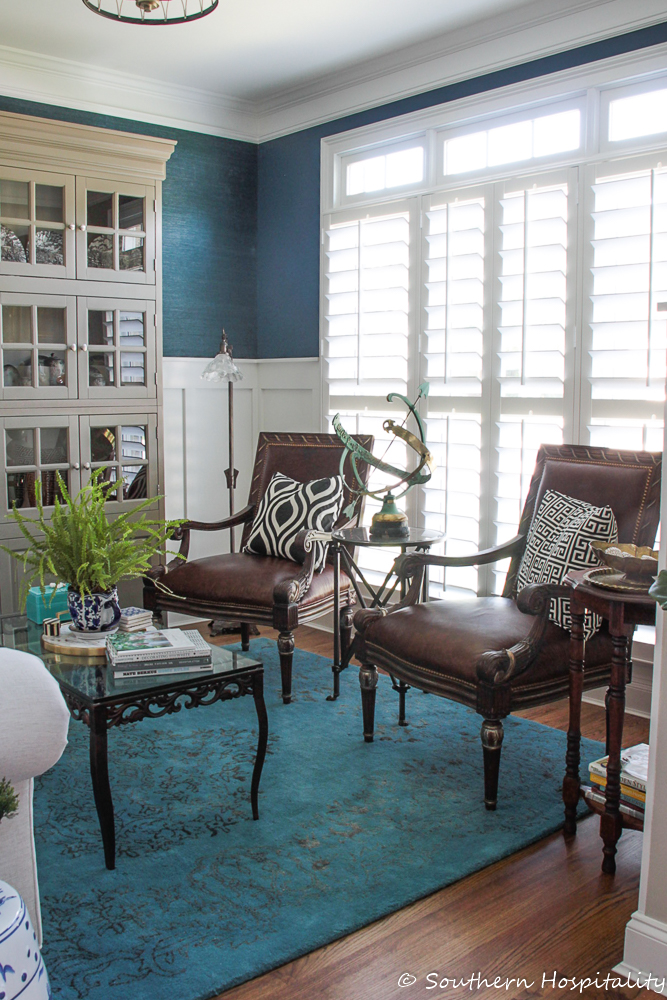 What a difference that made too! We just love these Plantation shutters and how they add architectural interest to both rooms.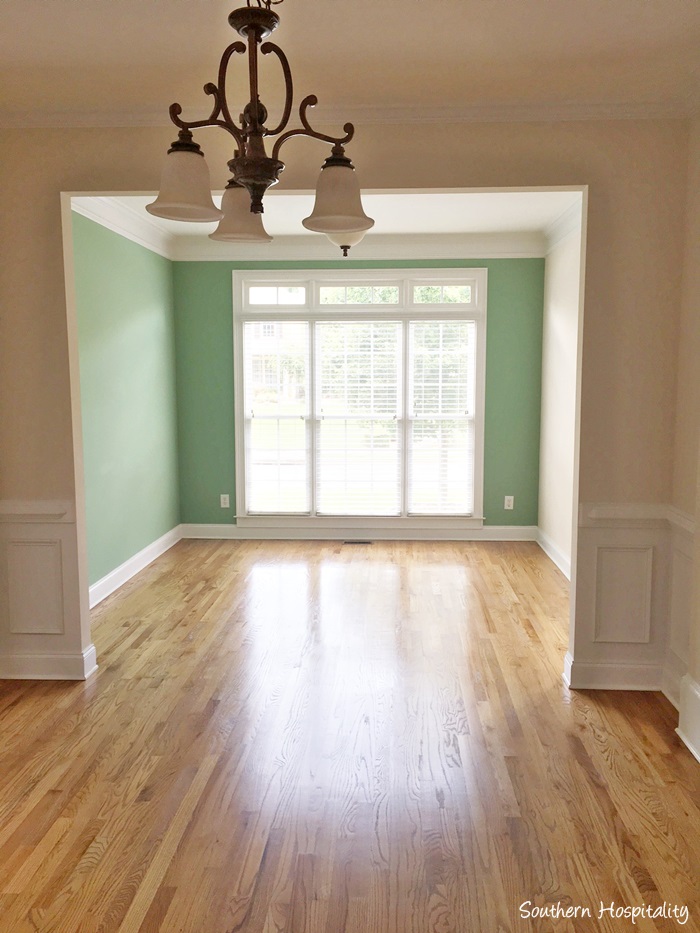 Another before and after visual. Notice this opening from the dining room to living room had no casing.
You can't see it all here, but Mark added casing around those doorways and that made a huge difference.
Here's a shot from Christmas.
And a before of the dining room windows.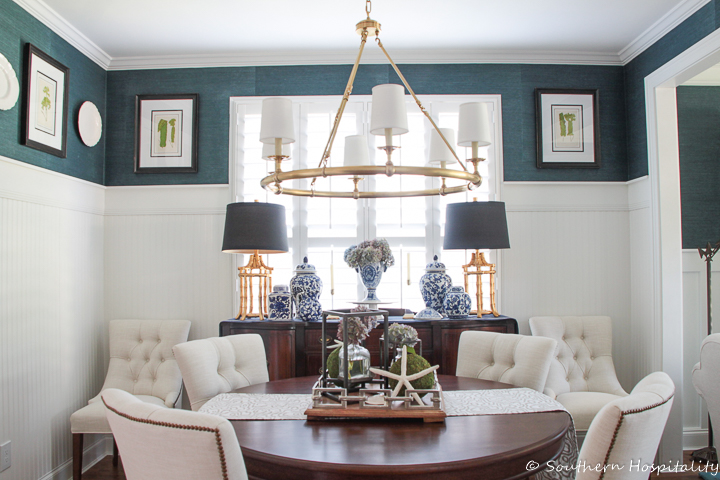 After, the way it looks now with the plantation shutters installed and all the trim work added too.
We are so thrilled with the addition.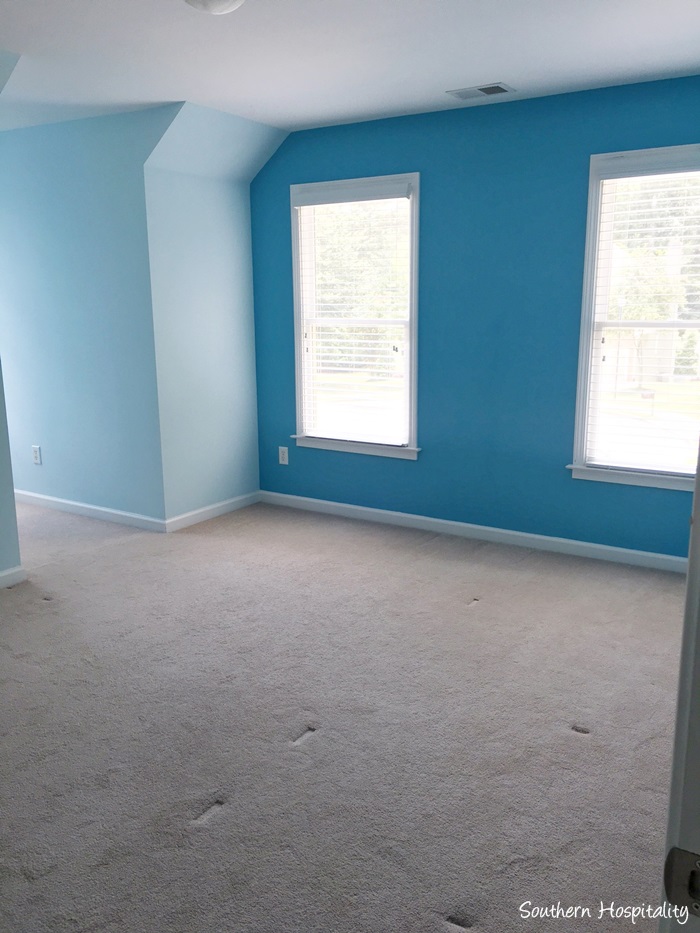 Mark's man cave was finally shared in August and he wrote the post. If you missed that one, go back and read it. I'm hoping to get him writing more posts for me this coming year. He was a big hit! Obviously, this was the Before picture.
It's a great space for football and movies!
We both use it often, but it's really a wonderful retreat for him.
In June, another project that we completed together was tiling his mom's kitchen backsplash. She had nothing on her backsplash so we made it happen.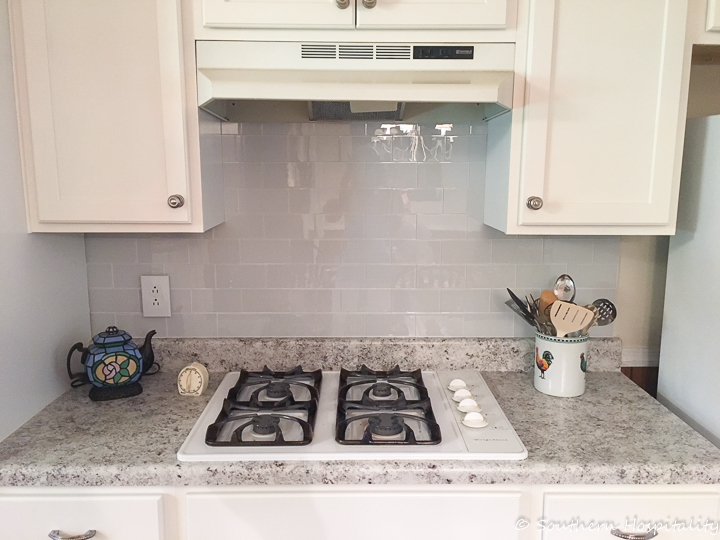 Glass peel and stick subway tiles were added and she was so thrilled to have them installed. We were happy to do it for her.
In July, our fence that was installed last year finally got stained and it went from this….
to this! We were thrilled to get this project done with stain from Behr and a nice spray gun from Wagner. You can read all about that fence staining project on this post.
It was a hot summer project, but the spray gun helped us get it done so much faster.
Right after we stained the fence, I got the deck stained too, from the inside to the outside and it was great to get that finished. In August, we also had outdoor patio lights installed on the deck and the patio below, which is really going to be nice next summer as we use this outdoor space even more.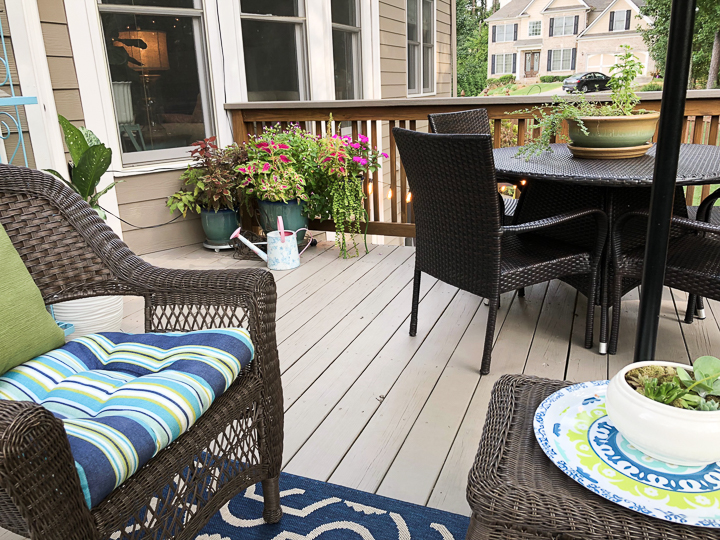 We did a two tone look on the railings and deck and love how it turned out. It made the deck so much nicer to get the floor stained too.
At night those patio lights are so pretty, creating such a nice ambiance on our deck.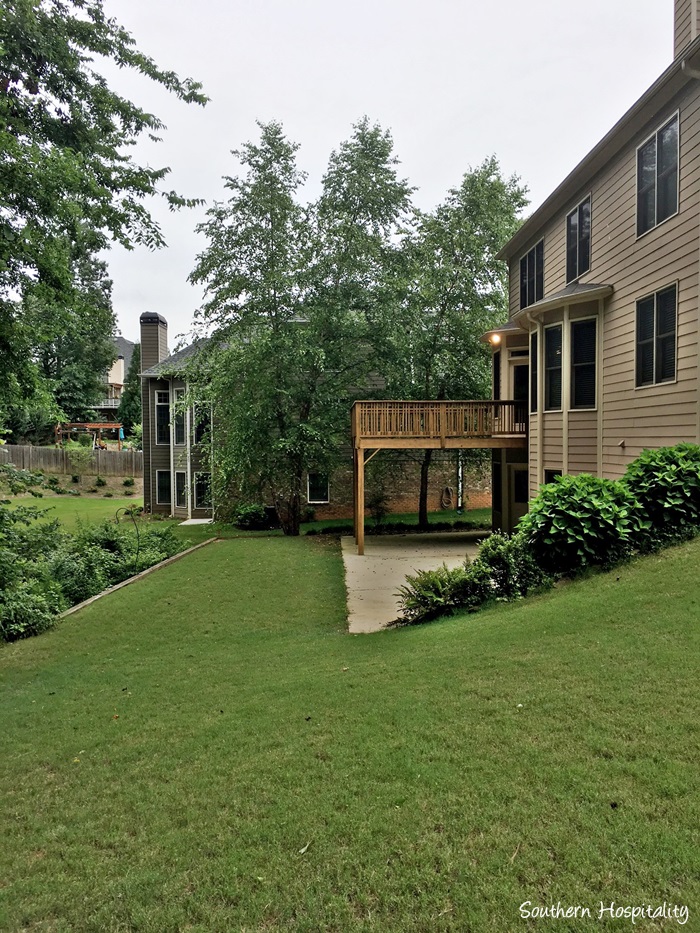 Our backyard went from this when we first moved in, to a fenced in little paradise.
We've got more plans for the patio next year and I can't wait to get it cleaned up again. We had so much rain this year that the patio is green, but as soon as it warms up I'll be pressure washing to get it clean again.
Master Bedroom before. This is when we first got the house. All this carpet was removed and engineered hardwoods installed.
And in September, I finally got the master bedroom and sitting room ready to show. We're loving how it turned out, a cozy space for us.
I want to add some artwork and a few more accessories, but other than that, it's mostly done. We're still talking about adding a box wainscot treatment on the headboard wall, so that may happen next year. The master bath is another story and we hope to do a renovation on it in the future.
Sitting room before.
And After.
I so enjoy this little space and sit in here often.
With a gorgeous view of the backyard, it's a calming retreat.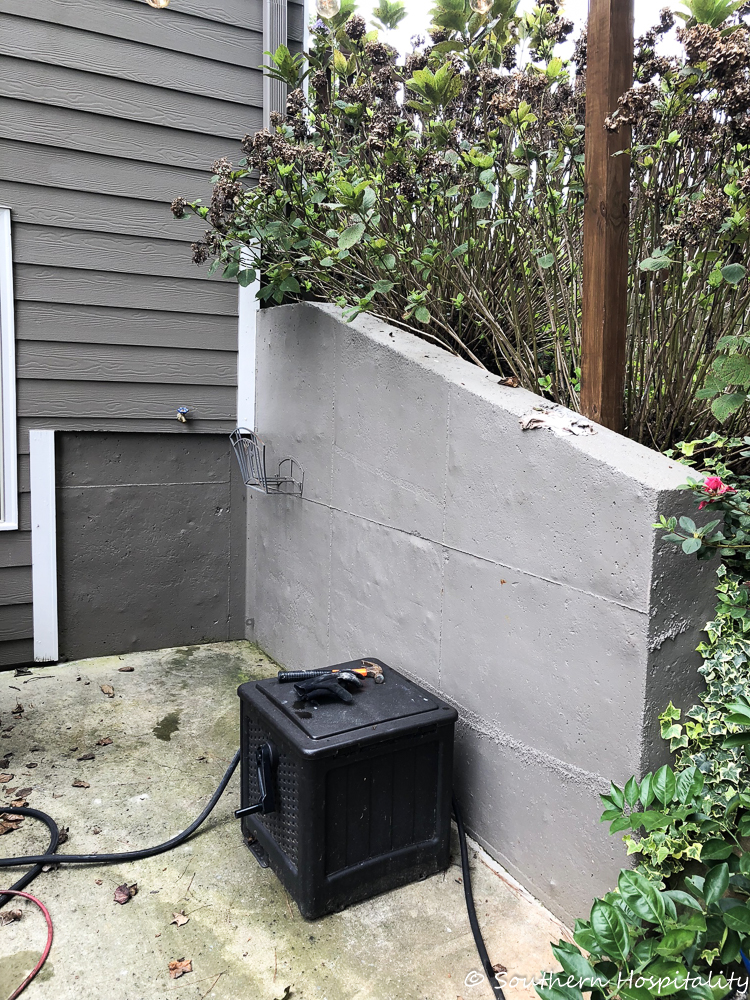 In October, we finally tackled the plain concrete wall in our backyard and it went from this….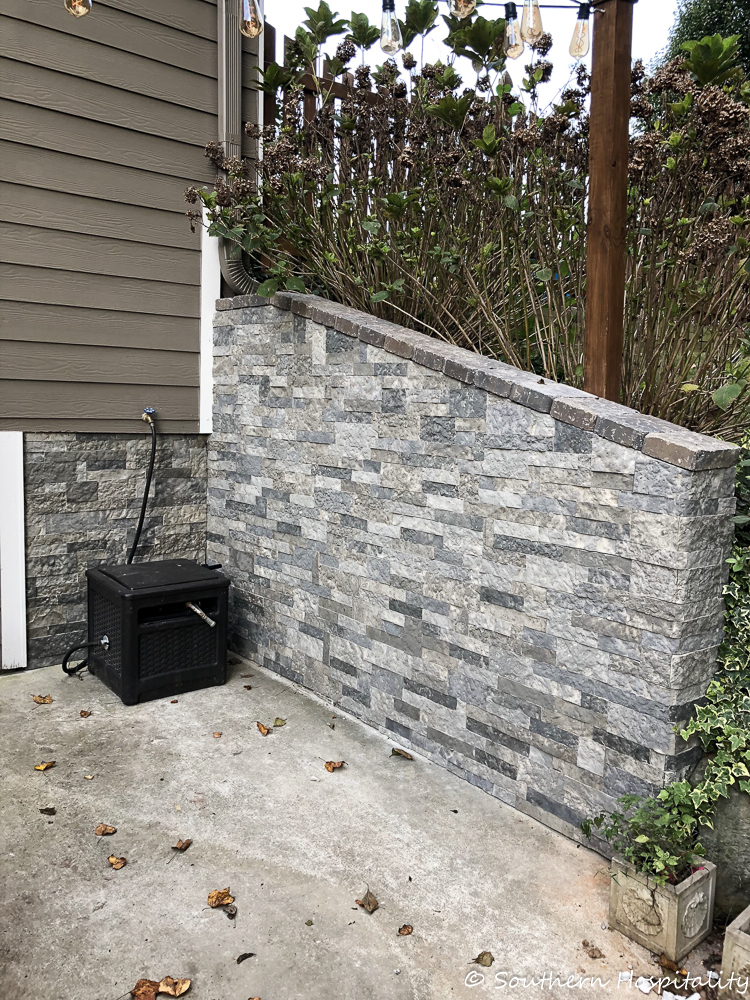 to this! With the addition of AirStone faux stones, Mark and I DIY'd this project ourselves and love how it came out. It totally changes the feel of the patio. My plan is to stain the patio in spring in a large square pattern to simulate tiles and I can't wait to see how that turns out.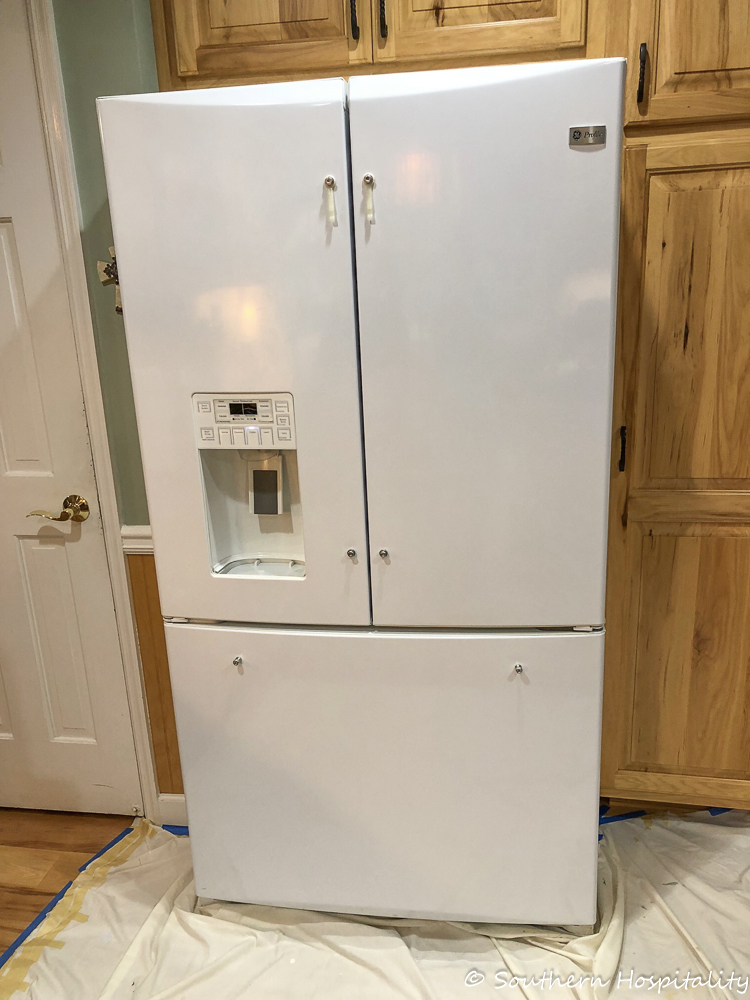 In October, I helped my friend, Lynn with her refrigerator project, changing it with stainless steel paint from white to stainless look.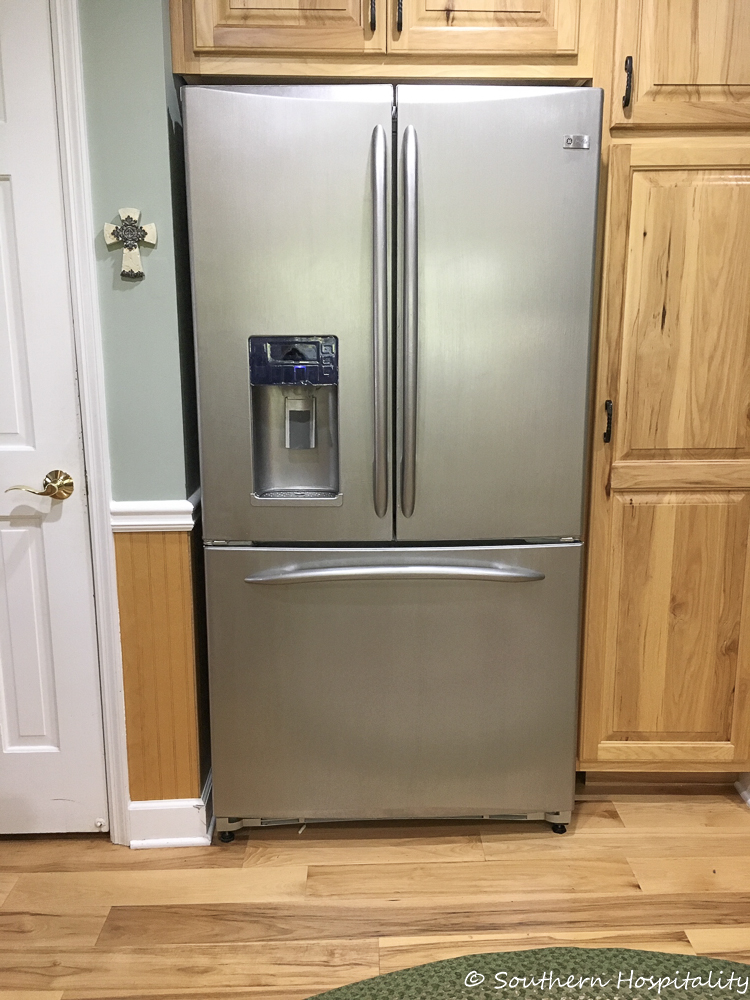 It turned out so pretty and Lynn is thrilled with the results!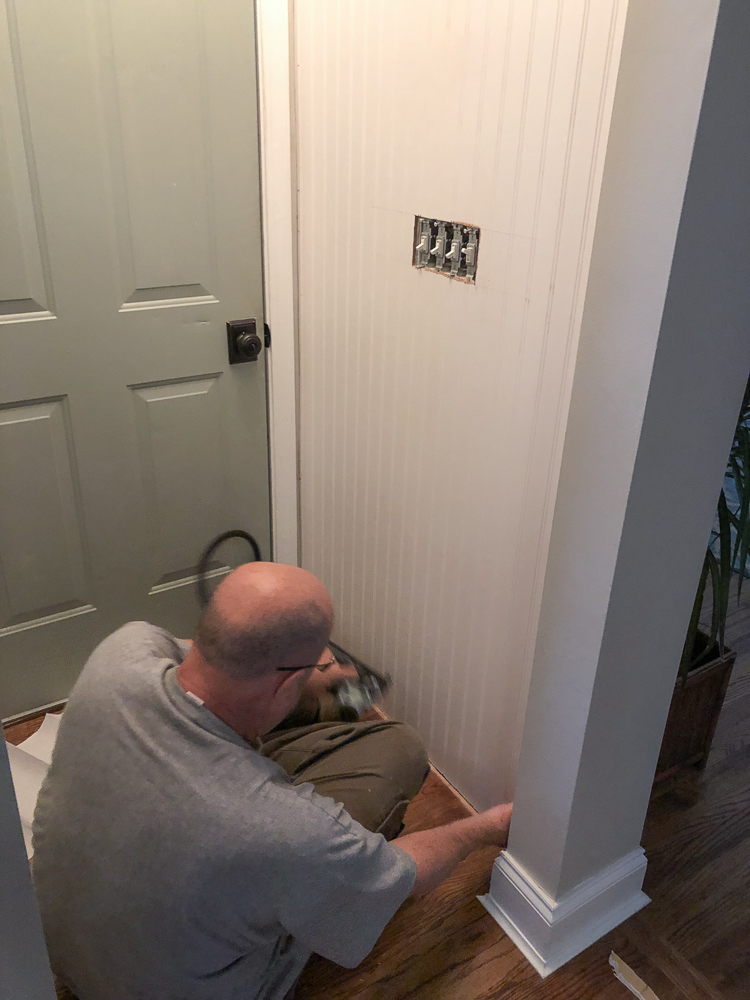 Our last project of the year happened in December when Mark was on vacation for Christmas.  This little wall in our pass through space from the garage into the house was one that Mark has wanted to add beadboard to for a long time. He finally got to it and it was finished very quickly. He installed the beadboard, caulked and painted the beadboard. We both painted the wall and ceiling above in a darker shade, added hooks and a pretty painting and it's done.
This beadboard nook adds so much interest to this little pass through spot and we are so happy with it.
We found the original art at Scott Antiques and love it! The hooks were found on our trip to Newport, RI.
It feels so good to look back on 2018 and see so many projects come to fruition in our house. We actually did one more project during Christmas vacation that I haven't shared yet, our fireplace makeover! I'll be sharing that next week, but it turned out so pretty and we are thrilled with it.
We have lots more things planned this coming year and can't wait to see those happen as well. Little by little, by taking on one project after another, a house becomes a home filled with personality and unique features. That's how we want our home to feel, unique to us and not like every other home out there. I'm happy to say that we don't follow all the latest trends, but we use what we love in our home to make it uniquely ours reflecting both our personalities.
I'm including a link party for any other bloggers who would like to join me in looking back to their best projects for the year 2018. It's a great way to get inspired for doing projects around your home too and you may just get some ideas to file away for later.
Don't Miss a Post, join my list!