I have featured a lot of fun homes over the last few years on my Feature Friday series, as well as many designer showrooms and idea houses from Southern Living. One thing many homes have in common is some fantastic and unique ideas on shelves, storage and organization.  We can all use more of that, can't we?
So, today I'm doing a little recap of some of these fun ideas that I've seen fly by here on my blog over the last few years. I love to see different ways of interpreting ideas for the home and hopefully you'll get some ideas for yourself.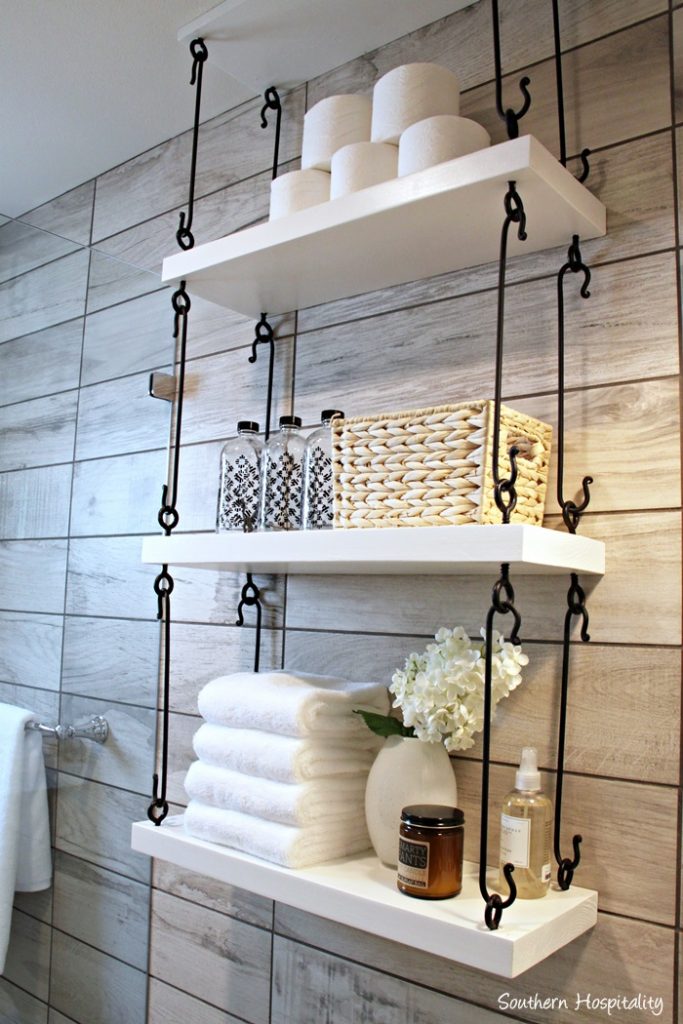 One of the most popular pins on my blog is this one, from the HGTV smart home in Austin, TX that I had the pleasure of visiting early last year.  It has gotten so much traction on Pinterest and constantly gets shared and saved.  It is truly a brilliant idea for small bathroom storage and if I could figure out where they got those black fasteners and hooks, I might be rich.  I would certainly put a link here if I knew!
And look!  I just realized I had featured another pic of this same idea from a Southern Living house in Bluffton, SC.  I didn't visit this one in person, but featured the magazine pics.  I need to track down these fasteners, someone must be making them.  Do you love this look as much as I do?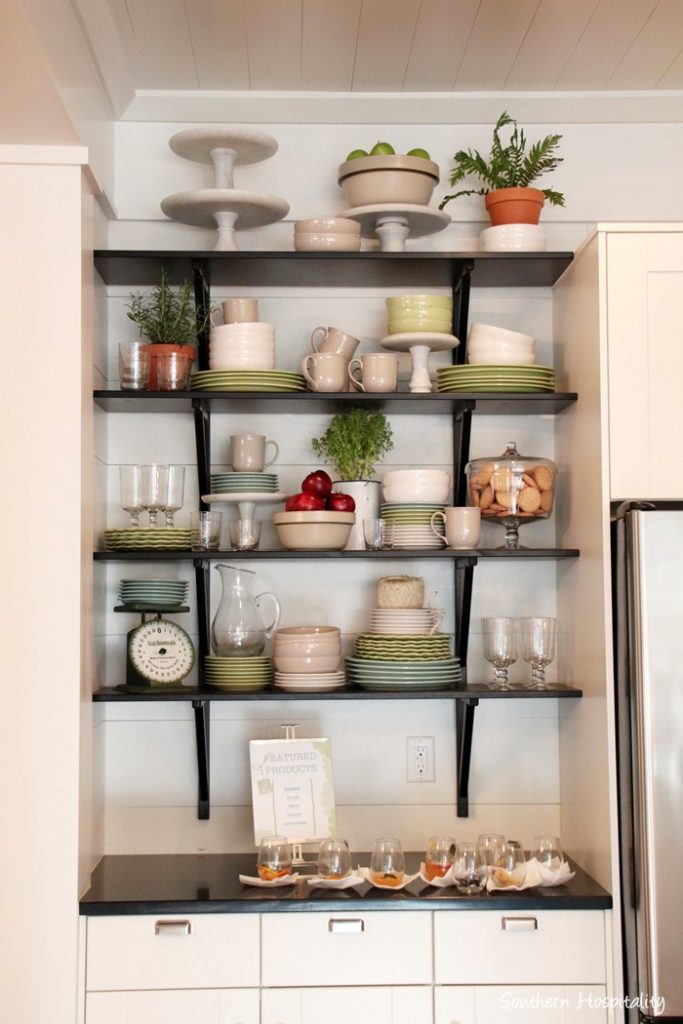 I loved this Southern Living Idea house in Senoia, GA a few years ago, with Ikea kitchen cabinets and furnished by Ballard Designs.  So many great takeaways in this house, like this open shelving idea in the kitchen.
This Ballard Designs Bosch house in Serene, GA had some great kitchen ideas as well.  If you have some open cabinets or choose to take off the doors, why not wallpaper or add fabric or craft paper to the backs. That really makes a statement!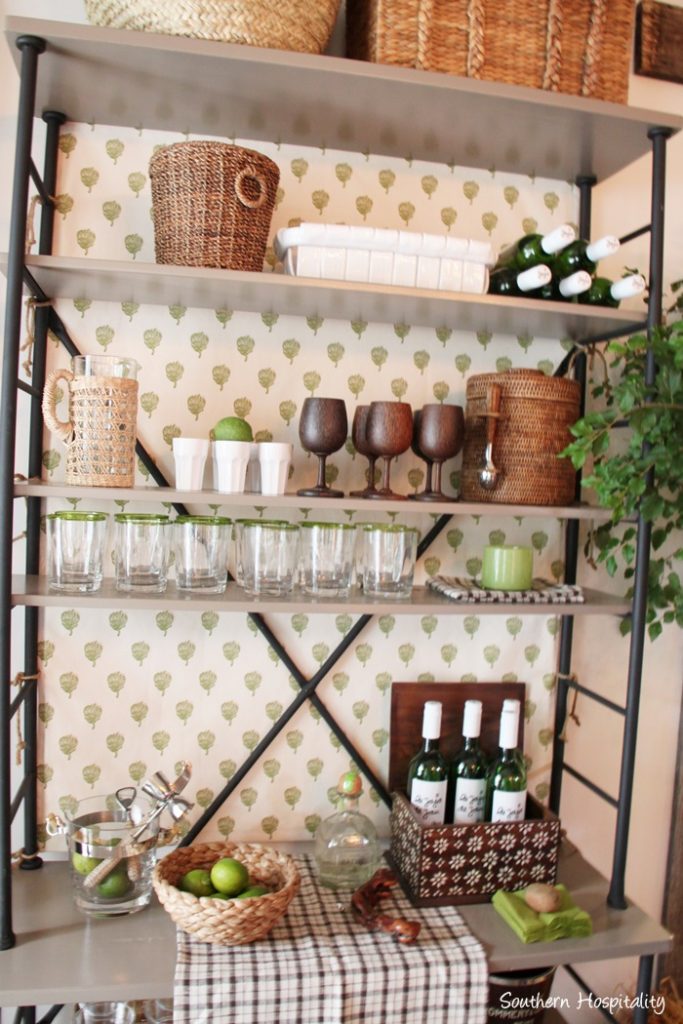 This open shelf rustic bakers rack at the same house was used off the kitchen for extra storage. It's pretty and holds a lot of things so why not keep it out in the open?
Here's another kitchen shelving idea from the HGTV Dream Home 2014 at Lake Tahoe.  They always have so many innovative ideas in these homes and I've been so fortunate to visit many of them.
This rustic DIY shelving from Primitive and Proper featured here is another genius idea for extra storage and you can make it yourself.
Here's another fun shelf idea from one of my previous Feature Friday's, Erin's kitchen.  She's not blogging anymore, but this was a cute feature and a great idea for adding some wow and storage to a kitchen.
There are so many fun ways to add shelves to kitchens and I do still love this trend that has been going strong for a few years now.  This kitchen from Lily Pad Cottage that I featured a few years ago is one of my favorites.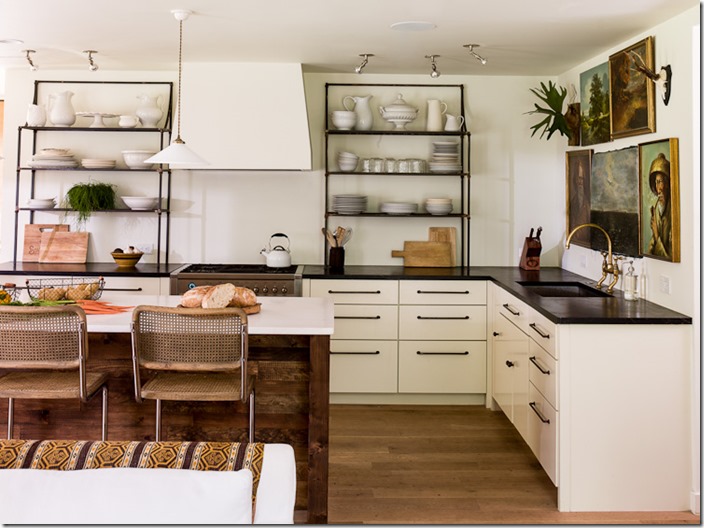 One of my favorite all time kitchen renovations from Lauren Liess (she has since moved to another house) and this pretty contemporary home update with rustic industrial shelving.  It just adds so much to this space.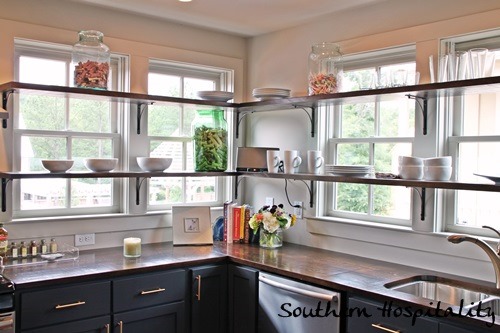 This house I featured from Serenbe a few years ago has some very unusual kitchen shelves, built right over the windows.  It does add a certain appeal to the space and you don't lose that view with all the open windows.
Shaunna's beach cottage renovation created this beautiful wall of open shelves for a clean and classic look.
I've shared my friend, Traci's kitchen shelves before but I love the cottage appeal they add to her renovated kitchen.
Cami from Tidbits did an outstanding job in her kitchen renovation and opted for open shelving and I shared her whole house on a Feature Friday.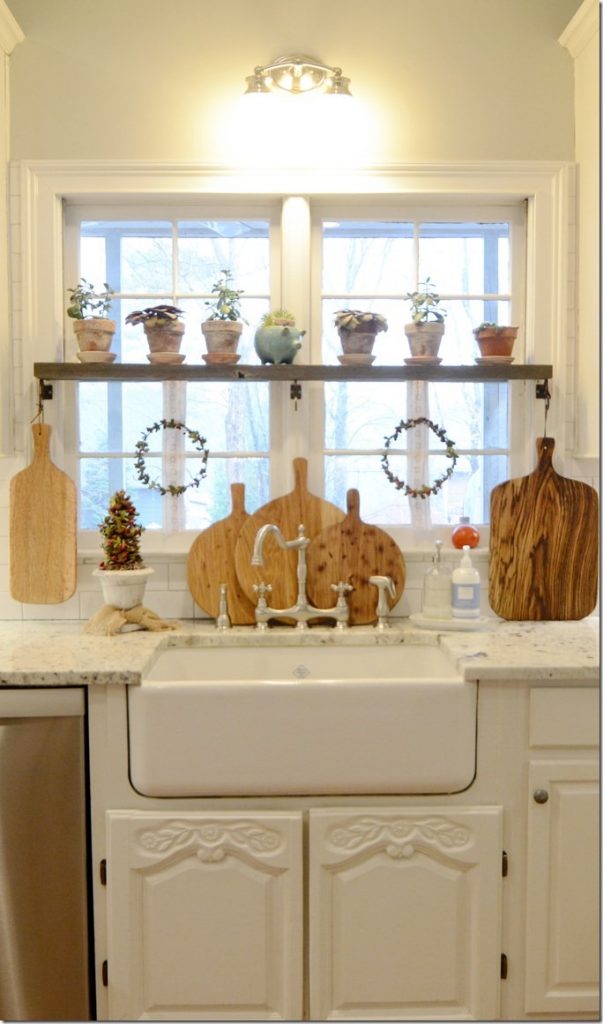 From Robin's Heart and Home feature, another over the sink kitchen shelf idea for you, a great place to house plants.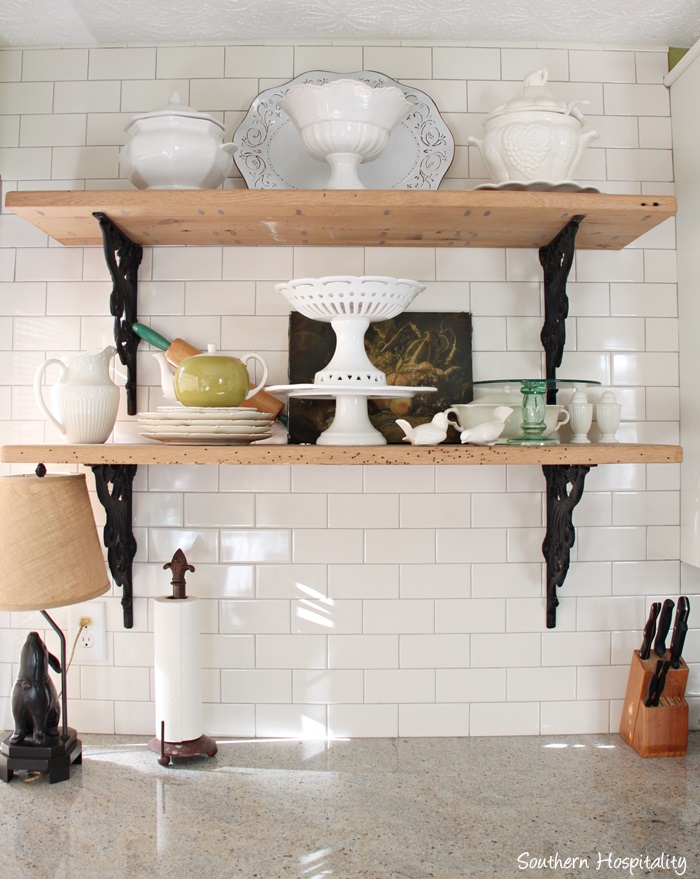 And as I've shared many times before, my own open rustic shelves in my kitchen add so much to my small space.  It's just a way to add storage, visual appeal and architectural interest to your rooms.
I hope this gave you some ideas on how to add extra storage and interesting visuals to your spaces and you get inspired to do something new in your own house!
Fall is just around the corner and I'll be sharing some Fall updates with you real soon.  I'm partnering next week with Homegoods and several other fun bloggers for a little blog hop with lots of Fall inspiration.  My kitchen shelves are getting some Fall-ish accents added too!
Don't Miss a Post, join my list!