Hey my sweet friends!
Another year has passed and it's time once again to share a recap post since I'm hitting 11 years of blogging!  I can hardly believe it's been this long, the time sure does fly when you're having fun.  I still appreciate y'all so much for supporting me and coming by here day after day to see what I'm up to around here.  I'm still amazed that this blog turned into my fulltime job, but I can tell you that I'm the most grateful woman out there to be able to do this for a living.  The Lord blessed me so much when He allowed my blog to flourish and grow like it has to support me and to also be able to share my passion of decorating with all of my readers is just the best feeling.
As the years go by, I'm still continually reminded that there is so much talent in blogland and if I look around too long, I can get discouraged and think that I'm so out of the mainstream of what most people like that how could I possibly keep going and writing a blog about home decor and renovation projects. It's really easy to start feeling old and irrelevant when I look around at the youth out there.  But then I know that there are countless Baby Boomer women out there just like me who still love to make their house a home and want ideas on freshening up our homes without breaking the bank.  So, that's what keeps me going.  I love sharing with you all so much and that love and excitement for blogging has never disappeared in all these 11 years.  It's changed and evolved, but at the heart of my blog is still me, the girl who loves decorating and making a home pretty.  And I'm so happy that so many of you are still with me on this journey.
My personal life has certainly gone through a major evolution in these 11 years and I could not be happier than I am right now!  I'm older and wiser, that's for sure and feel SO very blessed to be doing what I love to do and to have a wonderful man to share it all with.
Last years 10 years of blogging post talked about all the changes in blogging over the last 10 years and all of that is still relevant this year and I still feel the same way about some of the changes in blogging. Some are great and some are not so great, but we have to take the good with the bad and I try to make the best of all the changes.  If you didn't read that and you're a blogger, it's worth a read.  I've covered my blogging journey in a post for every year I've been blogging under My Blogging Story, so you can read all of that if you're curious about it all.  Just scroll back to the first post.  I'm not the smartest or most technically proficient blogger by a long shot, but I've made it work for me and it's worked well!  Social media continues to change things, but I never put all my blogging eggs in the social media basket, so whenever one goes up or down, it doesn't drastically affect me.
So many bloggers have expanded into other areas of expertise, like courses and e-books, writing books, teaching online classes, and more, but I am staying true to what I love and that is still day to day sharing on the blog.  Haven is my side job (and a very nice side job) and with Haven and my blog, that's all I need on my plate at the moment, so you probably won't see me trying to create a product line (I would feel terribly inadequate at that), or writing a decorating book (again, I don't feel qualified at all!), nor writing a course on how to blog.  So many people have already done that who are so much better at all of this than I am.
So, you just get me….writing this blog for who knows how many more years??
Let's look back at the last year and look at some of the highlights of my blogging journey, as well as my personal life.  Every year is filled with so many exciting things and last year was no exception. Blogging has opened doors that I never dreamed would open to me and it's been the ride of a lifetime, no doubt about that!  I wouldn't trade my job for any job out there, it's been that fulfilling and fun for me!
I've partnered with SO many great brands in the 11 years I've been at this and Shaw Floors has been at the top of the list.  In January last year, as one of their Brand Ambassadors for the year, we were invited to their mega convention in Orlando, FL and it was truly a highlight. To see all their amazing products in one spot was so energizing and inspiring.
I got to speak on a panel to some of their dealers about social media and working with bloggers.
In February, a pinch me moment for sure occured when I was invited by Kilz paint out to Waco, TX to a blogger/media event to meet none other than Chip and Joanna Gaines, the power couple of Fixer Upper.  That was such a surreal moment, to meet this dynamic duo in person and to get to interact and talk to them was such a highlight. They are just as down to earth and real as you would imagine them to be and I'm still in the clouds over getting my picture made with them.  I wish them nothing but the best on their last season of Fixer Upper and with the arrival of their 5th child, along with all their many business envdeavors.  I think they are such an adorable couple who have such great family values and faith and we need more people like them on TV.
Visiting the Silos and Magnolia Market and getting to take it all in was so much fun and I came away so inspired.
The cupcakes at the Silos bakery were the most delicious I've ever had!
In March, I took part in House for Hope in Franklin, TN, a charity house built by the fabulous Carbine Builders in Nashville.  I was one of the bloggers/designers who took an area in the house to design the space with all the materials chosen and decorate the space for a big opening event for the public to tour.
I asked for a small space and got the laundry room and it was so much fun choosing the tile floor, sink, faucet, countertop and lighting in the space, as well as the finishing touches in the mudroom.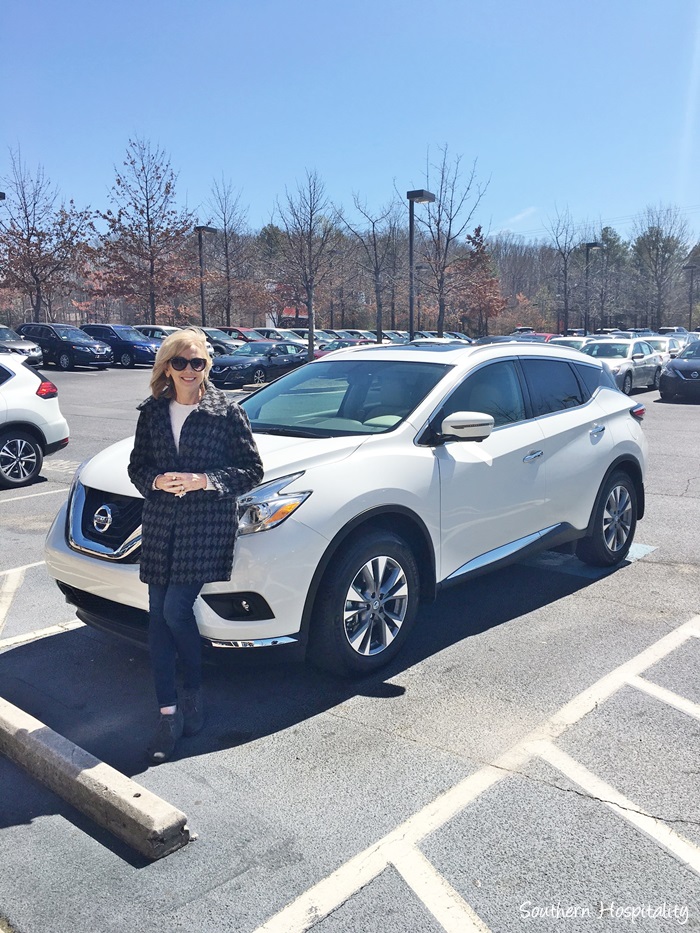 In March, I had a big personal triumph and purchased a new car for the first time in over 10 years.  That was a big fun moment for me and I shared my tips for buying a car as a then single woman!
In April, I joined a group of bloggers and designers for the Design Bloggers tour in High Point, NC, where the big furniture and accessories show is held twice a year.  It was a very fun and exhausting time of visiting so many showrooms and seeing so much beautiful furniture that the inspiration was flowing everywhere.
I met some great brands, such as Bernhardt and even had some partnerships come from the visit.  I just realized that these chairs in the Bernhardt showroom is in the same fabric we picked out for our master bedroom sitting room Bernhardt chairs and ottoman.  Good choice and it's been such a pleasure working with Bernhardt on this project!
I get to visit a lot of showhouses and the Southeastern Designer Spring showhouse here in Atlanta is always a treat. I love my job!  Getting to visit showhouses all across the country and take pictures of all the beauty I see, what's better than that?
In May, I was invited to tour Moss Mountain Farm out in Little Rock AR and meet P. Allen Smith himself, who owns this gorgeous property and company.  He's such an interesting guy and we learned so many things about gardening and growing vegetables too.
His house and gardens were some of the prettiest architecture and outdoor splendor that I've ever seen. What a treat Moss Mountain was for me!
We partook in a gardening class and learned how to weave flower crowns and I took that opportunity to take a selfie, which I thought was pretty cute.
My own house and gardens looked beautiful last year with these beautiful Southern Living hydrangeas and it was a thrill to see them flourish so much in 3 years, so I had to throw pics of the flowers in here too.
So proud of this house and gardens too and even though I hated to leave these hydrangeas, I can still go over and pick some.  Plus this gives me even more incentive to get more hydrangeas growing at our new house.
In June, my dad got really sick with c-diff which led to a 6 month battle with his health and by Christmas he was finally feeling much better and gaining his strength back.  We are so thankful to God that he came through it as well as he did.  He's not physically in as good shape as he was before all this happened, but for a 90 year old man, he's doing pretty well, thank the Lord.
In July, we held the 6th annual Haven Conference  here in Atlanta and it was another smashing success.  This year we are moving to Charleston, SC and can't wait to experience all the fun and Southern flavor that city has to offer. What a joy it's been to help create a conference like this for the home and DIY blogging community, something that seemed so out of reach, but we did it!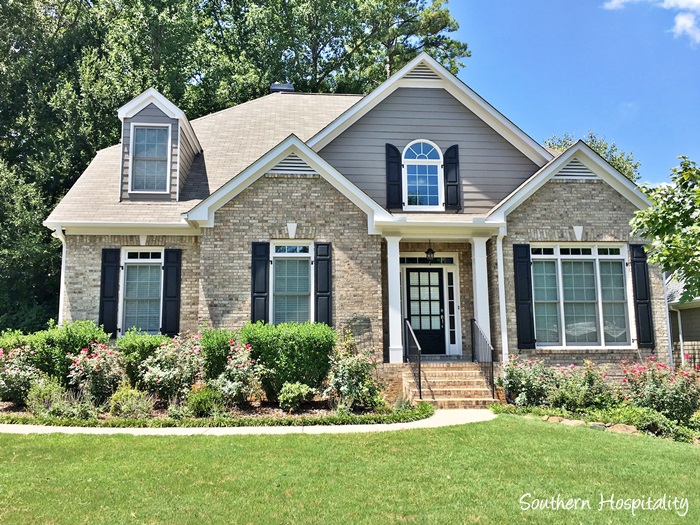 At the end of June, I made a big fat announcement that everyone was probably waiting on.  Mark and I closed on our house and the fun began!  We didn't move in until 2 months later in August after getting a lot of things done to the house
On July 29, we went to Savannah and got married and what a memorable small wedding that was. So happy with our decision to elope by ourselves and just get it done!  It was the perfect place to say our vows.
In August, I headed to Knoxville, TN to the HGTV Urban Oasis home designed by Brian Patrick Flynn.  That was a fun and fast trip and I love getting to see these houses in person.
In October, we added a new addition to the family.  Mark's daughter, Traci, gave birth to Rose and she is just an adorable baby.
And here's a current pic of that sweet baby, growing like a weed.  She'll be 4 months old  February 5th.  You can see a peek of my old house kitchen here. They are settled in and loving it and that makes me so  happy!
In November, Shaw Floors invited all of us on the Style Board to Memphis, TN to tour St. Jude Children's hospital and that was such a memorable and poignant occasion, getting to see the hospital that Danny Thomas founded over 50 years ago.
It was my first time to Memphis and it was fun seeing a little of the local culture, even though we were there for such a short time.  Seeing the Peabody Hotel for the first time was so fun, such a gorgeous place.
Also in November, I was invited to a media event in Panama City, FL, where we shopped the coastal decor stores down there, took a boat ride to Shell Island and ate some great seafood.
Did I mention I love my job?
The Christmas season rolled around fast and Mark and I got settled into our new house just in time to decorate for the Holidays.  It was such a fulfilling thing and we couldn't be happier with our house and where we ended up.
We're in full on nesting mode now, making this place our own and having a blast with it all.
Our families are right in the middle of our happiness and we both try to spend as much time as we can with both sides.  Family is truly the glue that holds it all together.
In December, right before Christmas, we got one of the biggest snowfalls we've ever had in Georgia. That was a sight to behold and we thoroughly enjoyed every snowflake that fell for a few days.  It sure left lots of broken tree limbs in the aftermath, but it was such a pretty snow.
I'd say I had a pretty fantastic year, woudn't you?  Mark and I are so enjoying our new town of Acworth and getting settled into the community and town.  It's been so fun to be near a small town and it feels so calming and peaceful to be here.
Last year, I covered so much about blogging, so this year I just wanted to sit back and relax and enjoy the journey that blogging has taken me on.  It truly has been the ride of my life and like nothing that I could have ever dreamed of.  Life is good.  So good.  And I'm so grateful for it all.  You all continue to support me and my blog and that truly means the world to me.  I say every year that I don't know how long it will all last, but I'll keep going as long as it does and I'd have to say the same thing this year.  If changes and evolutions of blogging finally kill it off in the future, then we will all have to deal with it, but it's been such a fun ride that I have nothing but elation and joy over the whole road to get where I am at the moment.  I'm not striving to climb the blogging ladder.  Not trying to do it all.  Or be more. I'm enjoying the ride and try to stay away from the comparison game as much as I can.  Because blogging can feel so much like a game at times, trying to do and be and strive for more.  I'm striving for peace and calm.
I've said this before but I'll say it again.  I appreciate that you all understand that blogging is a business and that we do work with sponsors and get paid in money or product (or both) and we share those brands and companies on our blogs. I'm at a point in blogging now, that I can pick and choose those brands that I want to work with and share on my blog and I'm so grateful for that.  I don't have to chase every dollar that comes along and I can turn down the ones that are not a good fit for me (and for YOU, my dear readers!).  I thank you from the bottom of my heart for being gracious and understanding of that side of blogging.
It's part of how it all works and I appreciate you all understanding that part and you keep coming by to see what we are up to in the new house.  This year will bring more changes and updates to the house and I just can't wait to see what all we are going to do in this house.  It keeps feeling more and more like home and that's the best feeling in the world!
So, once more, thank you ALL from the bottom of my heart for your continued support, encouragement, love, and visits day after day.  It's been my pleasure to have been with so many of you these past 11 years and I look forward to many more!
SaveSave
SaveSaveSaveSave
SaveSave
SaveSave
SaveSave
Don't Miss a Post, join my list!