Hey, friends! Still traveling this week and can't wait to share more about Charleston when I get home. It's been a very fun weekend at Haven and I'll share more about that later.
In the meantime, I thought it would be fun to show some of the progress we've made in the house during the last year that we've lived here. Upgrading this builder's grade house that we bought has been a fun process and we are so happy with where we are now.  We technically didn't move in until the end of August and spent the first couple of months after buying the house getting things done, like painting and floors. It's been so nice to be in here and really make some progress. At first it seemed like it was taking awhile, but really it's flown by and we've gotten so much done in the last year!
I really want to showcase what you can do in a builder's grade house to update it and add value along the way by just adding paint, molding/millwork and changing out fixtures and updating bathrooms and kitchens.  A lot of what we've accomplished has been done with paint and molding, so I hope you're inspired by our progress.
I've linked each update post under the AFTER pics if you want to go back and check those out.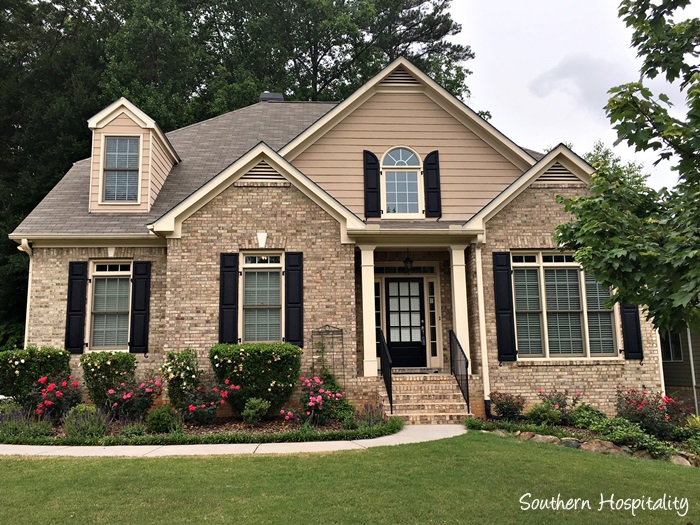 BEFORE:  We weren't all that happy with the current color, so had the entire exterior painted right away.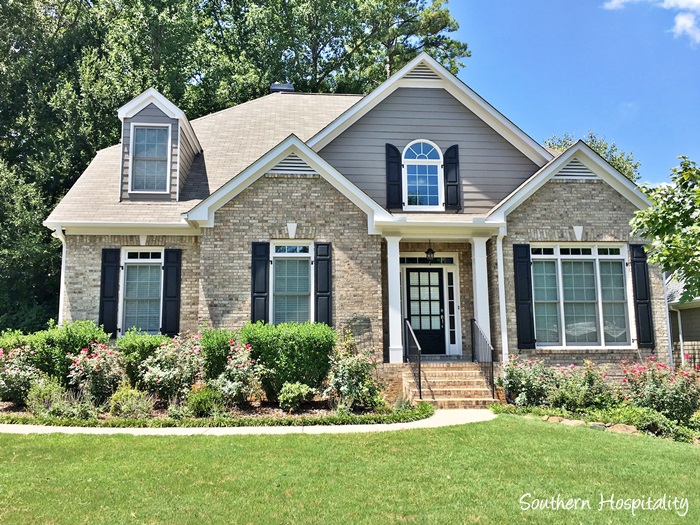 We're so glad we did. New colors are Sherwin Williams Backdrop and Simply White on the trim. What a difference here.
After the new floors were done, but before the carpet was added on the stairs.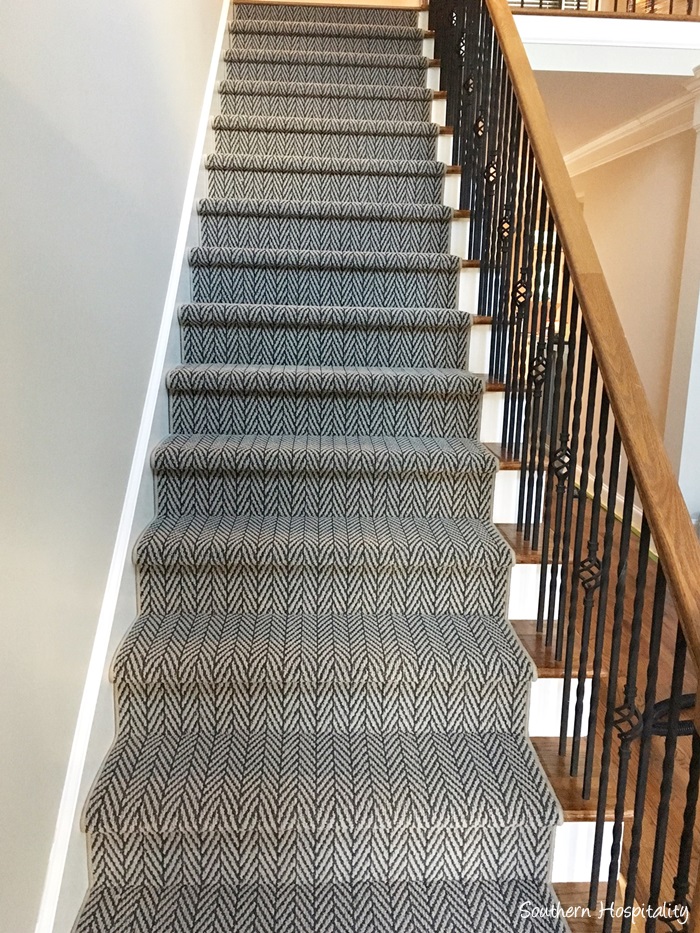 Carpet runner AFTER, from Shaw Floors, you can read more about this here.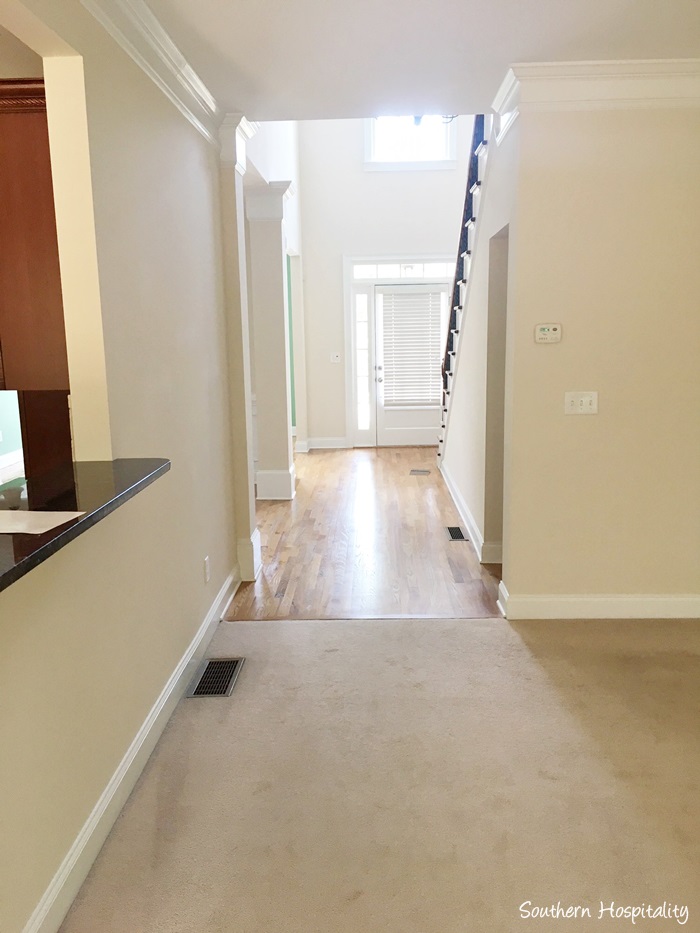 Here's the house when we first bought it.  Carpet in the family room was removed as well as into the guest room and hardwood floors installed, all were sanded and stained to match.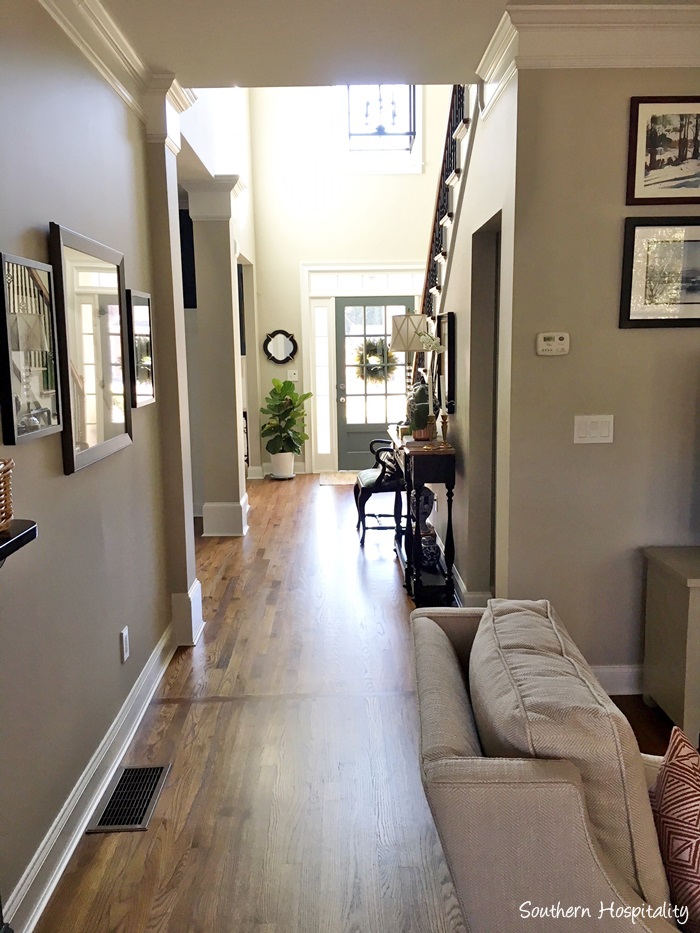 AFTER
And the current view now.
The living room had this ghastly green on the walls which I knew would go as soon as possible.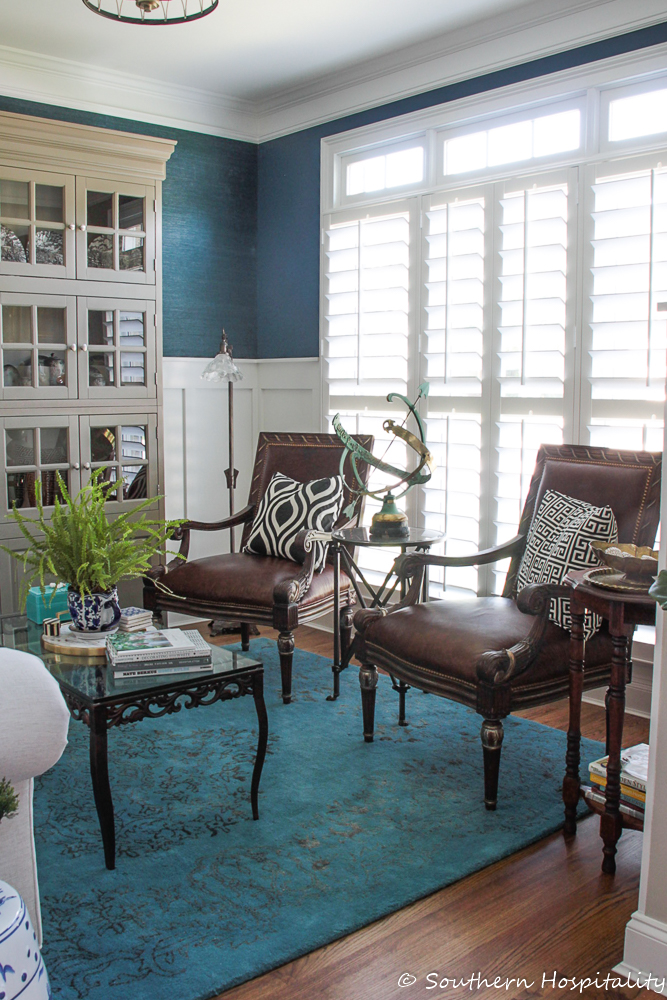 Mark added board and batten in here and we just got those Plantation shutters installed and wow, what a difference in this space.
The dining room had some major transformations too, including new beadboard wainscot in there.  That less than desirable light fixture went away and here's what we have now.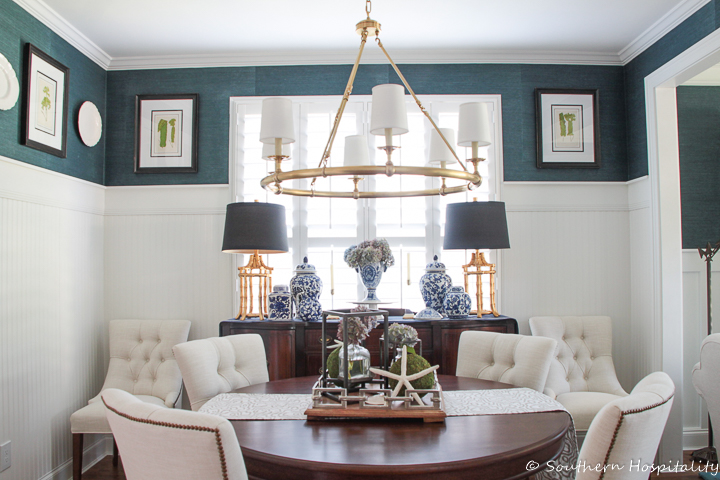 Another beautiful transformation with molding, navy grasscloth and new Plantation shutters on the windows.  Not to mention, that gorgeous burnished brass light fixture we installed adds so much style to the room.
We got all new light fixtures on the main level and you can read about those too. The new lighting in the dining room is from Williams Sonoma (affiliate link).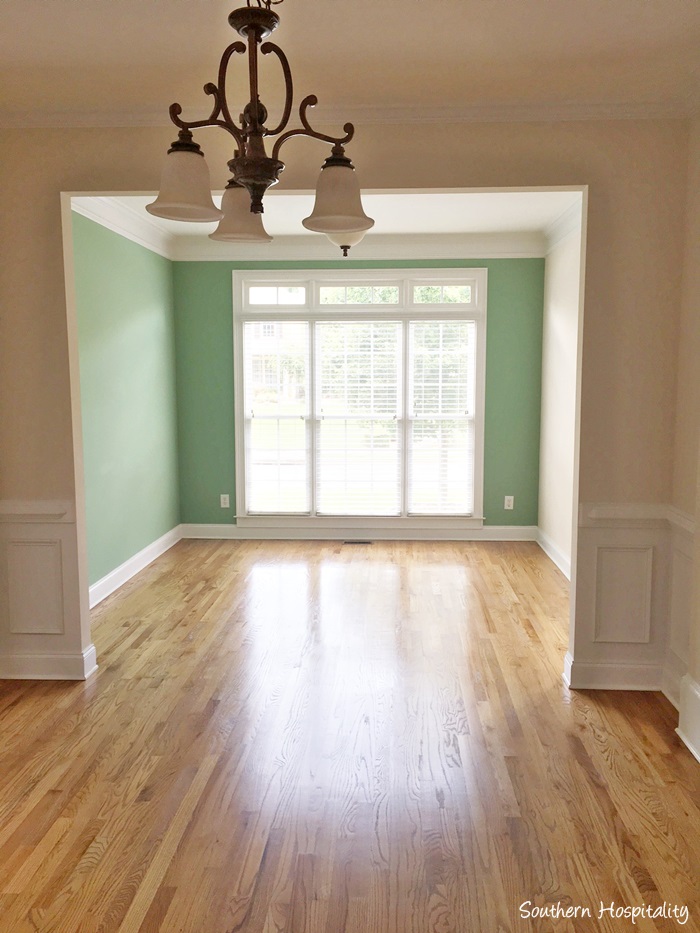 View from the dining room into the living room. Notice there was no molding around the doorway.
Upgrading a builder's grade house
Here's the same view before the living room was done and after Mark did the trim on the doorways, which I think makes a huge difference as well.
It sure added a lot of interest to the spaces to have them defined with chunky millwork.  I adore this view now!  Be still my heart, those Plantation shutters get me every time!
We like to call our style New Traditional, which I think incorporates the mix we enjoy in our home. Not stuffy old Traditional, but a modern classic take on New Southern Traditional.
Back in the family room we have these gorgeous 5 windows that face the backyard.  This room sold us on the house as well. All those spacious windows that let in such glorious light all during the day is a wonderful accent to the back of the house.
I added those gorgeous bamboo blinds from Payless Decor and they add so much texture to the room with the same wood tones as the floor.  We've since replaced this fan with a prettier one too.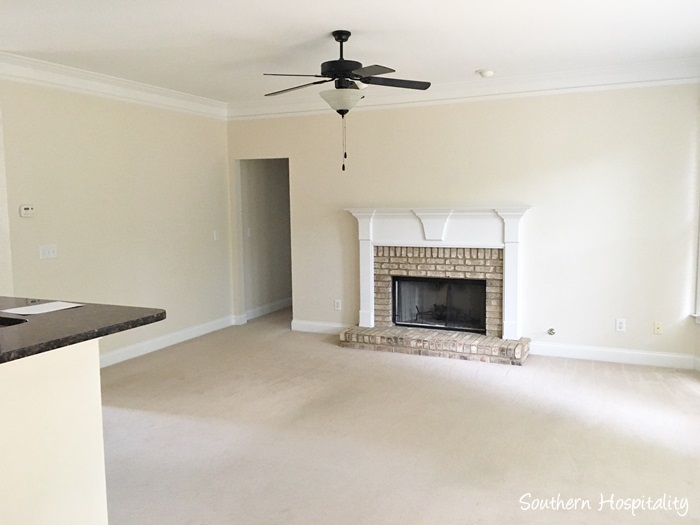 Before view of the fireplace.
And AFTER.
Kitchen BEFORE was all stained cherry cabinets.  Notice no molding on the bar area.
And AFTER, layered and pretty! Don't miss the millwork on the bar that Mark added, what a difference!
Another shot of the kitchen BEFORE, very plain and uninspiring.
Ahhh, much better!  I think Mark adding all that trim to the bar area really sets this apart now.
BEFORE
AFTER:  We had the cabinets spray painted by our painters when they did the interior and exterior painting before we moved in. Best decision ever!
BEFORE, the eat in kitchen was very plain too.
And AFTER with a sitting area, antique cabinet with open shelving I added myself.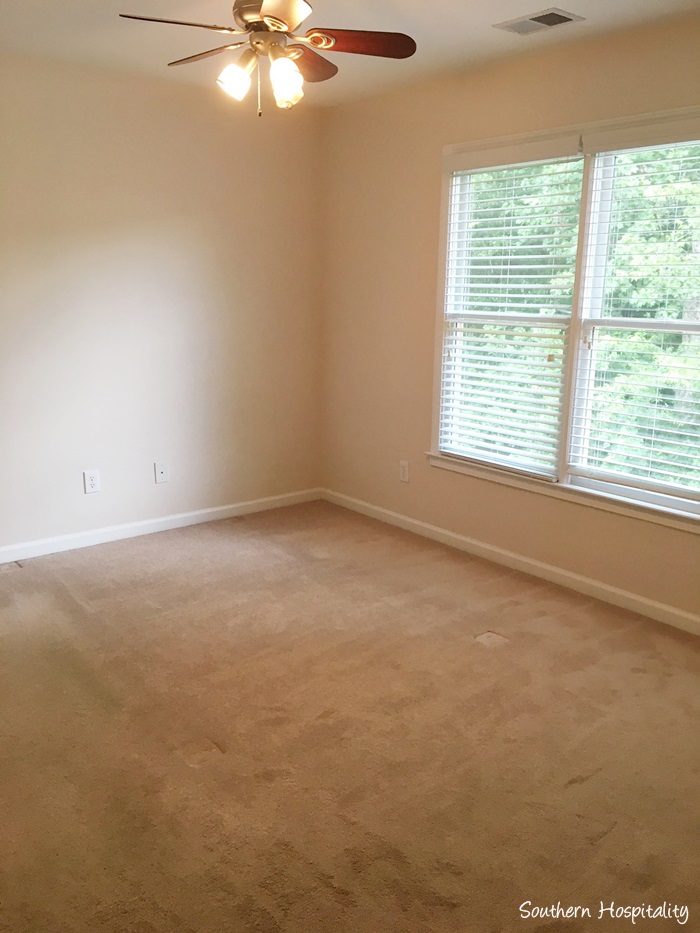 The Guest room got an update too with new wood floors and paint color.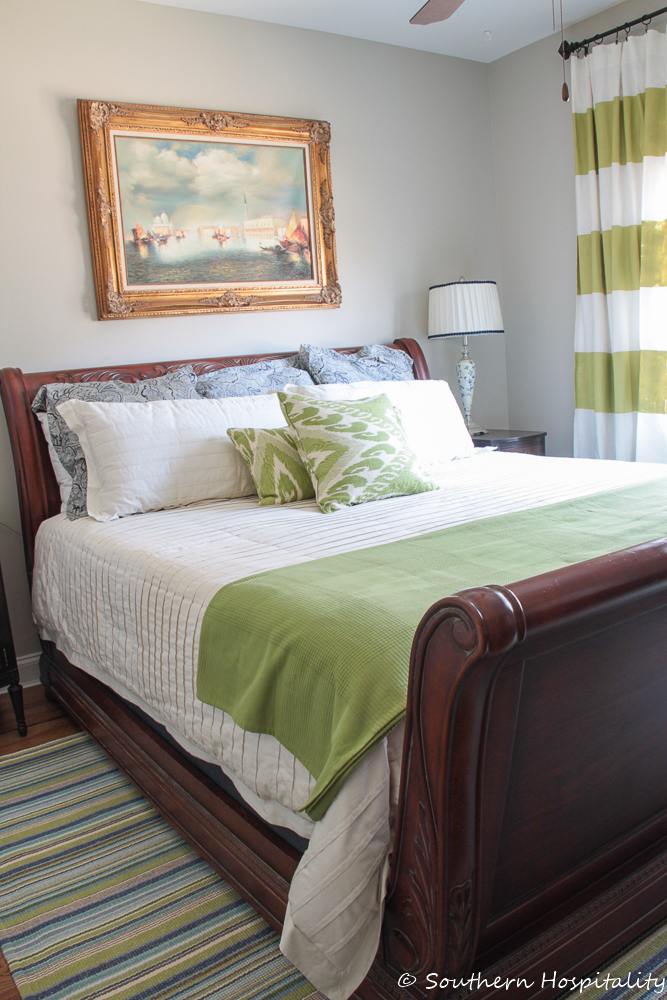 What a difference the furniture, window treatments and layered elements make in a room, using my old master bedroom set in here.
AFTER with the painted doors and new Schlage hardware. I'm still working on painting the rest of the upstairs doors and adding the new hardware and will share that as soon as I finish.  Big thanks to Schlage for partnering with us on the hardware.  It makes a big difference in our house.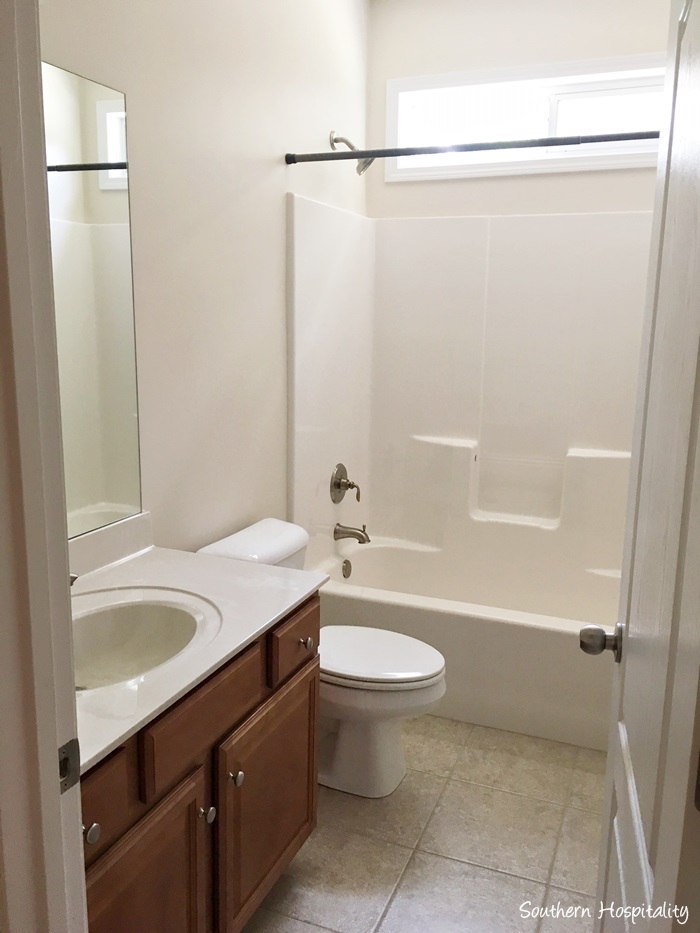 Here's that guest bath, plain and not so appealing.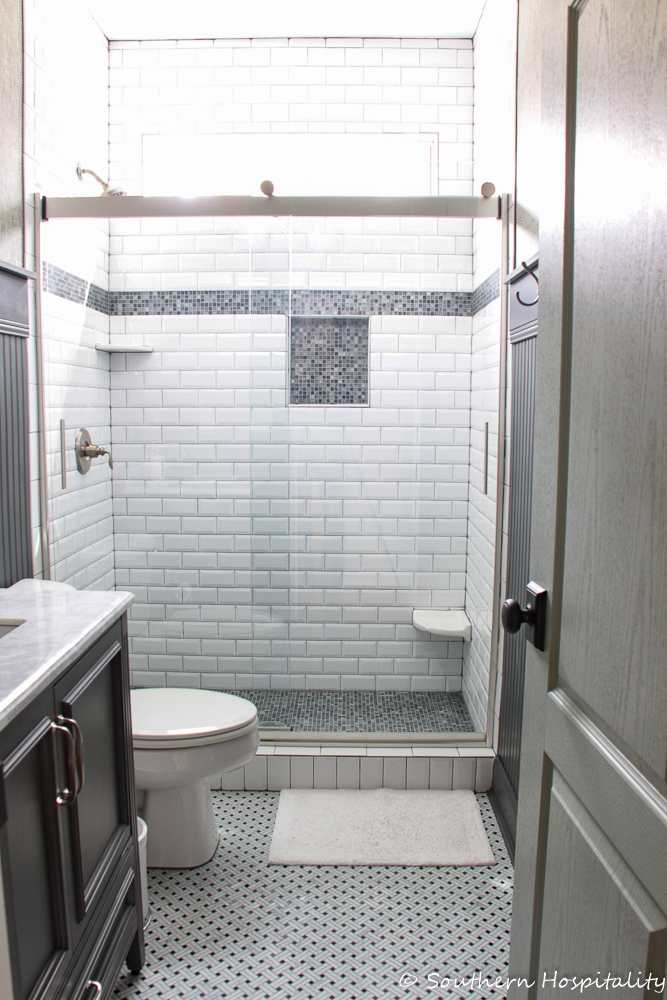 The AFTER version of the renovated guest bath is so pretty and fresh. We just love this space now and can't wait to do something to the other 2 bathrooms.
What a difference!  We are so proud of how this little bathroom turned out, a jewel box of beauty now.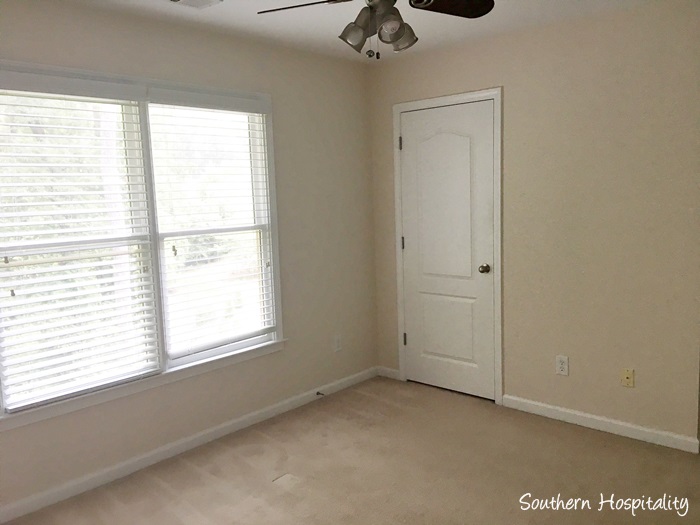 Upstairs, my office space got spruced up. We added new wood flooring here on this level too and that totally takes it up to another level by adding wood.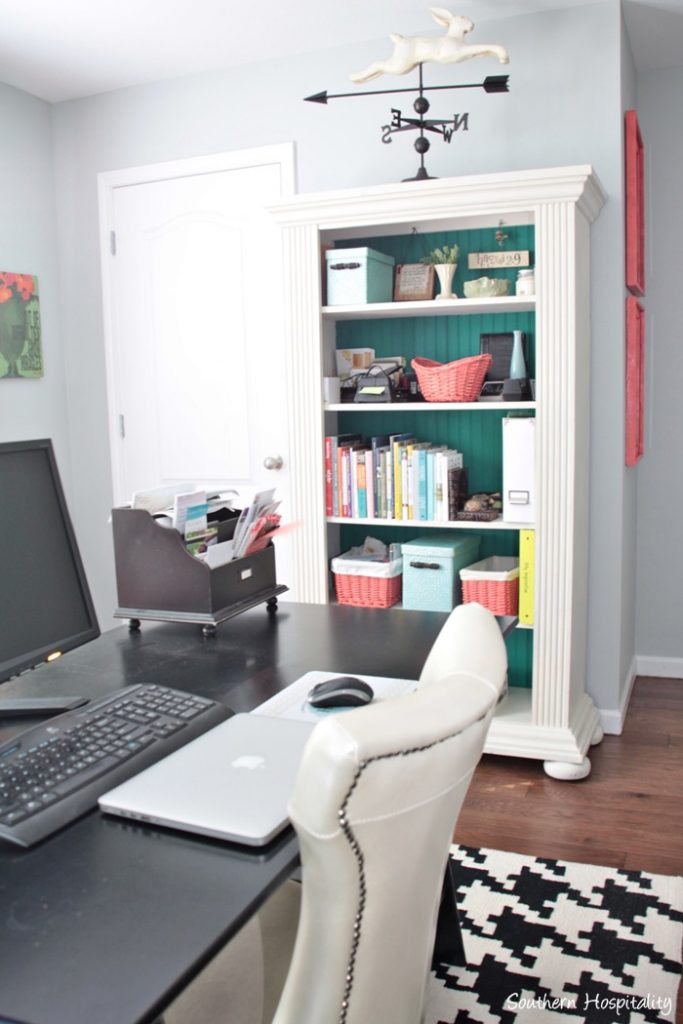 Here's that same space now, renovated guest bath
It's so cute and girly, love it!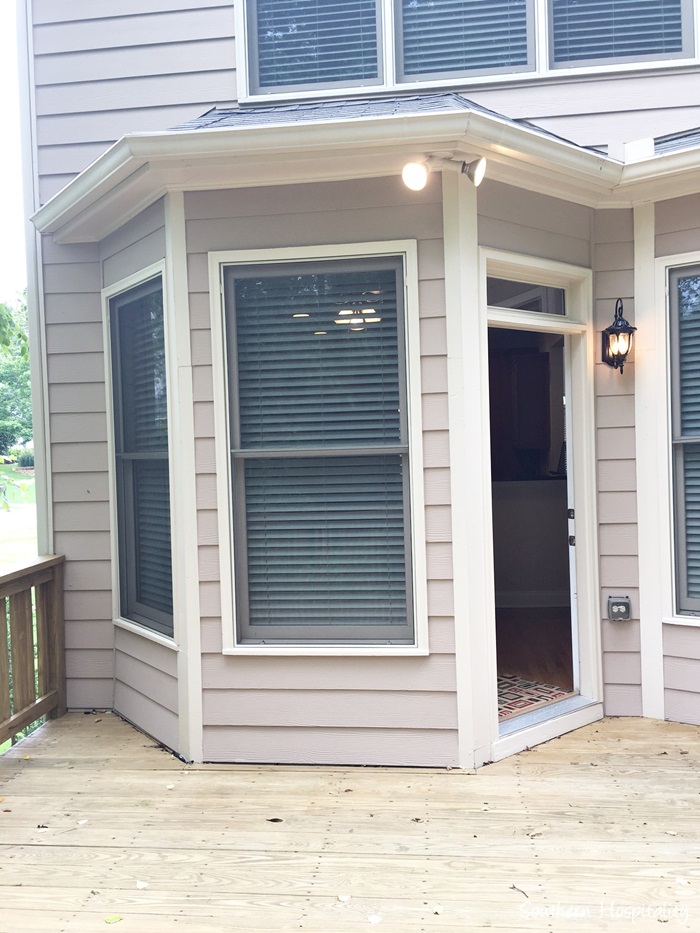 BEFORE, the deck space.
Still working on the deck space, aka The Treehouse, but it's stained now and I'll be sharing that soon.  What a difference to get the new stairs off the deck too.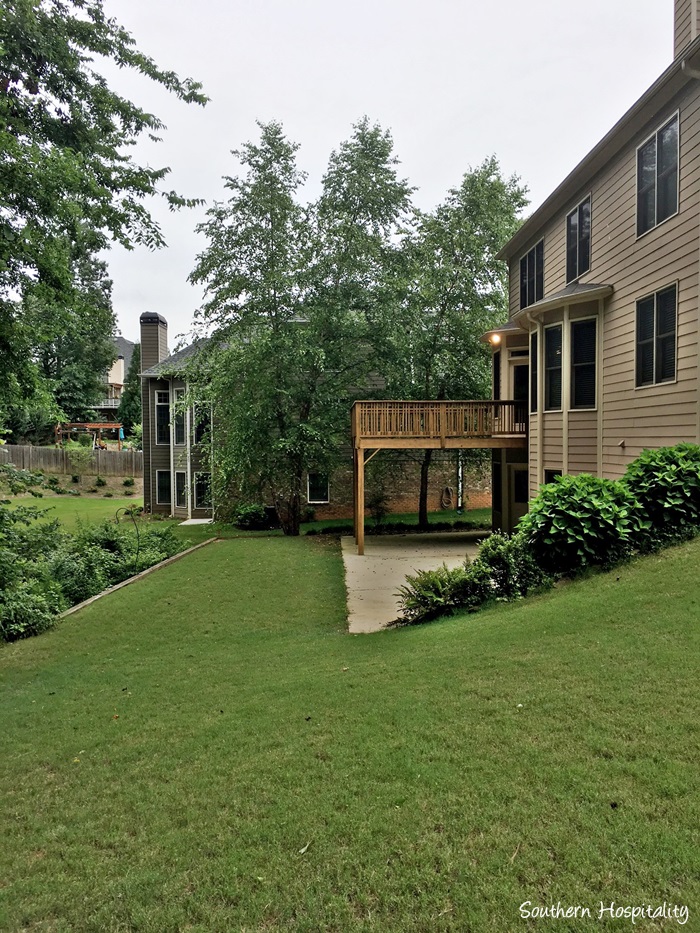 No fence when we bought the house.
And AFTER with the newly stained fence.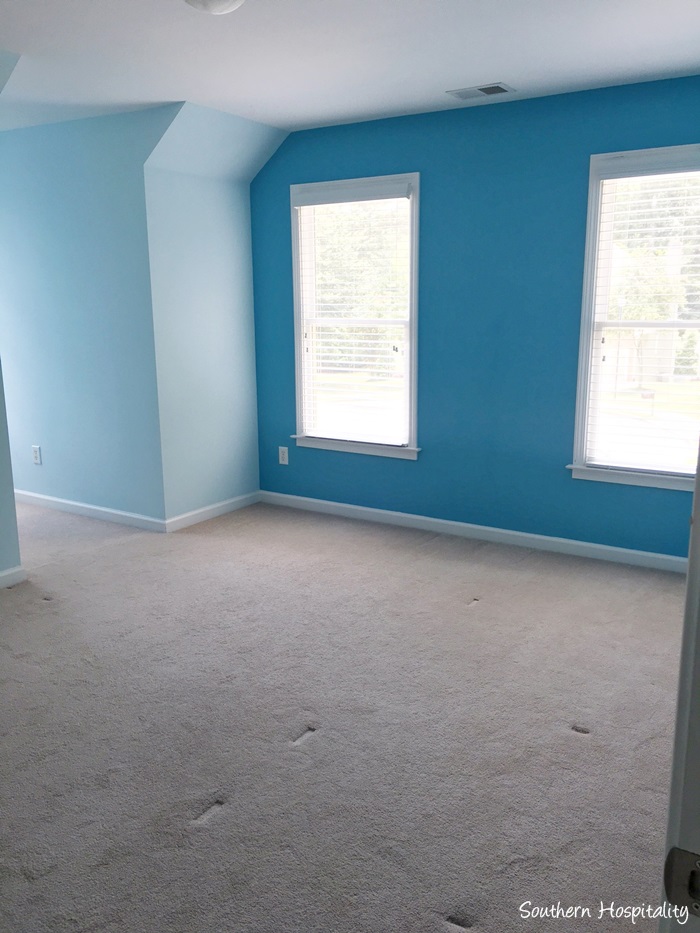 The bonus room, now Mark's man cave.  Mark has agreed to let me share it soon, so stay tuned for the AFTER!
What a difference a year makes!  It's been a whirlwind getting all of this done in the last year, but we are so happy and proud of what all we've accomplished. We absolutely love being at home and it's such a cozy house now. A house is truly never done it seems and we have a lot more ideas and plans swirling around in our heads, so you can bet we have more going on in the next year.  Can't wait to share it with all of you!
Thanks for being on this journey with us, it's just getting better and better!
Don't Miss a Post, join my list!