As this year comes to a close, it's been fun to look back once again to see all that we've accomplished (my dad and I) around here this year!  It's been an amazing year for me on so many levels and I'm so excited that I've been in my house a whole year.  We still worked on plenty of things around here this year, with lots more on the list for next year, so the projects, they just don't seem to end.  Which is fine with me, I love seeing improvements happen, don't you?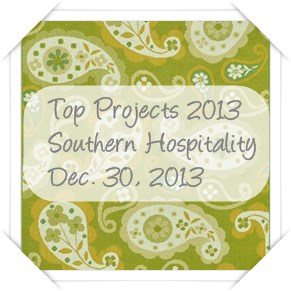 Thank you ALL so much for following along on my journey and adventures!  I'm so glad you are all still hanging with me for all this time, it's been quite the ride.  Come along with me and let's see what all happened on the blog this year!  It wasn't quite as dramatic as 2012 top projects, the year of the whole house renovation, but lots was accomplished all the same.
In January, I finally got the runner on my newly painted stairs.  That was a fun project to complete and really makes a difference in my house.
This was definitely the Before, after I ripped off the old carpet. They weren't nice enough to just paint, so I added pine risers which I painted in a dark brown porch and floor paint and I did a whole post on that stair project.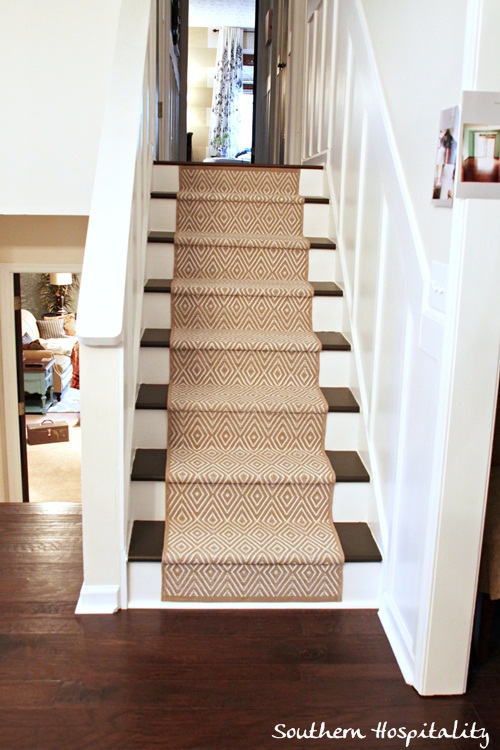 The AFTERS are pretty amazing, if I do say so myself. And I'm happy to report they are still looking good one year later.  I did a complete how-to on the stair runner project so check it out.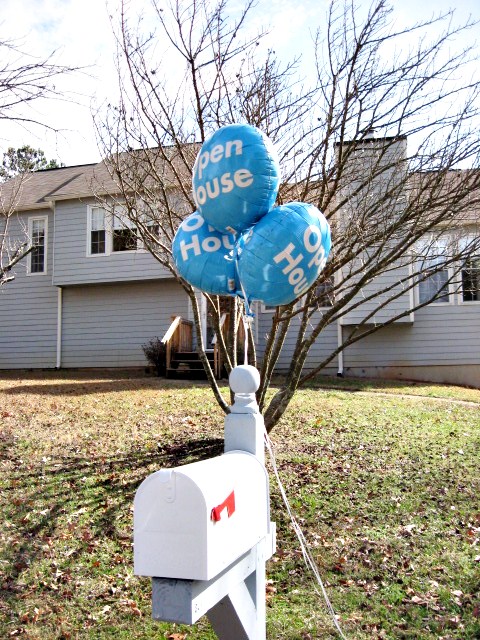 January was a really exciting month for me and I celebrated moving into my new house by hosting an Open House and inviting folks in. That was a banner day for sure!
I shared my completed office space with all the details, which went from really bad (above), to the beautiful space below.
What a change!  I've so enjoyed having this space all to myself, but it's time for me to declutter around here in January, so that's on my to-do list too.  Clutter, it never ends!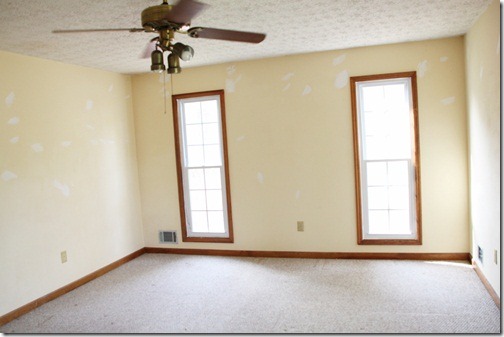 I shared my master bedroom all decorated, which went from ugly and drab (above) to a cozy and calm space below.  Amazing what furniture, drapes, paint and new flooring can do, right?
In January, I also shared my stenciled drapes tutorial, taking 3 pair of Ikea Ritva panels and turning them into something pretty, all with a stencil!  I still love my bedroom.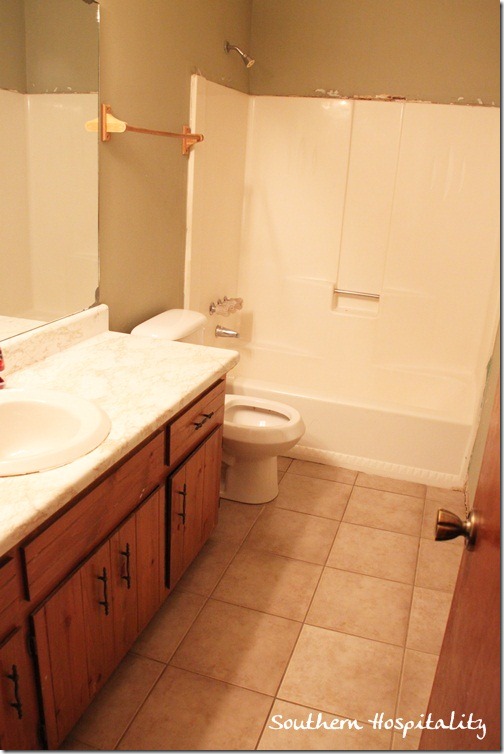 The guest bath was all completed and shared in  January as well and it made a pretty dramatic transformation.
This bath will be featured very soon in Better Homes and Gardens Kitchen and Bath ideas. I'll be sure to let you know when it's out!
In April, I worked on finishing up my den with a new media piece and gallery wall.
In May, some friends and I completed another project at the United Methodist Children's Home with this pretty girl's cottage room, tiring but rewarding.
In June, after my dad and I working on the screened porch for what seemed like FOREVER, it went from the drab unfinished box above, to the beauty below.
I have SO enjoyed the screened porch this year and can't wait to use it all over again next year.  What a fun space it turned out to be!
And in case you're wondering how I handle the porch during winter months, it's all winterized now with coverings over the sofa and chairs (I left the cushions underneath).  I took all my smaller things in, as well as the plants and I wrapped a sheet around my 4 chairs, stacking 2 on top of each other.  The rugs are outdoor and everything else should be fine out there during the winter months. I even took down the stained glass in case of bad weather and stacked them under one of the chairs.  In the spring, pollen will be blowing in here, so I'll wait until the worst of that is over and then give it all a good cleaning, before I take everything back out there again.  Shouldn't be too hard to take care of like this.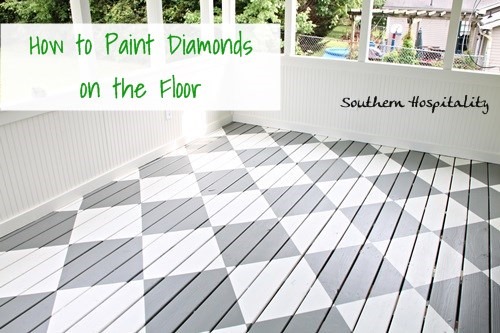 One of the major projects on this porch was painting the gray and white diamonds on the floor.  I did a full tutorial on how I painted those diamonds and they really add a lot of punch to the porch.
In June, another major project was crossed off the list when I installed a laundry sink with Formica laminate counters and integrated Karran sink. I love it!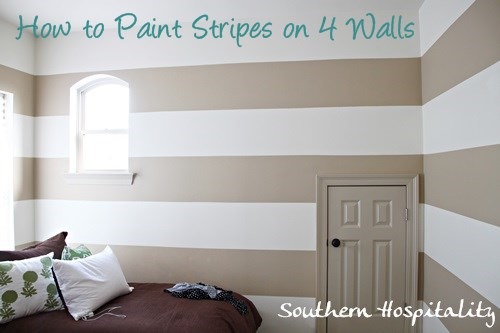 In September, after finding out some wonderful news in our family, a pending baby's arrival, my sister and I painted stripes on Lauren's new nursery walls.  The  nursery is coming along and she is just a few weeks from baby time now, mid February.  We are heading down again the first week of January for another baby shower in New Orleans.
In October, I got a new mantel installed and that was a big highlight too.  Having a mantel is a must! I've still got plans for a little more fireplace makeover later on.  Still mulling over that one.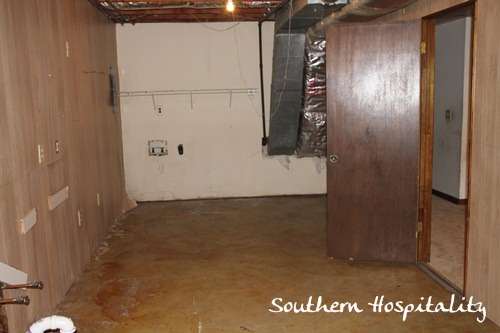 Also, in October, the long awaited finale to the laundry room was done.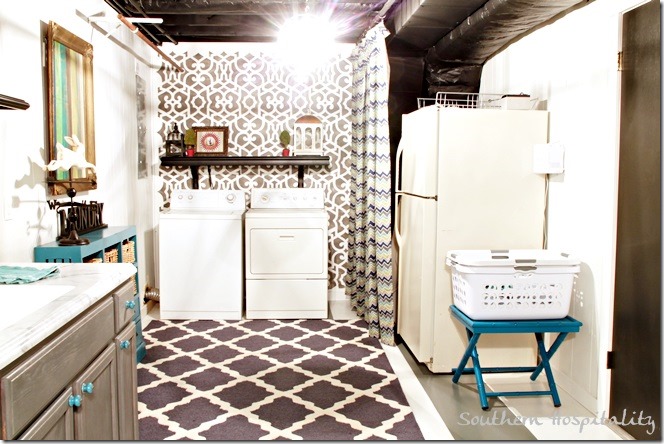 This space was an amazing transformation and I still marvel at the changes.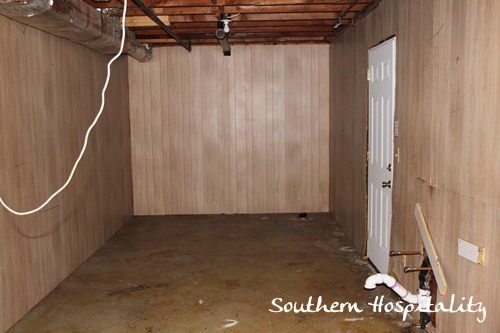 I'm so glad I took before pics, because people can't believe the difference when they walk in my house.
Another wall was added to make a storage room on this end of the room and it's still a really big space.  Jaws drop on this one and it makes me laugh when friends walk in and see it.  Very proud of my laundry room space now!
October was a busy month! I also got a new blog design during that time and am so happy with the changes.  Some of you weren't crazy about it, but hopefully you are getting used to it all now.  I'm still very happy with the new look and functionality.
Also in the Fall, my sister and I got really busy painting furniture for her 2 guestroom makeovers, along with nursery addition for her.  Those were fun to see and those rooms turned out great!
This is the new guestroom/nursery combo, so pretty!
And her other guestroom, after.
And for fun and in case you missed it, here's my Christmas home tour for 2013.  It was fun to decorate for Christmas this year in my own home.  Last year, I had just moved in and it was still chaotic around here.
Whew, that was quite a year! I'm very excited for another new year, 2014 and can't wait to see what is in store for me and this blog in the coming New Year!  God has been so gracious to me and I'm so, so grateful for all His blessings, once again.
Now, let's see what YOU did for 2013! Get ready to link up your best DIY projects too, can't wait to see what all everyone else has accomplished for the year! I'd love for you to do a recap post, but if you must link directly to a stand alone post, no more than 3 per person, PLEASE!
Don't Miss a Post, join my list!