How can it be possible for another year to have passed and it seemed once again to just fly by!  Another year and when I look back, what a crazy and busy year it was!  I'm so happy to be a little more calm now than earlier in the year.  Looking back on the entire year, I can't say there were a lot of projects being completed until Mark and I moved into our current house, but a lot of big events happened, that is for sure.
It's been a memory filled year for us and so today I'm taking a look back at the year in review at some of my personal blog highlights as well as what Mark and I accomplished this year.
I went on some very memorable blog trips this year too, but will share those in my next installment of my blogging journey, which is coming up to 11 years very soon!
In March, I had the fun experience of participating in a charity showhouse for the first time, House for Hope in Franklin, TN.  My space was small, the laundry room/mudroom area, but I had so much fun designing the elements of the space with the builder to adding my own decor touches in there to make it really pretty and cozy.  We all got to be there for the opening of the house to the public and see it all for ourselves so that was a fun highlight.
I've got one project at my old house to share with you that I've not shared before.  In May, before Dad got sick in June, he and I tackled adding a privacy screen to my back patio.  We had talked about it ever since I had the patio installed a couple of years ago and we thought it would be a pretty easy project that we could do together.
Why did I ever think it would that easy?
All of that sounds good, right?  Well, the problem comes in when you don't read directions (I should have read them more closely than I did) and dad didn't read them at all, other than to look at drawings I printed off the website for these privacy screens we bought from Lowes.  These are those white vinyl fence partitions that go together with screws and hardware, along with cementing pressure treated posts in the ground.  My mistake was letting him take over and lead when really, neither of us had an idea of how wrong this could go by not reading the directions very carefully.  Ahem, did I mention he can be really stubborn when he gets his mind made up?
We started by digging 3 holes for 3 posts in the ground.  The holes had to be about a foot deep, so dad dug with the post hole diggers and I helped and dug with them as well.  We got the holes dug, that wasn't too much of a problem.
Here's where things went wrong.  There was a small pamphlet in the hardware that directed how the posts should go in, hardware added with screws and a vinyl sleeve goes over the pressure treated post at the same time the hardware and screws should go in.  According to the directions, which I then saw after it was too late, the first post can be cemented in, but the 2nd and consecutive posts should NOT be cemented in.  Oops!
I had a feeling we shouldn't cement all 3 of them in, because I could already see problems if they were to far apart or too close.  They had to be perfectly placed to work out and post #2 should have been cemented in and raised at the same time that the hardware and screws went in, with cement being added afer the fact.  Same with post #3.
Do you see where this could all go wrong?
Against my better judgement, I went along with Dad's wish to go ahead and cement in all 3 posts.  There was this nagging in my head that we shouldn't but we did.  How bad could it be, right?  We had measured and tried to get the posts lined up properly and spaced them apart based on the drawing of how far apart they should be. But, once you start digging, things can get off really fast, so I knew we might be in trouble after that cement went in and those posts were set.  We did this part in a couple of hours and Dad was going to come back another day and we would then figure out how to get the hardware on there with the partitions in the middle.
That day didn't come.  Dad got sick the next month and so this project was all on hold and it sat like this for months.
I did some measuring and eye balling of my own with the vinyl fence partitions to see how bad it was and I deduced that the post closest to the house to the middle should work and fit fine. It was the outside post that would cause problems. They were too close together to get the partition to fit inside properly.  I had no idea how it was going to get fixed, since our summer all of a sudden got really busy and out of control.  Mark and I were already house hunting and about to find our house at this point.
So it sat like this until Traci and Tony moved in my house after I moved out to our new house in late August.  I explained to them what happened and that I didn't know if it could be fixed or not without taking out one of the posts.  Tony's family ended up visiting after their baby was born and stayed for a week.  Tony mentioned to me that his dad and brother were handy and they might be able to fix the fence!  Yay, I was so excited to hear that, since I didn't know what else to do except try to find a handyman who could fix it.  Mark didn't have time to try to fix it at this point.
And, I'm very happy to report that the fence is done!!  Doesn't it look great? It's a wonderful privacy screen for them now and I know once they get some furniture on the patio, they will enjoy having some privacy from the neighbors.
It was a very inexpensive project, I think just over $100 or so and adds a lot of value to the backyard now.  It's 6′ tall and with seating on this side of the patio, it will completely block the view of the neighbors which are really close.  It's exactly what I had always envisioned and I'm so glad Tony's dad came to the rescue.  He told me that they ended up cutting down the side of the pressure treated post on the far right side, which allowed the partitions to be fitted inside and screwed into place.  The sleeves cover up the posts and those finials pop on top making it a nice looking privacy fence.  They did a great job and it looks perfect now!
So, even though Dad and I didn't complete this one, Dad helped me get it started and so he gets major kudos for that!  My dad has helped with so many projects of mine and this was the last one in my old house, so I had to share it with y'all! I knew you'd get a kick out of this story!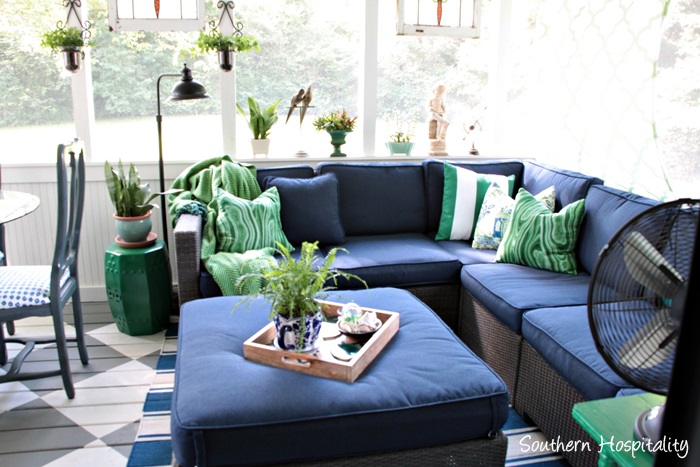 In June, I shared my screened porch update in my previous house in navy and kelly green.  Such a fun space to redo with new furniture and accessories and I sure do miss that space!  Mark's daugher, Traci, is enjoying it for now but one day I hope to bring the furniture to our house when we get a screened porch either up or down in our backyard.
In July, the Haven conference happened for the 6th year and we were thrilled with it and think it was the best year ever.  Next year, we are headed to Charleston, SC, so we are so excited about that as well for year 7 of Haven.
July also brought our small but sweet wedding, Mark and I got married in Savannah, GA and it was a whirlwhind of a summer which culminated in our buying our new house together.  I shared more wedding pics here.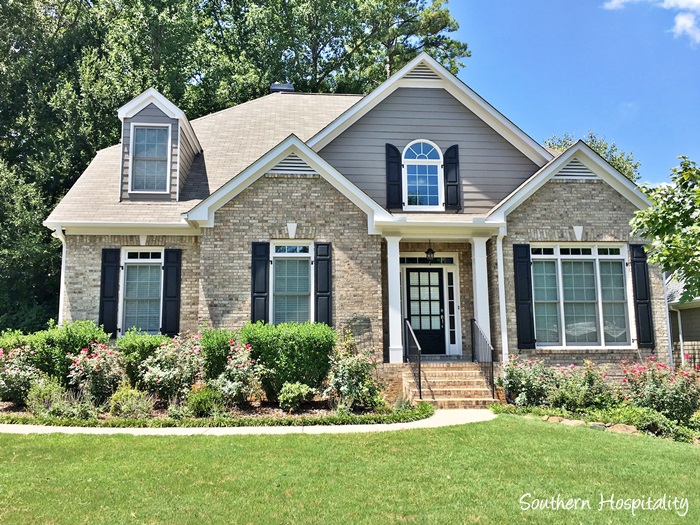 We took the whole month of July to get the exterior and much of the interior painted and then we moved in our new house officially at the end of August.  I shared our main paint color we chose in our house, Gatherings by Magnolia Home.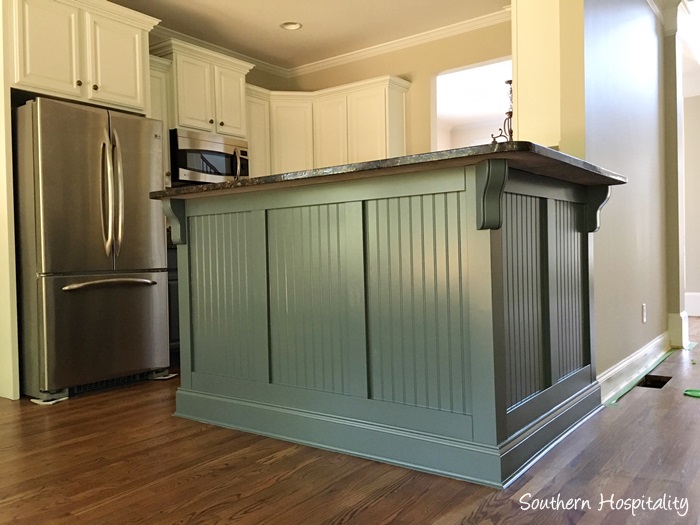 One of the first projects in our new house was Mark completing the beadboard addition to our kitchen bar area. It was just so plain in sheetrock when we bought the house and Mark was eager to get this project done. It turned out so fantastic and I am so proud of his skills!
We have lots more plans for adding moldings around the house too.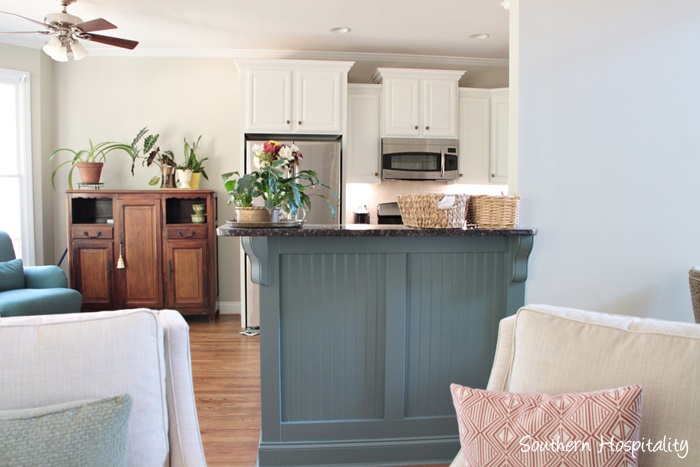 We also had the kitchen cabinets painted by our painter, so I shared that process too.  Some things we like to hire out and this was one of them.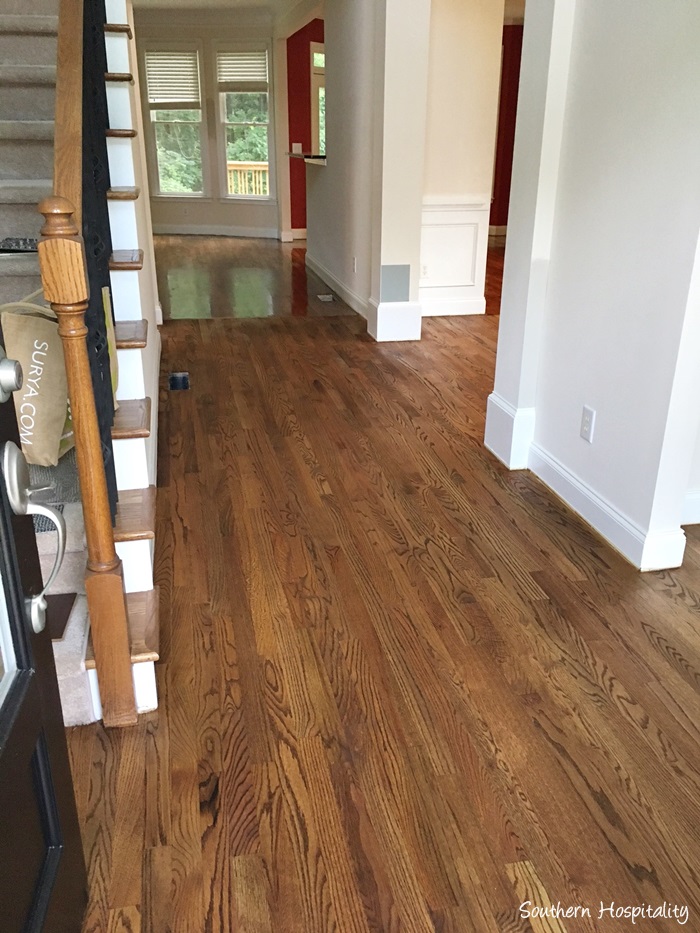 We had the carpet taken out of our family room and guest room and site finished red oak installed, sanded, and stained a little darker color, Provencial.  We love our downstairs floors so much and they are gorgeous.
I was so fortunate to be working with Shaw Floors this year on our new house and we added engineered hardwoods upstairs, and Floorte vinyl planks in the basement.  What a huge difference these projects made to our new house!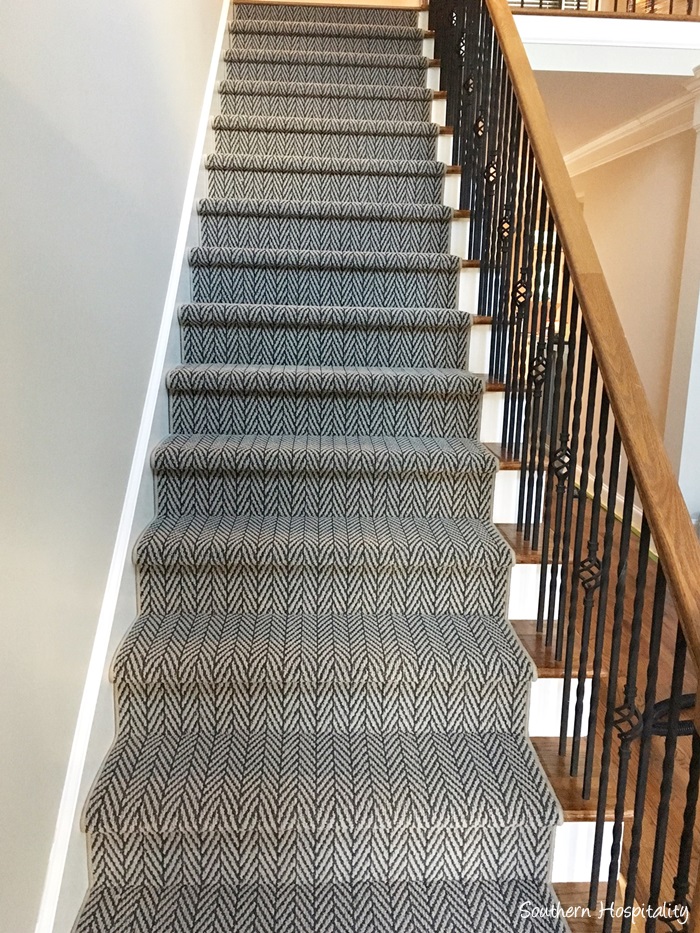 Another Shaw Floors project was getting a new stair runner installed. This addition was a huge WOW factor to our new home and we just love it.
I did one little project before we moved and painted my distressed media cabinet for our family room.  It was the perfect way to update this piece and take a little of the shabby out of it. We both love it better now!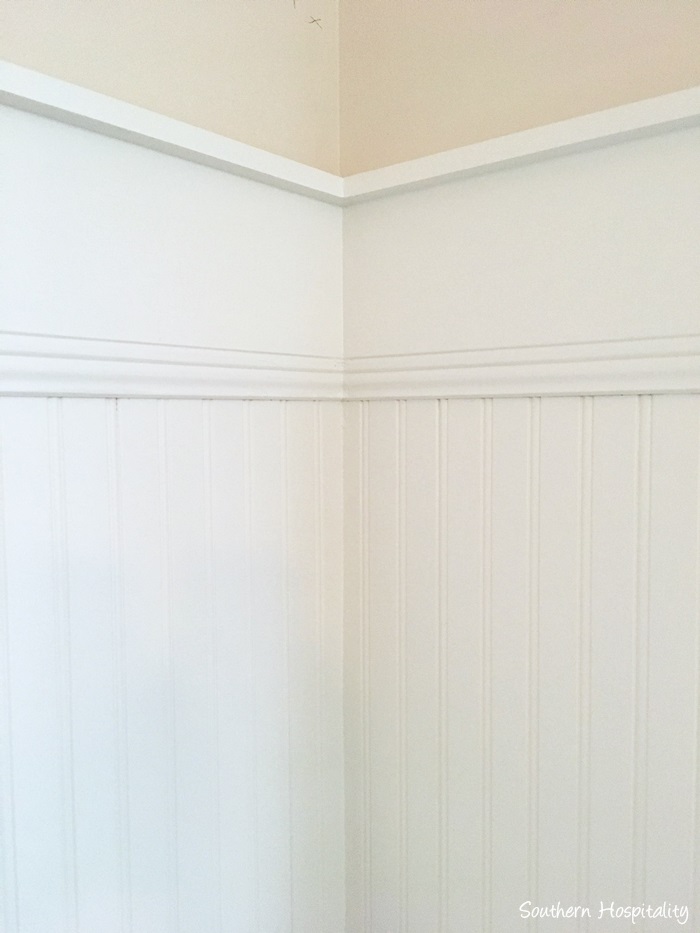 Another big project that Mark did was adding beadboard wainscot to the dining room.  It really dressed up this space and added an elegant feel with the tall wainscot.  What a difference adding molding makes to a house!
We also added a new fence, not a DIY project, but a much needed addition to our yard.
I shared the process Mark did in his man cave to add new molding on the windows and doors, as well as painting the whole room from walls to ceiling.  I am still hoping he will let me share his man cave space all finished.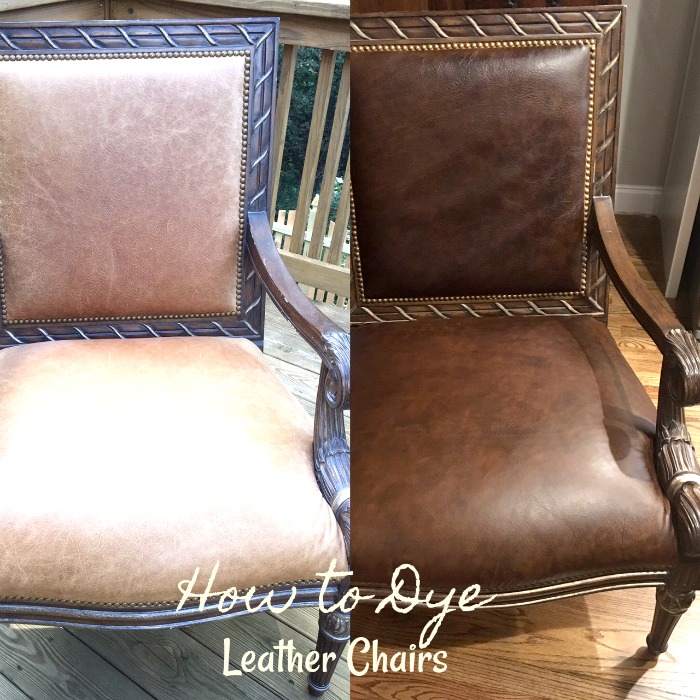 I also got another fun project completed for our living room.  I dyed these leather chairs I've had for years and they turned out so great.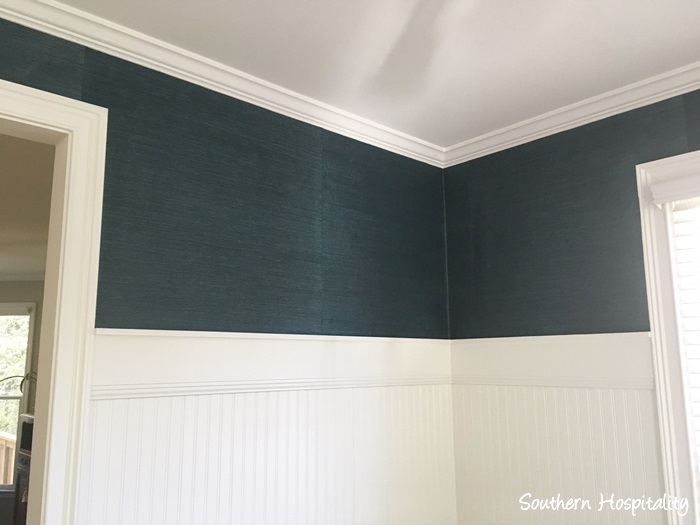 Another addition to the dining room was this peacock blue wallpaper I had installed.  Not a DIY, but it adds such pizazz to our dining room space and we love it. I shared some things I learned about grasscloth wallpaper, since this installation wasn't seamless.  Now that it's done, we are thrilled with it!
After getting moved in, the first space I shared that was completed was my office space.  I used everything I already had for the room and used pieces and accessories I had other places in here and I just love how it turned out.
The last project Mark completed before Christmas was finishing up board and batten in our small living room. It turned out to be such a cute and cozy space and we just love it.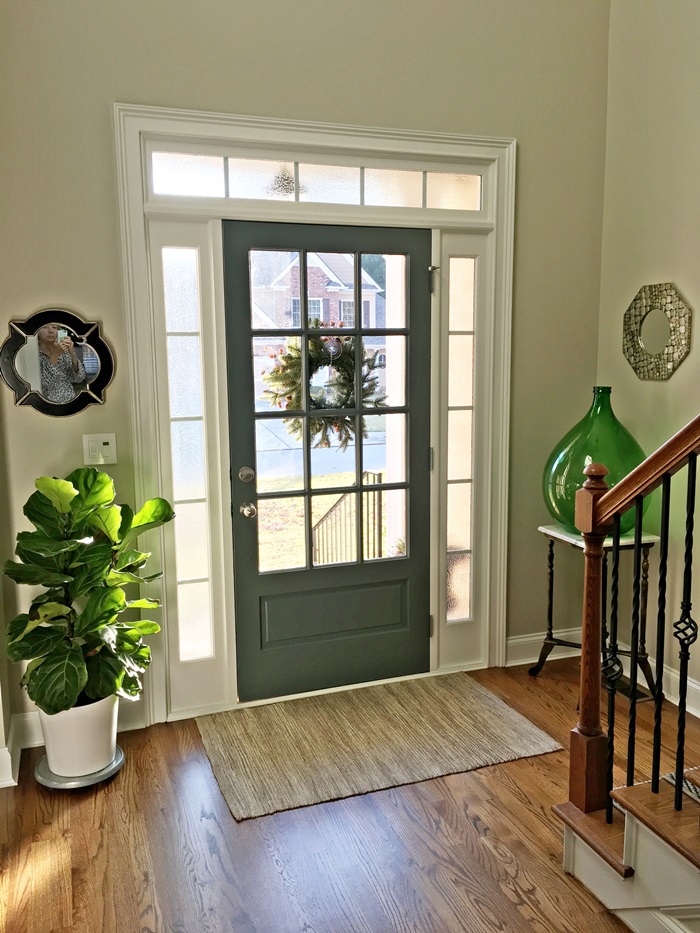 In November, just before I started decorating for Christmas, I shared a tour of our main spaces and what all we had finished to that point.  We are so loving our new house and it already feels so cozy and calming that we can't wait to get back home when we go somewhere.
I shared a Thanksgiving table in the dining room and then it was time for Christmas decorating!
I got the house all spruced up for Christmas, decorating our main level with Christmas sparkle and cheer and it's been a wonderful first Christmas season in our new home together.
We are so looking forward to what 2018 brings for us as a couple and the projects that I'll be sharing on the blog. We are taking our time with getting things completed, but very excited to continue to make this house our home sweet home.  We have already been talking about what we want to do next.  There's a Phase II for the kitchen, with new countertops, backsplash, sink and faucet.  Adding wainscot down the staircase and we also have some neat plans for the master bedroom, as well as the master bath.  Lots to think about and we want to take our time and get it figured out before we dive into any of it.
It's amazing how settled we already feel here and each thing that we accomplish will just add to the cozy factor. Thank you ALL so much for continuing to support my blog by coming by here day after day as I share our lives with y'all!  It's still amazing that I've been doing this for almost 11 years and there's no reason to stop, so I'll continue on for the long haul.  It's been a great way to document my life and my family events too, so it makes me so happy that you all continue to be interested in all of it!  I wish for each of you a safe and Happy New Year!  January is always a slow month for me as we come off the Christmas rush and settle into the New Year, but I'll be sharing as I have something to share!
I'm also having a link party today for my fellow bloggers to share their top projects of the year, so I hope you'll click around and visit some of them too. It's always fun to look back on your accomplishments for the year! Gives us lots to look forward to for the New Year and 2018!


SaveSaveSaveSave
SaveSave
SaveSave
SaveSave
SaveSave
SaveSave
Don't Miss a Post, join my list!