This was a fun post to put together and recap!  I loved looking back.
I mentioned recently that it's been 2 years since I moved into my new/old house.  It's been quite the 2 year journey, after getting settled in and past all the renovating we did in 6 months.  I moved in as soon as I could, but there were still plenty of projects left to do and still a few more I'm going to complete next year.
But, overall it is really amazing to see where the house started and where it is now, so I thought I'd do a recap post showing all my house renovation Before and After photos.  I haven't done that yet and that's always fun to see, right?  I love a good Before and After story and it's quite impressive seeing it all in one post.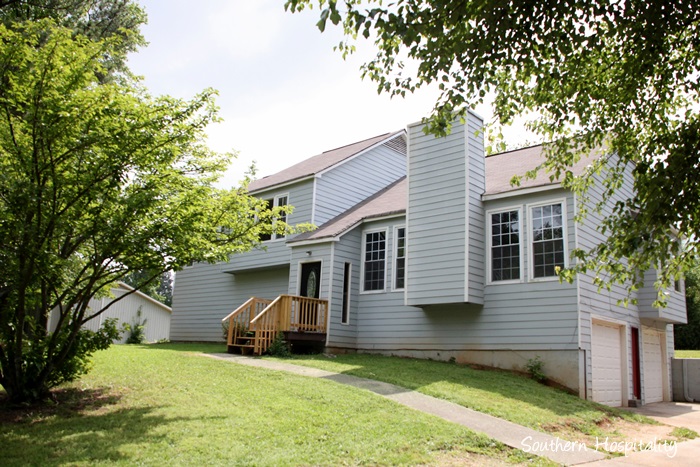 Exterior before.  I wrote a whole post about the house hunting process and when I go back to read it, it makes me excited all over again.  Boy, did we have a long journey ahead of us.  Here's the post after we closed on the house.  I love going back and reading these posts and reliving it all over again.  God surely had this house picked out for me, no doubt about it!
And new recent AFTER.  I am still so thrilled with my house and how far it's come.
The new retaining wall that just went in this Fall.
The sad and pitiful front porch and entry way.  It was in dire need of help!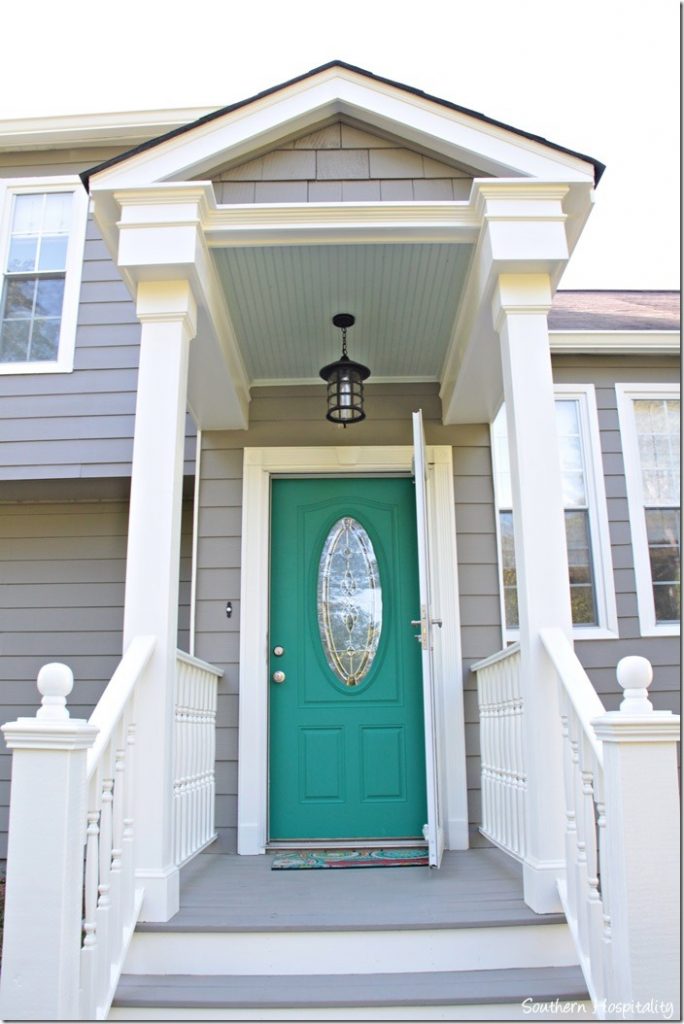 The new portico is my favorite exterior change by far.  This was built almost a year ago and with the addition of the paint and lighting, it is definitely a WOW factor now for my curb appeal.
Entry foyer Before.
AFTER:  Front door painted Annie Sloan Florence.
First day of taking Before pics right after we got the house.  Notice the door in that corner, which was the first thing taken out.  It went into the kitchen, but I didn't need 2 entries into the kitchen.  I needed room for more cabinets in there, so we blocked that door off.  Best decision ever!
The living room and the same corner as it looks now.  I've come a LONG way baby!
We can't forget the Before shot of the fireplace, it's a wall of rustic rock, screaming Hi, I'm from the 70's!
Now after getting a new rustic mantel and adding white planks above, it's a fireplace I can be proud of.
BEFORE:  Living room
In progress shot.
After:  Stairs
AFTER: living room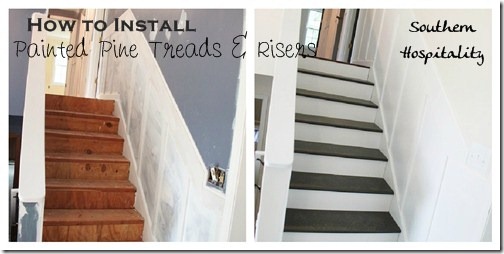 Stairs Before and After.  That post shows how we did this step.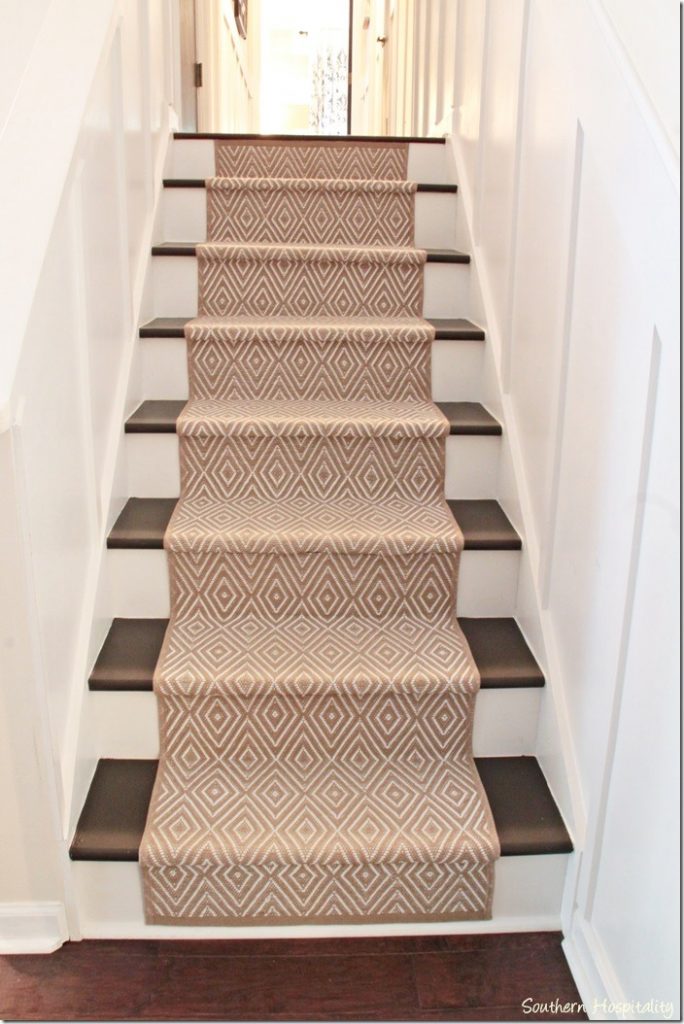 The stairs turned out just the way I hoped they would with the runner installed!
The dining room Before was just a boring little space, but I knew that it could look so much better.  The addition of the board and batten was one of the best things I did for this room.  My dad and I had so many projects like this to work on and I'm so glad we took the time to do it and didn't just paint the room.
This dining room is another space that I'm so, so happy and proud of.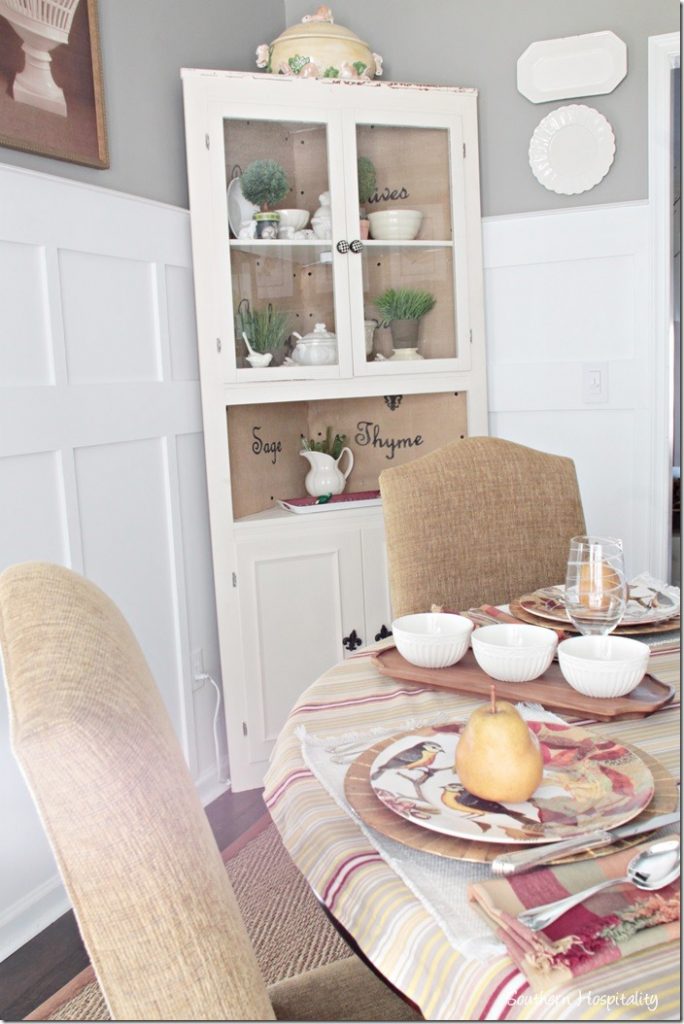 The kitchen was a gut job, there was no way around it.  I was happy to get the old roach infested cabinets out of there and deciding on Ikea cabinets was a no-brainer for me.  They were affordable and stylish and I have no regrets about my Ikea cabinet choice to this day.
I had an installer install the cabinets, but my dad and I did the backsplash and it turned out amazing.
I still adore my kitchen every single day and am so grateful to have it. I did a whole post about the cost breakdown of my Ikea kitchen if you want more info.
This view shows the old door from the living room and how much I gained by closing it off.
Those lower drawers are so nice to have and I would choose them all over again.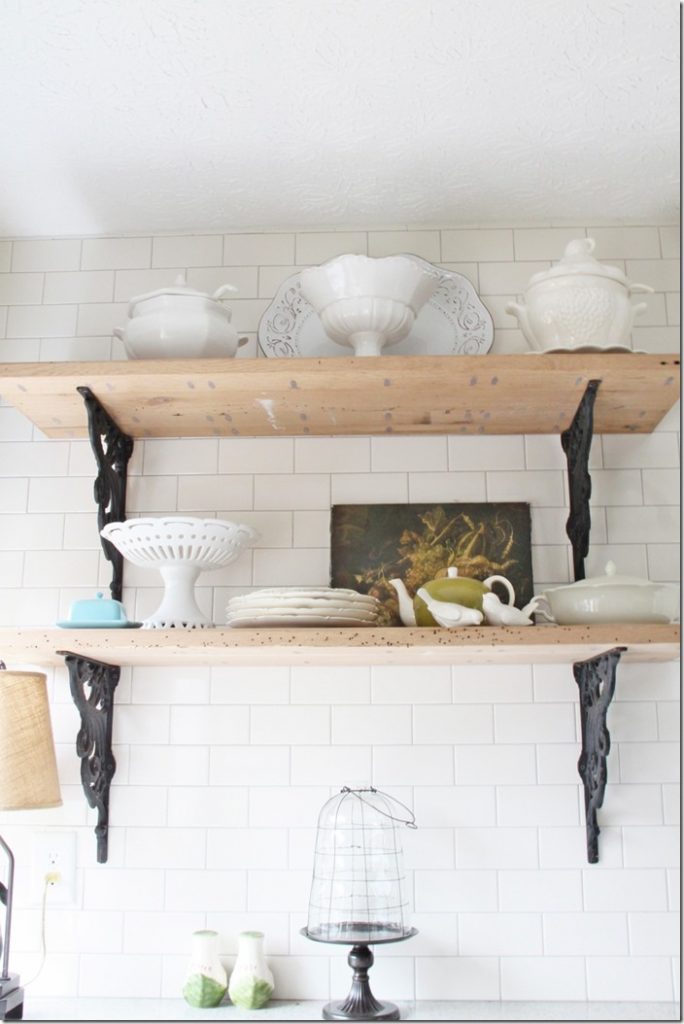 My rustic open shelves are a highlight in the kitchen.  Adore them!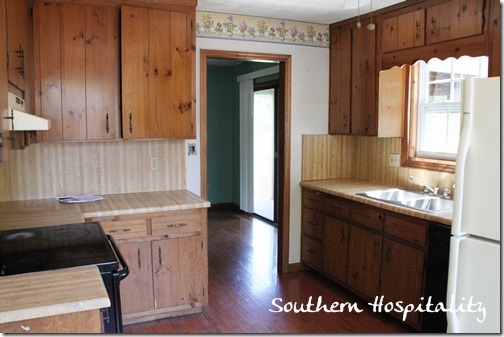 Another Before shot shows how dated this 1979 kitchen really was.  It was a pleasure to rip out the old pine cabinets.  Some of them I gave away, but the insides were particle board and they were falling apart.
Adding a pantry was such a huge thing too and this tall one from Ikea holds everything.
A peek into the dining room.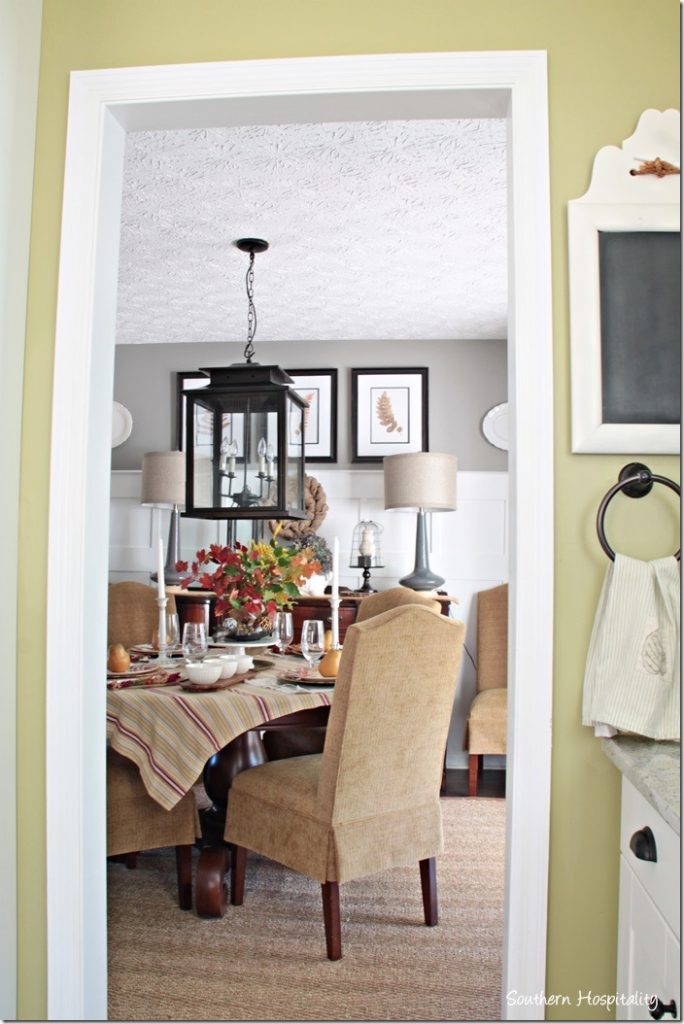 And a current shot from my Thanksgiving table.
The guest room in its Before state.  The upstairs had all stained berber carpet in all the bedrooms, which we promptly tore out. I had a few walls of wallpaper to remove too, but luckily it wasn't too bad.
The After guest room is where my roommate, Rhonda, lives with cute Cody.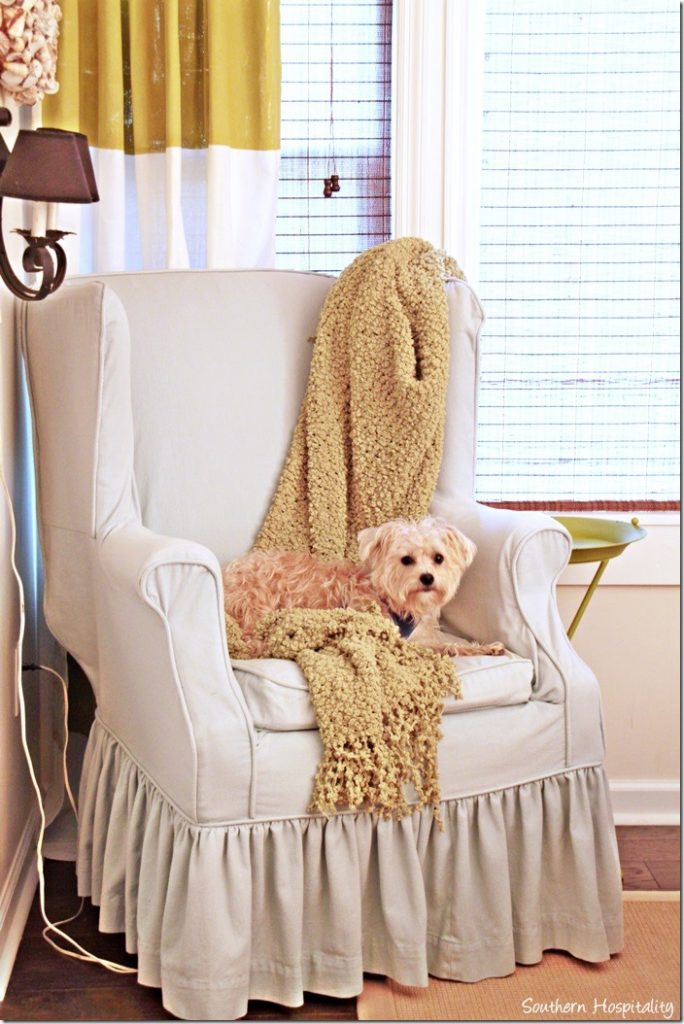 My office space (which was a bedroom).  I took the smallest bedroom for my office and turned it into a fun space.
Much better now!  This green office got a revamp too and this post shows it all.
Office in its current state.
The Before closet space.  Nice and big.
I decided to leave the closet doors off and keep it open, adding the Ikea Expedit in there for storage.
My master bedroom, Before.  Love the windows, but that's about all.
Master bedroom After. The one good thing it had going was it's a pretty large size.  Plenty of space for all my furniture.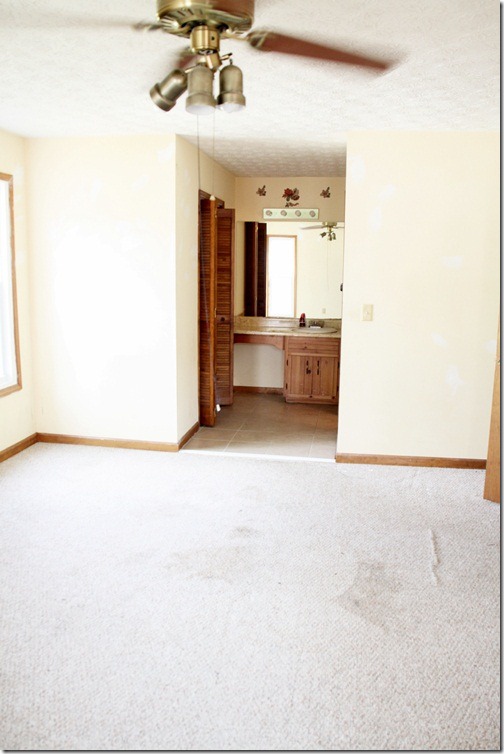 Stained carpet and that 70's extra sink they were doing back then.  I said buh-bye to the sink.
I tore out the old tile in the alcove space and ran the hardwoods all the way into the closet.  Best decision on that too!  Love that my antique vanity fits in this little alcove so well.  Perfect for makeup!
Plenty of room too for my chair and ottoman.  I wish I could say it stays this clean all the time, but sadly it does not.  It's always been a magnet for stuff.
More ugly wallpaper in the masterbath to take down.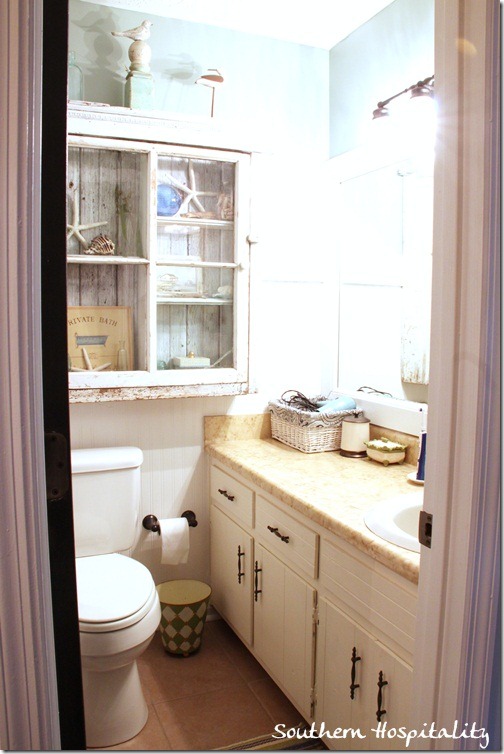 I opted not to gut my bathrooms at first and painted the vanities.  This little master bath is a one butt bathroom, but it's cozy and works for me.
My shabby cabinet adds some rustic charm to the space.
I did eventually gut this bathroom and redo it as well in 2016. It was a great little bathroom.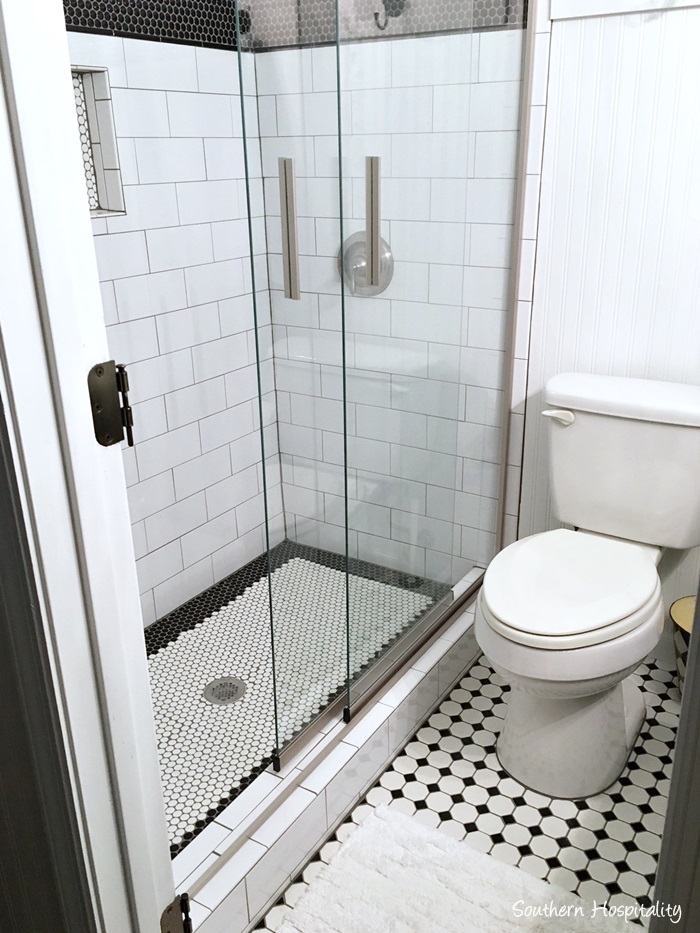 Black and White Small Master Bathroom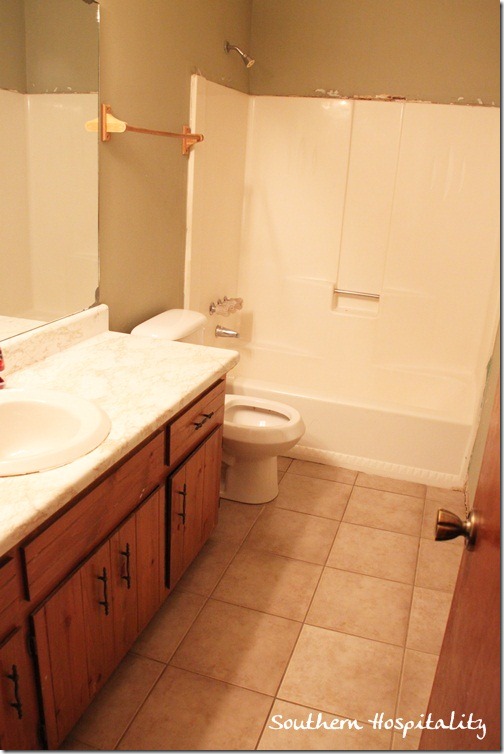 The guestbath had decent floor tile, so I've left it alone for now too.  It just needed some pizazz to help it out.
The guest bath got a painted vanity, countertop transformation, and beadboard wallpaper and molding to add some charm in the space.  Mission accomplished!
I've recently shared the After pics of this space finally and you'll remember how dismal it was at first.
This downstairs den is nice and roomy and holds all my furniture without feeling cramped.
In 2016, I added Shaw Floors Floorte vinyl plank flooring to the downstairs den of my house. It was a great change from the carpet.
Looking back towards the stairs to the living room, in process of the paneling being painted.  We also installed new ceiling tiles to freshen up this room.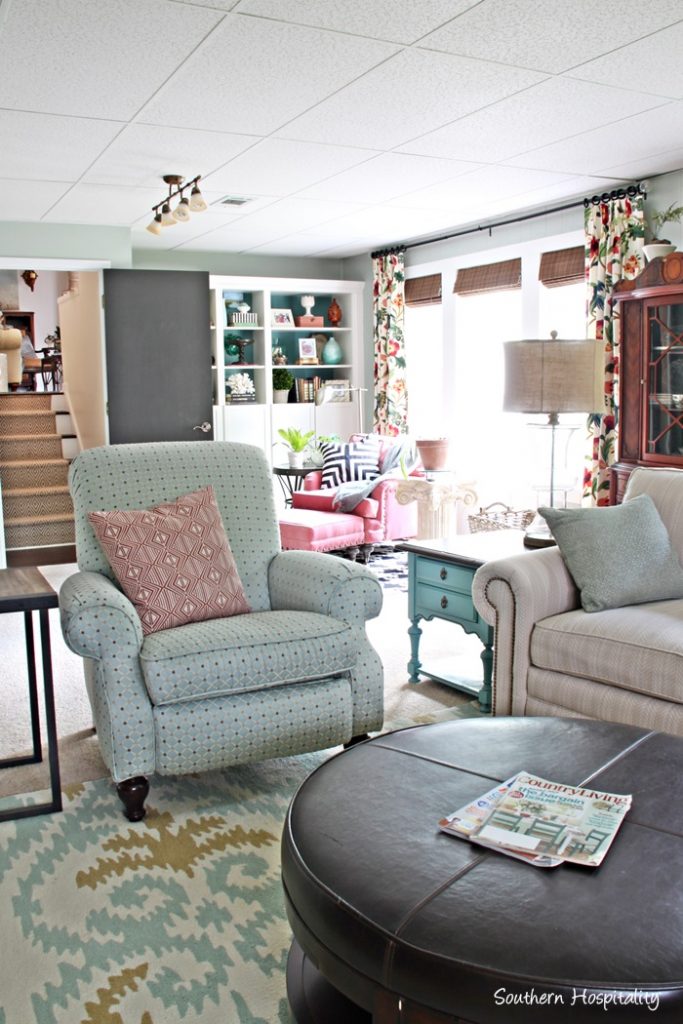 With the addition of the Billy bookshelves (see Part 1,  Part 2, and Part 3)  earlier this year and a newly covered recliner, this space is cozy and warm now.
Another look at the Billy bookcases all built in with the sitting area.   I'm so pleased with how this came out.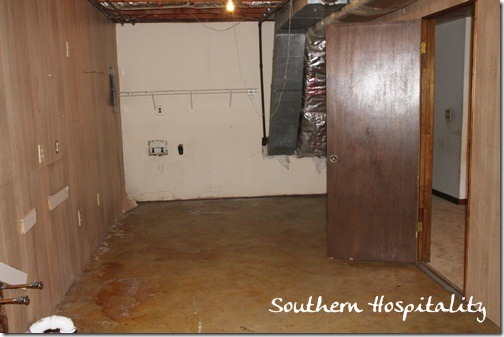 My real nemesis in this house was the laundry room, which is right off the den space.  I really almost cried when I saw this space. It was so ugly and dreary and I just couldn't imagine doing laundry in here.  But, I had a vision to make it pretty and one step at a time, we created that vision and made it come to life.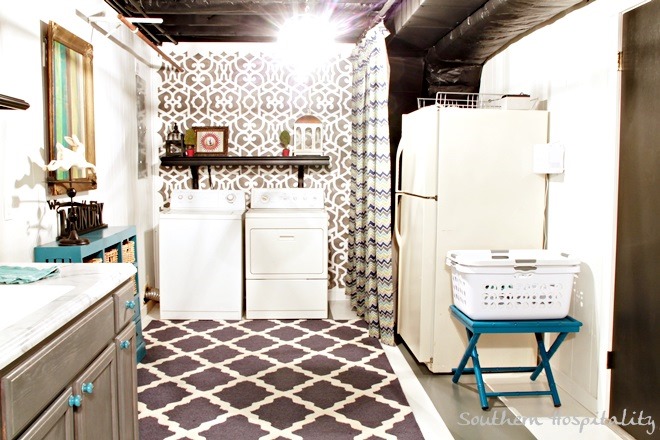 I'm so thrilled with this finished laundry room space now and it just might be the most dramatic Before and After in the house.  I always show people the Before pics when they come to my house.  I want them to know what I started with and how far it has come.
I started by having a painter spray the ceiling black.  Huge difference right off the bat!  I then striped the floor, trimmed out and painted the walls, and added the sink and countertop.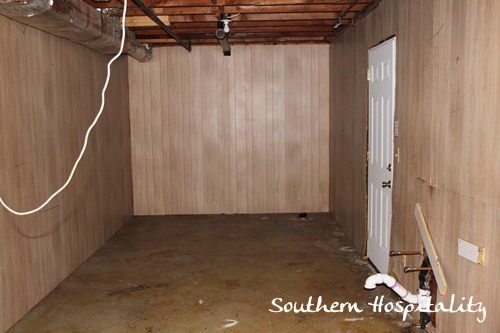 The other end of the laundry room.  This is one long space and very roomy, so I was grateful to have it for extra storage too.  It was already stubbed for a toilet and sink, so that was on the list too to add and I'm so glad I did.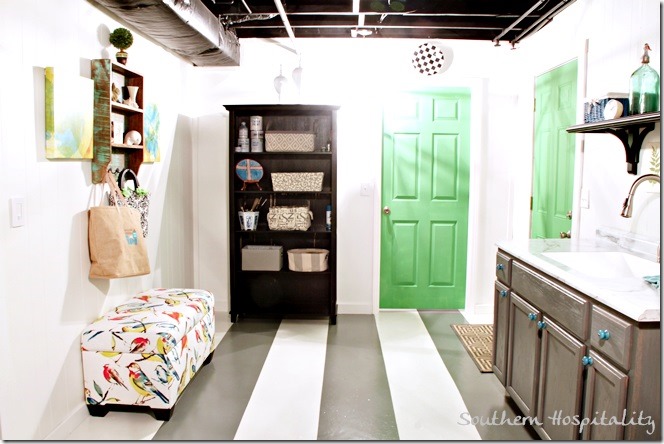 A wall was added on that end and I have Christmas storage and a toilet behind the green door.  The addition of the sink cabinet in here has been wonderful too.  I wish I could say it's this clean and uncluttered right now, but it's not!  I have a lot of decluttering to do this Winter in my garage and then I'll shift things around.  It takes time, doesn't it?!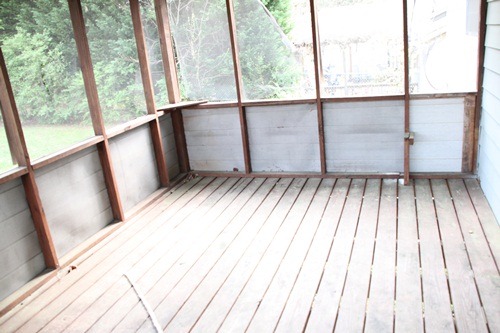 One of the rooms I was jumping up and down in joy over was the screened porch. Even though it was an ugly shell of a porch and there was nothing pretty about it, I knew my dad and I could fix it up and we did!
This screened porch space was finished after I moved in and was one of the first projects we tackled in the spring of 2013.  I have enjoyed it for 2 seasons now and will continue to do so. It's like having an extra room in the house.  Love it!  Painting the squares on the floor really took it up a notch.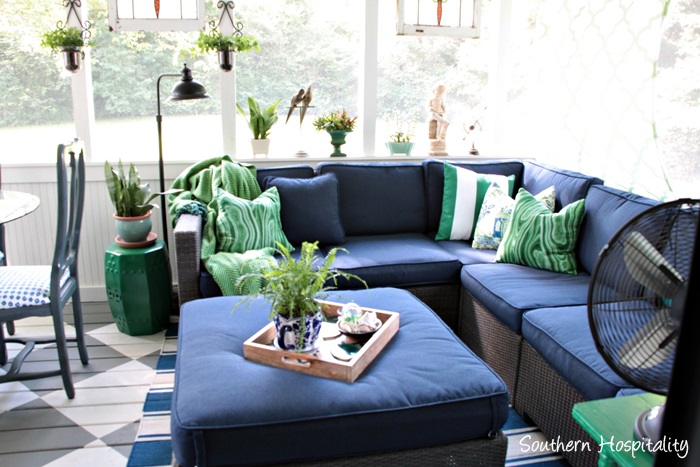 I did one more revamp of that porch before I moved in 2017. It was a wonderful space to enjoy.
Another Before shot of the outside of the house when we first got it, dad checking it all out.  Again, you can see how bad this porch was with rotting trim boards, torn out screens, and sitting on legs with nothing underneath. Structurally, it was sound, so that was a good thing.  Those new steps were built by the bank's handyman and they were pathetic.  You had to take baby steps going up and down them, very uncomfortable.
But, my dad came through once again on this project and after we finished the porch, we got on this outdoor stair area, having it turn and go down instead of the original way.  We added a little platform for my grill, which was a brilliant idea too.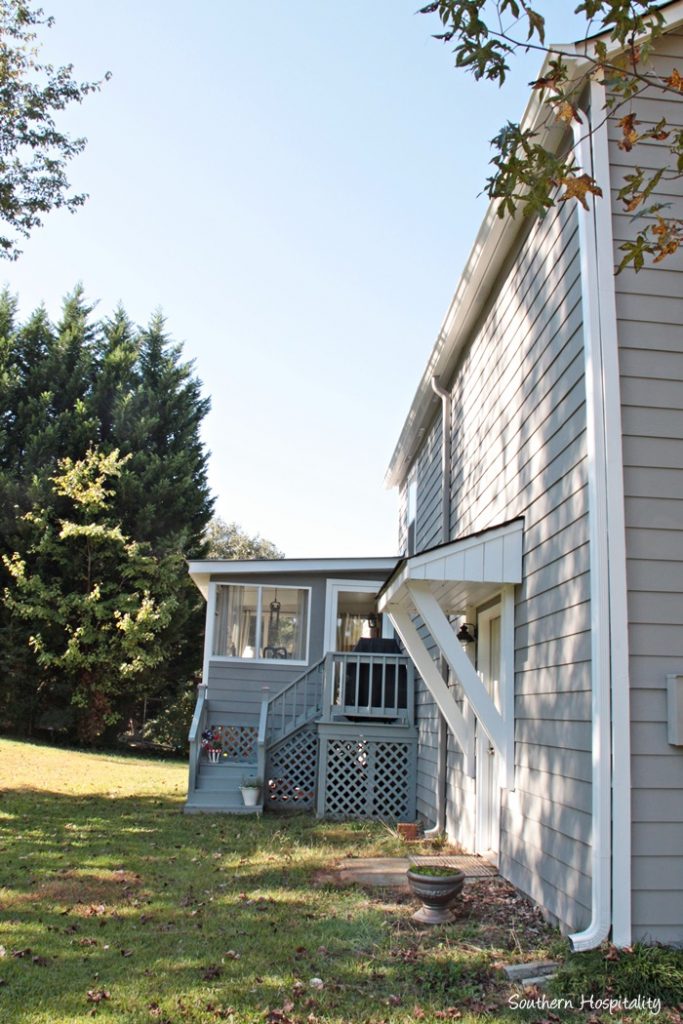 That little porch roof was another one of the first projects my dad did.  It really enhances the back door so much and after the paint job in April, it all looks great back here now.  I do have some fun ideas floating around in my head about a flagstone or brick patio from the back door over to the back steps, adding a pergola and firepit and seating.  Can you see that too?   Maybe one day!
And here's a final shot of the back of the house, with lattice added.  The paint job and adding the lattice really finished off the back of my house and I'm so proud to call it home.
It was also exciting to add a paver patio to this house. That really changed the backyard entertaining possibilities too. Here's a post about the installation of the patio.
If you want to see all my House Renovation posts you can go there and look at the entire process.  My entire house tour is posted too.
You all have been such wonderful encouragers to me as I've gone on this house journey.  Even though most of my big projects are completed, I'll still have lots to share, so thank you for hanging out with me all these years, especially the last 2 and 1/2 as we renovated the house and I got moved in.
I still am amazed at how far I've come in just 3 short years.  When I wrote this post 3 years ago, Life is Not a Magazine Cover (the comments on that post still make me teary-eyed), I was just trying to survive at that point and had no idea that a house was in my immediate future just 4 months later.  Little did I know all the blessings that were in store for me the last couple of years.  God has been so gracious to me and grown my blog business, helping me to get this house mostly finished.  I'm so so grateful to have my modest house that is so ME and so comfortable for living.  Each step of this journey has been so rewarding, watching my ugly duckling house turn into a beautiful swan.
Thank you all again for all your support and encouragement to me over the years.  It truly means the world to me.  You all don't comment as much anymore (I know, we are all too busy!), but I know you are out there and I thank you for that.  Thank you for being interested in me, my family and my house!
I'm looking forward to what the new year brings. Every year has just gotten better and better.  I'm still out there dating, haven't found my Prince Charming yet.   It's not easy dating in your 50's (maybe I should blog about that, but don't count on it??) 🙂 , but with what I went through the last few years, I sure won't rush the process.  Life is good and I have no complaints.  God has truly given me SO much to be grateful for and I am!
Don't Miss a Post, join my list!